Paris Hilton's family and celebrity friends showed their support after Hilton announced the birth of her first child on social media.
Hilton's sister Nicky Hilton Rothschild shared a throwback picture on Twitter as she welcomed the socialite to "mommyhood."
"Welcome to mommyhood @ParisHilton! So so incredibly happy for youuu!" she wrote. "It's the most beautiful ride. There is no greater love. You are going to be the best mommy. What a lucky boy!"
Tons of Hilton's famous pals took to the comment section of her Instagram post to show their excitement.
"Congratulations what a blessing!!!!! We love you!!!!" Kris Jenner commented.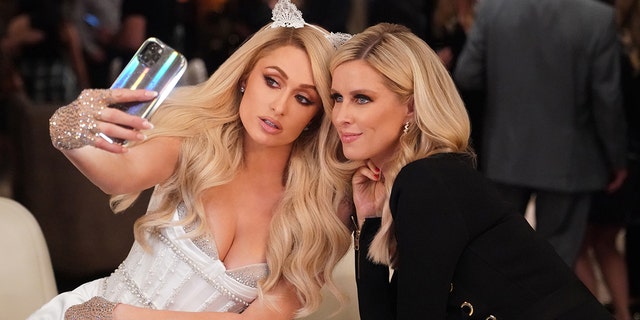 Nicky Hilton Rothschild shared a message welcoming Paris Hilton to motherhood on social media.
(Todd Williamson/Peacock/NBCU Photo Bank via Getty Images)
PARIS HILTON WELCOMES FIRST BABY WITH CARTER REUM: 'ALREADY LOVED BEYOND WORDS'
Lindsay Lohan added a simple "Congratulations!!!" along with a few emojis.
"a BABY!!!!! congratulations so happy for you both!!" Chrissy Teigen wrote.
Lionel Richie's daughter Sofia commented, "OMG congratulations" with a heart eye emoji.
"Congratulations to you both, biggest blessing," supermodel Naomi Campell added.
"So happy for you guys!!!" Kim Kardashian wrote.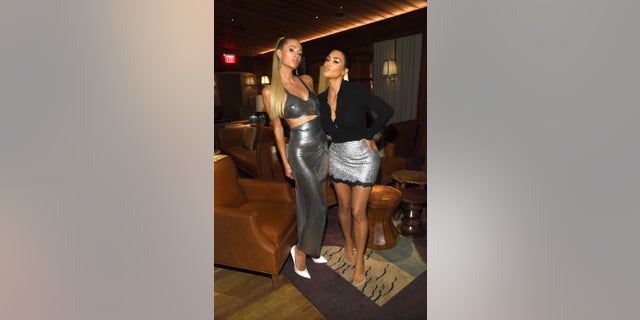 Paris Hilton said she turned to her friend Kim Kardashian for help with IVF.
(Kevin Mazur/Getty Images for KKW Beauty)
Hilton first turned to Kardashian for help with IVF. She spoke about her journey during an appearance on "The Trend Reporter" in 2021.
"We have been doing the IVF, so I can pick twins if I like," the model said at the time.
"Kim is actually the one who actually told me about that," Hilton added. "I didn't know anything about it. I'm happy that she told me that advice and introduced me to her doctor."
At the time, Hilton revealed she was ready to move forward with the process at any time.
"It was tough, but I knew it would be worth it," she explained. "I did it a couple times and just doing it together and having a partner that is just so supportive and always makes me feel just like a princess all the time and is just like so caring and just amazing with me that it wasn't that bad," she said of her husband Carter Reum.
Hilton announced the birth of her first baby with Reum Tuesday on social media.
"You are already loved beyond words," she wrote across her social media platforms with a blue heart emoji.
The couple recently celebrated their first wedding anniversary.
"It's always been my dream to be a mother and I'm so happy that Carter and I found each other," she told People magazine.
"We are so excited to start our family together and our hearts are exploding with love for our baby boy."
CLICK HERE TO SIGN UP FOR THE ENTERTAINMENT NEWSLETTER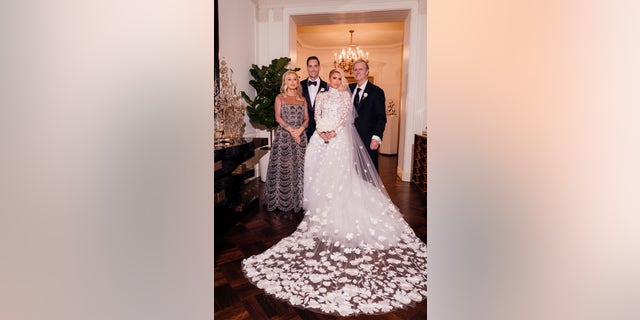 Paris and Carter married in November 2021 at her grandfather's estate in Bel Air.
(Paris Hilton)
Paris admitted she was ready to begin family planning almost as soon as she met Carter, and shared on her Instagram story in November that she was waiting to have kids until after their first year of marriage.
"I'm getting tons of messages of people asking me about when I'm having a baby," she wrote at the time. "The truth is my husband and I wanted to enjoy our first year of marriage together as a couple and we were always planning on starting our family in 2023."
She added, "IVF is always a journey for everyone but we're so fortunate that we have lots of healthy embryos ready and waiting to be part of our Cutesy Crew! As everyone knows I have an extremely busy work and travel schedule but nothing gets me more excited then (sic) becoming a mom in 2023!"
CLICK HERE TO GET THE FOX NEWS APP
Fox News Digital's Tracy Wright contributed to this report.