Paris Hilton faced criticism for her Maui vacation days after a wildfire claimed the lives of nearly 100 people and devastated the Lahaina community.
Addressing the backlash, a source told Fox News Digital that Hilton was on the island to help her uncle who lost his restaurant in the West Maui fire, which burned nearly 30 miles away from where Hilton was staying.
"It was initially a planned family trip, and she has been traveling to Maui since she was born. She has many friends and family there and it's a second home for her," the source shared.
"Her uncle's restaurant in Lahaina burned down so they decided to shorten their trip and go to see their family and help where they could. When they arrived, they gathered supplies, donated to the local shelters and people in need and made significant contributions."
DEADLY MAUI WILDFIRES DESTORY MICK FLEETWOOD'S RESTAURANT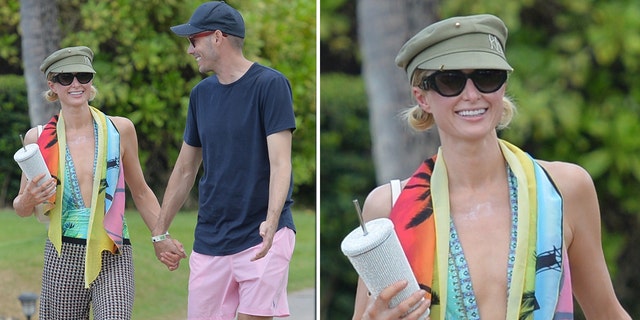 Paris Hilton faced backlash for visiting Maui during Lahaina wildfire devastation. (BACKGRID)
Fox News Digital could not find the name of the restaurant. Fox News Digital has reached out to a rep for Hilton for comment.
Hilton, who announced the birth of her son Phoenix Baron Hilton Reum in February via surrogate, strolled hand in hand with her husband Carter Reum. The couple wore swimsuits and hats with matching sunglasses.
CHRISTINA HALL REVEALS HER PARENTS WERE FORCED TO EVACUATE AMID DEADLY MAUI WILDFIRES: 'GRATEFUL THEY ARE OK'
It's unclear when they arrived on the island or how long they planned on staying to help locals affected by the deadly fire.
Social media backlash was swift, with users on X, formerly known as Twitter, voicing their opinions upon seeing Hilton on the island.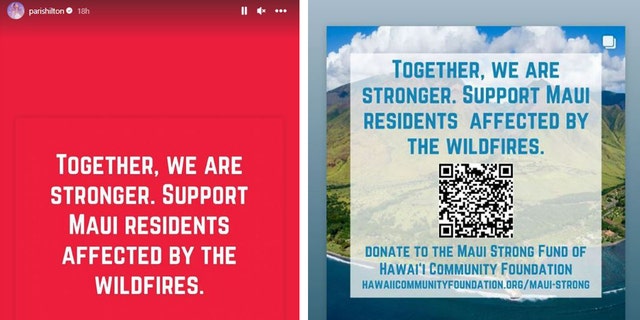 Paris Hilton shared ways to help victims of Maui wildfire on her Instagram stories. One person wrote on X, formerly Twitter, "I just read Paris Hilton shared a link to donate to wildfire relief in Maui, WHILE ON VACATION IN MAUI. Like girl…"  (Instagram/ Paris Hilton)
Crystal Hefner responded to a tweet Hilton shared about Roblox, and asked, "Please help Maui while you are there. So many people still unaccounted for."
One user wrote in part, "While Maui burns, Paris Hilton Fiddles (on vacay in Maui)! Get a clue honey and go home." Another X user wrote in reference to Hilton's Instagram Story, "I just read Paris Hilton shared a link to donate to wildfire relief in Maui, WHILE ON VACATION IN MAUI. Like girl…"
"Anyone surprised? Sickening," one person tweeted.
CLICK HERE TO SIGN UP FOR THE ENTERTAINMENT NEWSLETTER
"PARIS HILTON IS VACATIONING IN MAUI RIGHT NOW WTF THESE PEOPLE HAVE NO F***ING SHAME," an outraged X user wrote.
The death toll from the wildfire reached 99 Monday, with officials warning the number was likely to rise. The Lahaina wildfire is officially the deadliest U.S. wildfire in history.
Mick Fleetwood's restaurant, Fleetwood's on Front Street, burned down. The Fleetwood Mac co-founder has been a staple in the community for decades.
          View this post on Instagram                      
APP USERS CLICK HERE TO VIEW POST
"MAUl and The Lahaina community have been my home for several decades. This is a devastating moment for MAUl and many are suffering unimaginable loss," Fleetwood, 76, shared on Instagram.
"We are committed to supporting the community and those affected by this disaster in the days month and years to come."
Jason Momoa, who was born in Honolulu, begged followers not to travel to Maui as resources were critical to locals.
"Maui is not the place to have your vacation right now. DO NOT TRAVEL TO MAUI," the "Aquaman" actor wrote on Instagram.
"Do not convince yourself that your presence is needed on an island that is suffering this deeply. Mahalo to everyone who has donated and shown aloha to the community in this time of need."
CLICK HERE TO GET THE FOX NEWS APP