close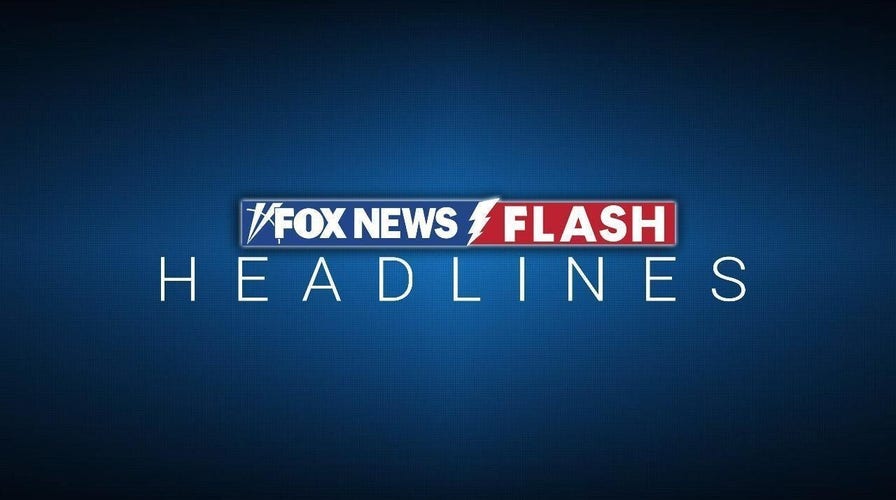 Video
Fox News Flash top headlines for May 17
Fox News Flash top headlines are here. Check out what's clicking on Foxnews.com.
Pakistan's former Prime Minister Imran Khan said Wednesday that police were surrounding his house in an upscale area of the eastern city of Lahore and he could be arrested.
However, police said they were surrounding the home because dozens of people linked to last week's violent attacks on public property and military installations were hiding there.
"Probably my last tweet before my next arrest. Police have surrounded my house," Khan wrote on Twitter.
The development comes hours after Amir Mir, a spokesman for the Punjab provincial government, said Khan has 24 hours to hand over 40 suspects allegedly hiding at his home or face a police raid. He told a news conference that so far 3,400 suspects have been arrested and more raids were underway.
FORMER PAKISTAN PRIME MINISTER IMRAN KHAN ORDERED TO BE RELEASED BY COUNTRY'S SUPREME COURT
Pakistani authorities were pressing on with efforts to try civilians involved in recent anti-government protests before military courts despite appeals from a leading international rights group and a local watchdog.
Amnesty International and Human Rights Commission of Pakistan issued separate statements late Tuesday, saying they were alarmed by the government's plan to bring supporters of Khan who clashed with police and rioted across the country to trial under military rules.
Military trials in Pakistan are usually held behind closed doors, depriving civilians of some of their basic rights, including contracting a lawyer of their choice.
A wave of violence engulfed Pakistan's capital and other urban areas following the dramatic arrest of Khan — now opposition leader — from a courtroom in Islamabad on Tuesday last week.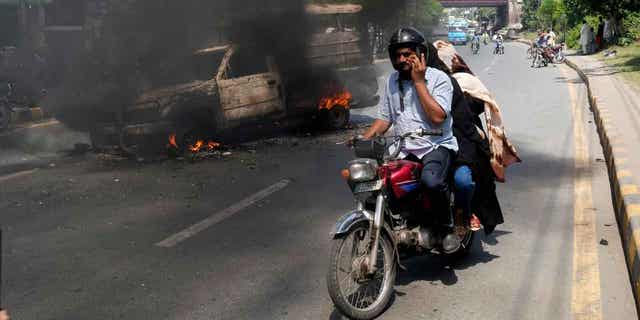 A motorcyclist drives past a burning vehicle set on fire by angry supporters of Pakistan's former Prime Minister Imran Khan in Lahore, Pakistan, on May 11, 2023. Kahn announced that police have been surrounding his house, and he expects to be arrested on Twitter. (AP Photo/K.M. Chaudary)
Angry Khan supporters torched buildings and vehicles and attacked police and military personnel and facilities. The clashes killed 10 people; authorities arrested 4,000. The Supreme Court later ordered Khan's release and criticized the way he was arrested.
FORMER PAKISTANI PRIME MINISTER IMRAN KHAN RALLIES THOUSANDS OF SUPPORTERS DESPITE ARREST WARRANTS
On Wednesday, a top court in Islamabad extended Khan's bail and protection from arrest until the end of the month.
The government of Prime Minister Shehbaz Sharif — who succeeded Khan after a no-confidence vote parliament ousted the latter last year — accused the former premier of hiding suspects linked to the attacks on military installations at his residence in Lahore, the provincial capital of Punjab.
Khan claimed in a tweet that his supporters, both men and women, detained by authorities are being tortured in police custody and demanded the immediate release of female protesters. He offered no evidence to back those claims.
The Pakistani army and government announced on Tuesday they will try "the arsonists" involved in the violent protests under military law.
Dinushika Dissanayake, Amnesty's deputy regional director for South Asia, said that trying civilians in military courts is contrary to international law.
CLICK HERE TO GET THE FOX NEWS APP
The Human Rights Commission of Pakistan said civilians arrested should be tried in civil courts and not military ones — reserved for troops suspected of working against the country's national interests and violating military rules.
Dissanayake accused the Pakistani government of using military law as "an intimidation tactic, designed to crack down on dissent by exercising fear of an institution that has never been held to account for its overreach."