close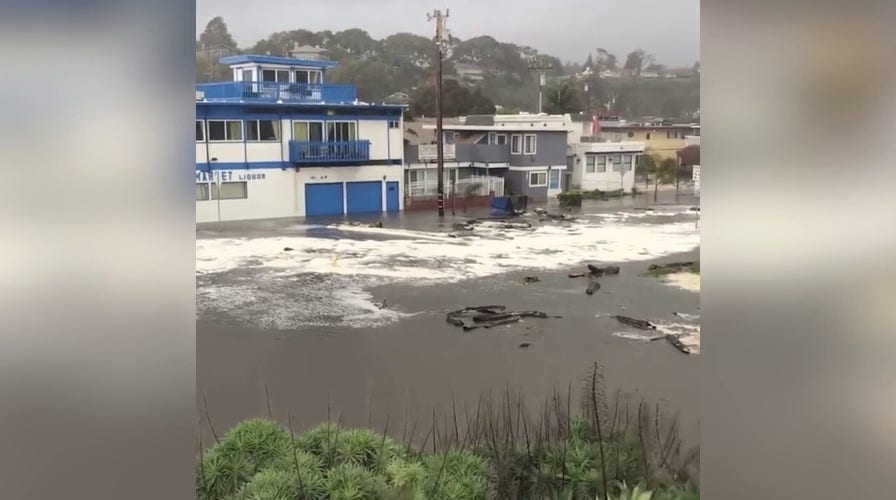 Video
California wharf damaged as storm, high surf batter coastline
The "atmospheric storm" moving across California battered the coast, flooded city streets and toppled trees.
Wet weather was continuing on Friday in California, where a dangerous atmospheric river storm damaged piers, flooded homes and contributed to the deaths of at least two people.
Tracker PowerOutage.Us showed more than 70,000 customers were still without power on Friday around noon ET.
The National Weather Service cautioned that impacts would still bring strong winds into the weekend, as well as scattered instances of flash flooding for the coastal ranges.
The excessive rainfall was forecast to shift southward toward the central portions of the state, although more rain in northern California was expected to exacerbate flooding concerns due to over-saturated soil.
PHOTOS SHOW HAWAII'S KILAUEA VOLCANO ERUPTING AGAIN
The high elevations of the Sierra Nevada will also experience more heavy snow as the system edges eastward.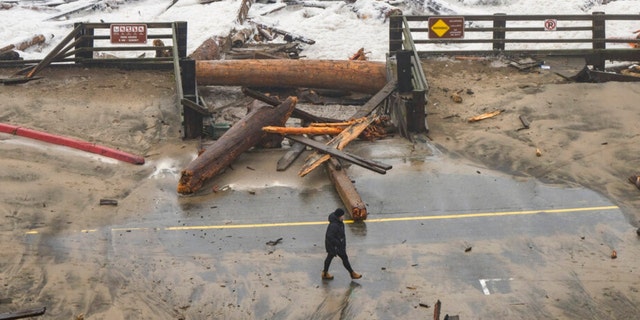 A California State Parks employee walks through a damaged road at Seacliff State Beach in Aptos, Calif., on Jan. 5, 2023. 
((AP Photo/Nic Coury))
The agency's Bay Area office said that, in addition to flooding, residents could anticipate gusty winds, downed trees and more power outages.
In Sacramento, the office there warned of the risks of mud and rock slides over the weekend, with hazardous travel conditions.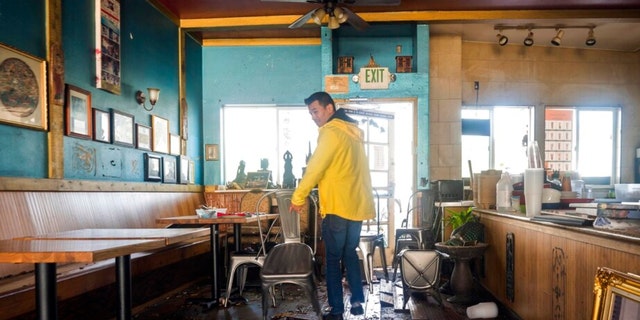 Dominic King, owner of My Thai Beach, surveys storm damage that destroyed his restaurant in Capitola, Calif., on Jan. 5, 2023.
( (AP Photo/Nic Coury))
"Light-moderate showers will be possible today, before widespread precipitation returns this weekend and next week," it tweeted.
On Friday night, the California Highway Patrol in South Lake Tahoe said that SR-88 was closed for an "undetermined amount of time due to heavy snow, limited visibility and extreme avalanche danger."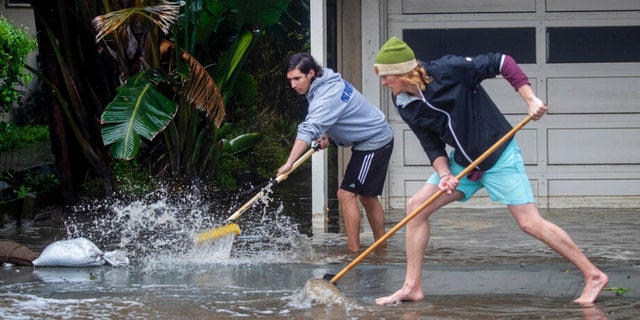 Evan Sousa, left, gets help from Calvin Drake pushing water out of his flooded apartment on Palmetto Avenue in Pacifica, Calif., on Jan. 5, 2023. 
( (Karl Mondon/Bay Area News Group via AP))
Some evacuation orders were lifted on Thursday and crews worked to assess the damage and restore power.
Two historic piers were casualties of raging seas as the "Pineapple Express" storm lashed the West Coast, pulled by a rotating area of rapidly falling air pressure known as a "bomb cyclone."
CALIFORNIA STORM LEAVES AT LEAST 1 DEAD, BRINGS DANGEROUS FLOODING AND POWERFUL WINDS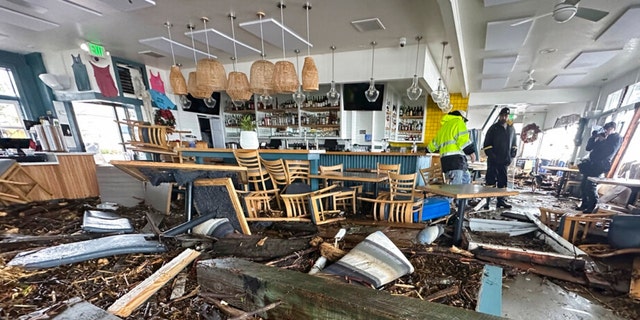 A support piece from the Capitola Wharf is seen inside the storm damaged Zelda's restaurant in Capitola, Calif., on Jan. 5, 2023.
( (Shmuel Thaler/The Santa Cruz Sentinel via AP))
In Sonoma County, 2-year-old Aeon Tocchini was killed when a redwood tree fell on his family's mobile home.
County authorities issued an evacuation warning for several towns along the Russian River, where greater flooding was expected by Sunday.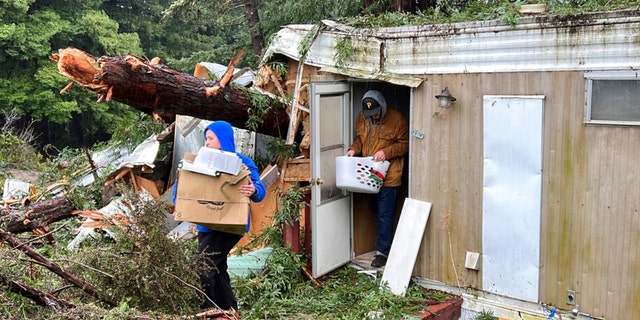 Family friends remove items from the mobile home where 2-year-old Aeon Tocchini was killed by a fallen redwood tree in Occidental, Calif., on Jan. 5, 2023. 
((AP Photo/Terry Chea))
In Fairfield, police said a 19-year-old woman died after her vehicle hydroplaned on a flooded road and hit a utility pole.
In Capitola, waves forecast to top 25 feet crashed into homes and restaurants.
In south San Francisco, hurricane-strength gusts as high as 101 mph sent trees toppling and blew the roof off a gas station.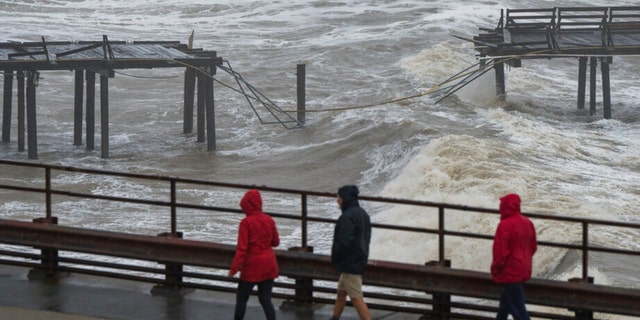 People walk along Cliff Drive to view the Capitola Wharf damaged by heavy storm waves in Capitola, Calif., on Jan. 5, 2023.
( (AP Photo/Nic Coury))
CLICK HERE TO GET THE FOX NEWS APP
A California Highway Patrol officer responding to a crash on Highway 17 in San Jose was injured after a tree fell on him, officer Ross Lee said. The officer was expected to survive.
Sections of Highway 101 were closed due to trees and rockfall shuttered parts of Highway 1.
The Associated Press contributed to this report.
Julia Musto is a reporter for Fox News and Fox Business Digital.