close
Video
Rebekah Koffler on Russia's detainment of WSJ reporter Evan Gershkovich
"Putin's Playbook" author Rebekah Koffler speaks with Fox News Digital about Russia's detainment of Wall Street Journal reporter Evan Gershkovich.
Russia may have lost as many as 1.3 million young workers since the start of Vladimir Putin's invasion of Ukraine, according to a new report.
The Finexpertiza consulting firm released its findings after analyzing official statistics, reporting that working citizens under the age of 35 in Russia fell by 1.33 million people between December 2021 and December 2022, marking the lowest share since the start of data collection in 2006.
Young workers make up only 21.5 million out of the total 72.1 million workforce — a startling figure when Russia has also reported a record low unemployment rate.
The Moscow Times suggested that the lower participation could have resulted either from more young workers taking "grey economy" — or under-the-table — jobs or from last year's mass exodus following the announcement of a "partial mobilization" to Ukraine.
INFAMOUS MOSCOW PRISON HOLDING EVAN GERSHKOVICH 'PSYCHOLOGICALLY' TORTURES PLACE, RUSSIAN JOURNALIST SAYS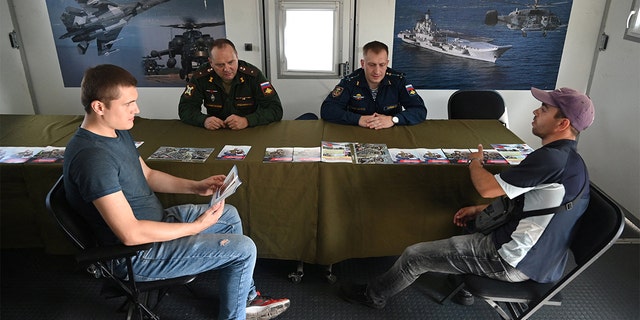 Men visit a mobile recruitment center for military service under contract in Rostov-on-Don, Russia, Sept. 17, 2022.  (REUTERS/Sergey Pivovarov)
The "partial mobilization" looked to compel citizens to join the fight in Ukraine after major losses forced Putin to try and rebuild his forces in short order, but men started to leave the country in huge numbers in order to avoid the draft.
Only 2020, the start of the coronavirus pandemic and lockdown measures, saw a bigger drop in the job market with 1.34 million young Russians dropping out.
"If you don't have sufficient numbers of young people in the workforce, you cannot drive innovation or even make notable progress."
EGYPT PLANNED TO COVERTLY SEND 40,000 ROCKETS TO RUSSIA: REPORT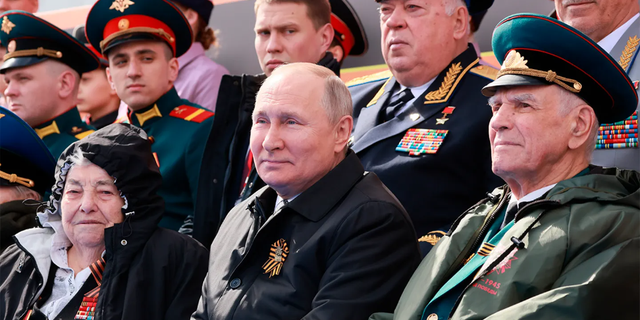 Russian President Vladimir Putin, center, attends the Victory Day military parade marking the 77th anniversary of the end of World War II in Moscow, Russia, Monday, May 9, 2022.  (Mikhail Metzel, Sputnik, Kremlin Pool Photo via AP)
The biggest decrease in the current cut came from the age group 25-29, which dropped by around 724,000 people. The next oldest group, 30-34, dropped by over half a million and comprised the biggest portion of the young worker bloc with 10.7 million.
"This development exposes Putin's lack of strategic planning and forward-looking approach to Russia's economic development," Rebekah Koffler, president of Doctrine & Strategy Consulting and a former Defense Intelligence Agency officer, told Fox News Digital.
THE FUTURE IS NOW: CHINA, RUSSIA REVERT TO PRE-1989 WORLD AND FUNDAMENTALLY CHALLENGE THE US-LED WEST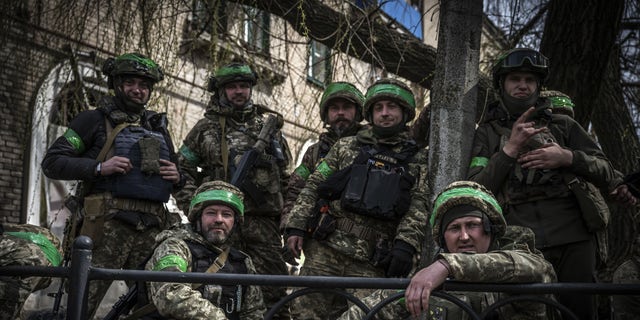 Ukrainian soldiers pose amid Russia-Ukraine war on the frontline of Donetsk Oblast, Ukraine on March 29, 2023.  (Muhammed Enes Yildirim/Anadolu Agency via Getty Images)
"The sizable loss of young workers will almost certainly have a profound negative impact on the Russian economy, in the long term," she added. "This development will likely jeopardize Putin's ambitious agenda for Russia in the field of advanced technologies, including artificial intelligence and machine learning."
CLICK HERE TO GET THE FOX NEWS APP
"If you don't have sufficient numbers of young people in the workforce, you cannot drive innovation or even make notable progress."
The drop in young workers was offset by an increase in older workers, with workers aged 60-69 bumping up by over 336,000 people. Another 202,000 people from the age group 50-54 also helped offset the losses.