close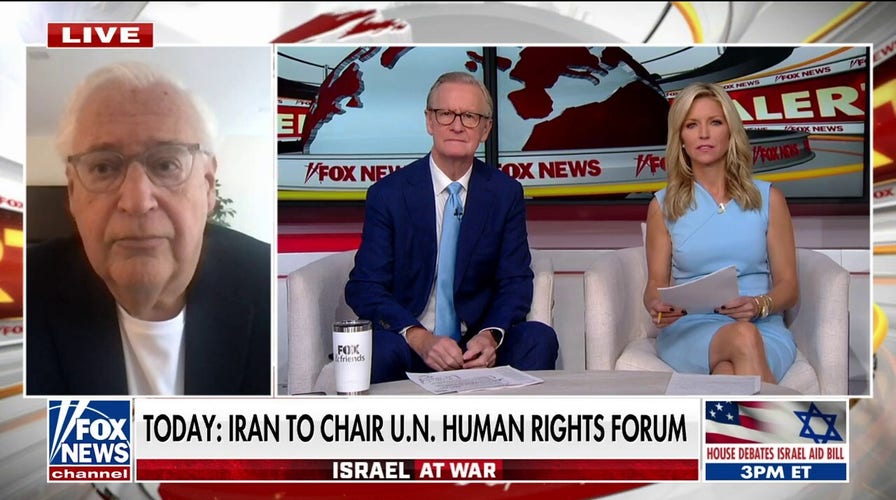 Video
Iran is delivering a 'national insult' to America, and we are without dignity: David Friedman
Former U.S. Ambassador to Israel David Friedman discusses the latest updates after shocking video showed an anti-Israel mob threatening Jews in Russia and the ambassador of Iran chairing a U.N. Human Rights Council forum.
Iran will take the chair of a United Nations human rights social forum on Thursday, with many critical of the appointment due to Tehran's decades-long record of human rights abuses and terrorism.
"The United States finds it absurd that an official from the Iranian regime will assume the role of Chair for the Human Rights Council's one-day 'Social Forum,'" U.S. Permanent Representative to the Human Rights Council Ambassador Michele Taylor wrote in a statement ahead of the forum.
"It is unacceptable that any body associated with the promotion and protection of human rights be chaired by a representative from a nation implicated in such persistent and flagrant human rights abuses as Iran," she added, stressing that the U.S. "categorically" refuses to "sit, converse, or engage in any discussion on human rights chaired by Iran."
The Human Rights Council in May appointed Iranian Ambassador Ali Bahreini as the chair-rapporteur for the 2023 "Social Forum," which per the letter announcing the appointment focuses on "the promotion of human rights." This year's theme particularly focuses on the use of science, technology and innovation to help in that pursuit.
OUTGOING SENIOR UN OFFICIAL CALLS FOR ONE-STATE SOLUTION, SLAMS US, ISRAEL: 'CHILLING WORDS'
Hillel Neuer of the watchdog group U.N. Watch noted that the appointment was announced shortly after Iran executed two men by hanging them over crimes of using social media to criticize religion.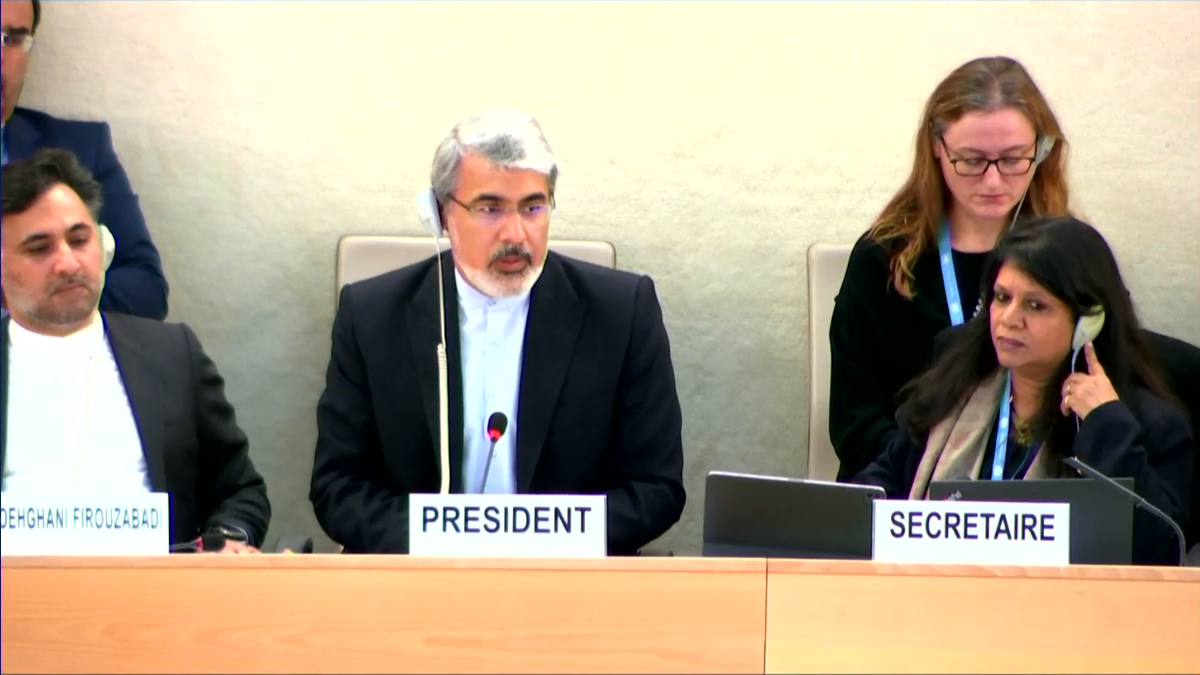 Ali Bahreini, Iran's ambassador to United Nations in Geneva, Switzerland, on Sept. 28, 2022.
In a recent tweet on X, Neuer noted: "I asked the UN: 'Why did you name the Islamic Republic of Iran as Chair of the UN Human Rights Council Social Forum, starting on Nov. 2nd? How can you elevate a regime that beats, blinds, tortures & rapes women who demand their rights? Where is the logic? Where is the morality?'"
Stephane Dujarric, the spokesperson for U.N. Secretary-General Antonio Guterres, told Fox News Digital that the decision is a result of votes taken by member states themselves and that Guterres "expects every member state to live up to the commitments they made when they signed up to the Universal Declaration."
"This is especially true of those who sit and preside over human rights bodies," Dujarric said, pointing to Guterres's recent report on human rights in Iran, which noted that executions occurred "at an alarming rate," the security forces carried out "large-scale arrests and detentions" that targeted protesters, and authorities applied "strict national security" restrictions on the right to freedom of opinion and expression – among other issues.
HALEY CALLS FOR PRO-HAMAS PROTESTERS IN US TO BE ID'D TO WARN FUTURE EMPLOYERS
Dujarric and Guterres have previously deflected the limits of the United Nations secretary-general to act on many issues, saying it's the responsibility of member states.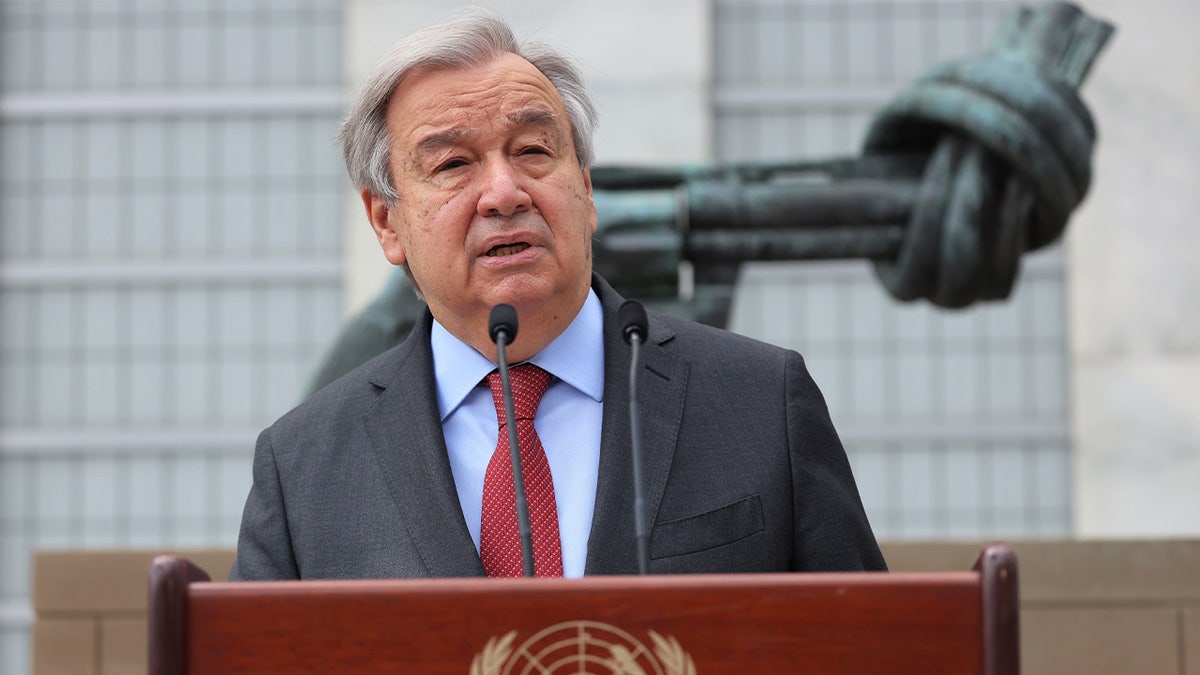 Secretary-General António Guterres speaks during a press conference at the U.N. on April 19, 2022, in New York City. (Michael M. Santiago/Getty Images)
Iran faced nationwide protests over the past year following the death of 22-year-old Mahsa Amini, who died after the country's morality police allegedly beat her for not wearing her hijab (headscarf) correctly. Another girl, 17-year-old Armita Geravand, died this week after a month-long coma following an alleged run-in with the morality police and infraction of the same hijab laws.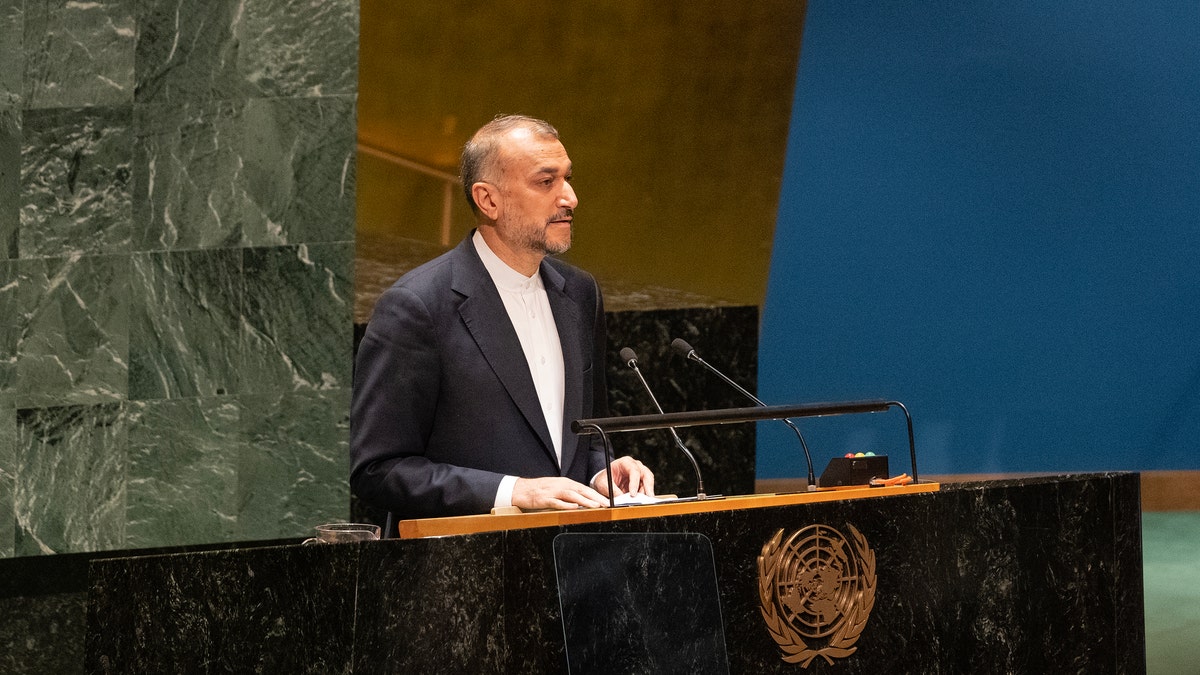 Hossein Amir-Abdollahian, Iran's minister for foreign affairs, speaks during 39th Plenary Meeting of General Assembly at the U.N. in New York. (Lev Radin/Pacific Press/LightRocket via Getty Images)
"This, along with the haunting memory of Mahsa 'Zhina' Amini's death while in police custody a little over one year ago and many other stories of harassment, abuse and death at the hands of the regime, paints a grim picture of the state-sponsored violence that is a daily reality for the Iranian people, especially for women and girls," Taylor wrote in her condemnation of Iran's appointment to the forum chair.
SHAHAR AZANI: UNITED NATIONS 'LOOKING THE OTHER WAY' AGAINST EVIL
"Tehran's track record is mired in oppression and the serial abuse of human rights," she added. "It is an affront to the collective conscience of the global community that Iran's officials occupy any leadership role within the corridors of the U.N., especially on matters related to human rights."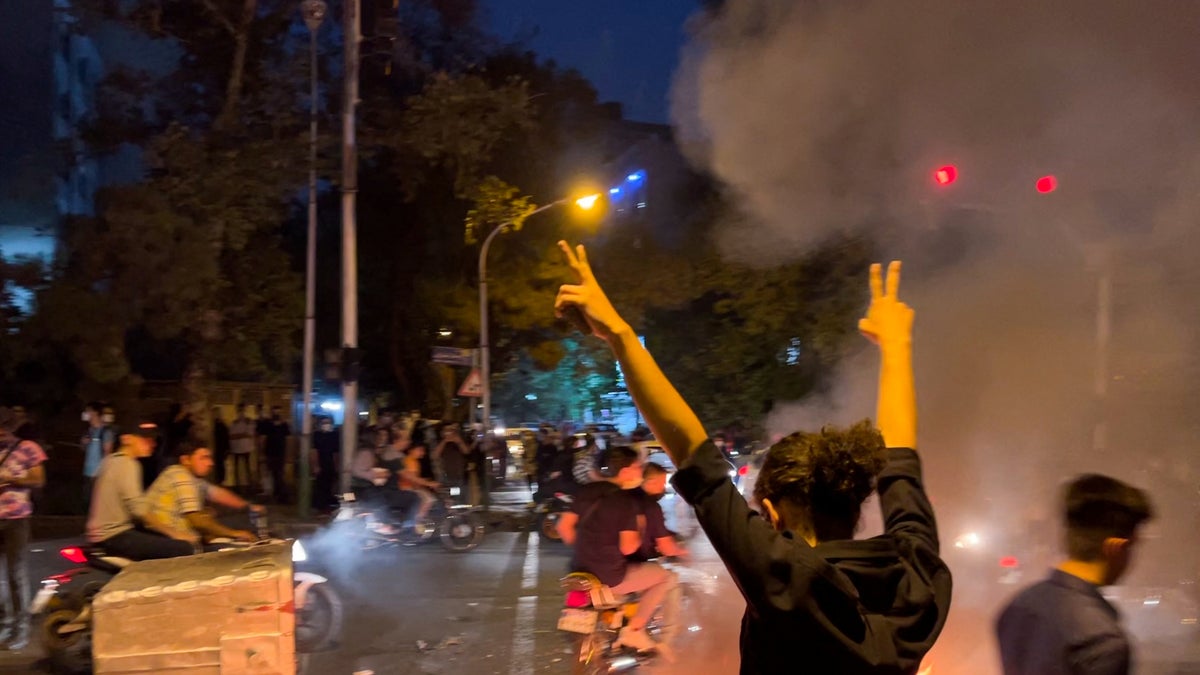 A man gestures during a protest over the death of Mahsa Amini, a woman who died after being arrested by morality police, in Tehran, Iran, Sept. 19, 2022. (WANA – West Asia News Agency) via Reuters)
The U.N. recently found itself in hot water as the U.S. debated whether it should have allowed Iran's foreign minister to visit New York City and speak before the General Assembly, with many slamming the Biden administration for not blocking a visa for the minister on grounds of national security concerns. Iran has been linked to dozens of terror groups throughout the Middle East, including Hamas, Hezbollah and the Houthis, as well as groups that have launched attacks against U.S. military personnel throughout the region in recent weeks.
Florida Gov. Ron DeSantis, a Republican candidate for president, tweeted Wednesday: "DEFUND THE UNITED NATIONS."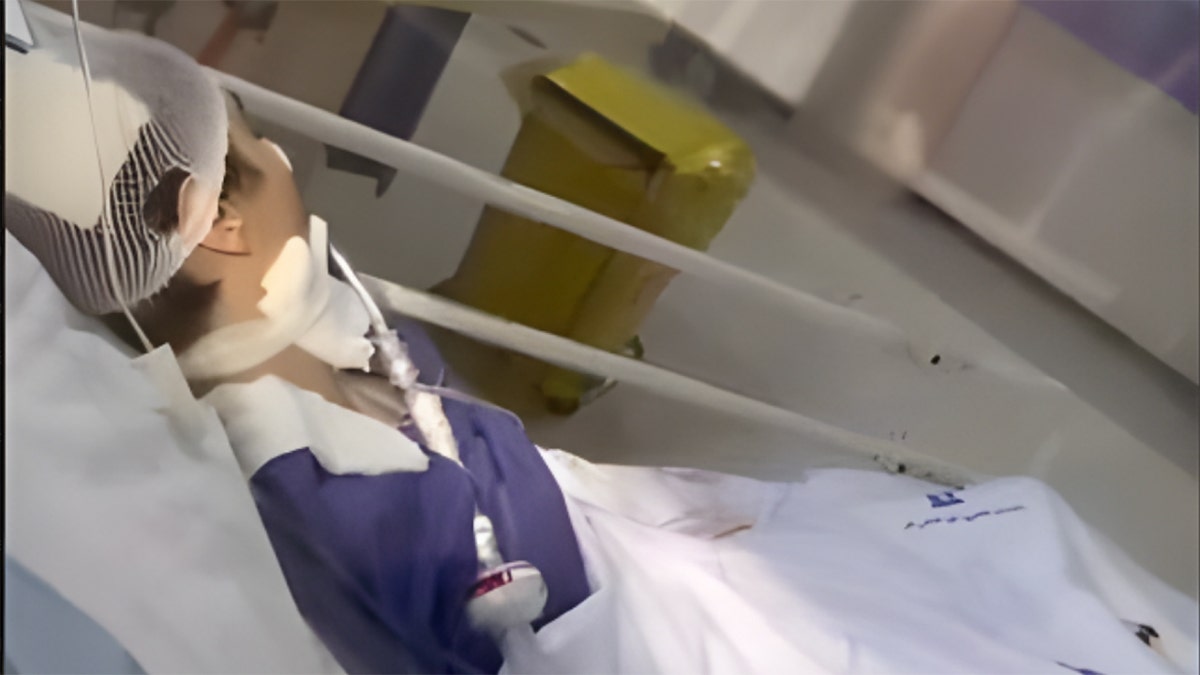 Armita Geravand was in a month-long coma before she was declared dead, according to the human rights group. (Hengaw Organization for Human Rights)
The Social Forum occurs at a delicate and contentious time for the United Nations, which has become yet another battleground as nations use the forum to criticize Israel for its response to the Oct. 7 Hamas terrorist attack and demand a cease-fire as the death toll in the Gaza Strip continues to rise – all without condemnation of Hamas and the attack.
The Czech Republic's Defense Minister Jana Cernochova called for her country to withdraw from the U.N. after the body passed a resolution calling for a "humanitarian ceasefire" in the Gaza Strip, saying there was "no place" for her country "in an organization that supports terrorists and does not respect the basic right to self-defense." The Czech Republic made clear that it will not actually withdraw from the U.N.
CLICK HERE TO GET THE FOX NEWS APP
Last week, Israel's U.N. ambassador, Gilad Erdan, called on Guterres to resign following a speech at the Security Council. Erdan called the secretary-general's remarks "shocking," when he stated that the Oct. 7 terror attacks on Israel by Hamas "did not happen in a vacuum."
Fox News Digital Greg Norman contributed to this article.
Peter Aitken is a Fox News Digital reporter with a focus on national and global news.