close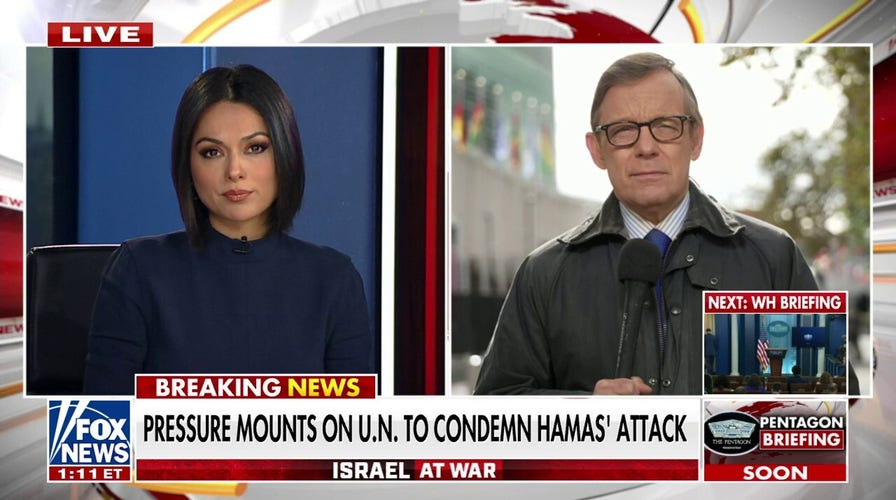 Video
UN shamed for not condemning Hamas terrorists
FOX News' Eric Shawn reports on growing diplomatic issues facing the United Nations amid the Israel-Hamas war.
A high-ranking United Nations official has retired after calling for a one-state solution to the Israel-Palestinian conflict. In his letter, the official wrote on what he called "essential points" regarding the war between Israel and Hamas terrorists.
In what was described as his "last official communication" as the director of the New York Office of the High Commissioner for Human Rights, Craig Mokhiber sent an Oct. 28 letter to Volker Türk of Austria, the U.N. high commissioner for human rights, detailing what he believes a "U.N.-norm-based position" on the war would look like.
In what critics are calling comments devoid of historic fact, Mokhiber called for a one-state solution, which could mean the end of the Jewish state.
"We must support the establishment of a single, democratic, secular state in all of historic Palestine, with equal rights for Christians, Muslims and Jews, and, therefore, the dismantling of the deeply racist, settler-colonial project and an end to apartheid across the land," Mokhiber stated.
CALLS FOR UN LEADER'S RESIGNATION INTENSIFY AFTER 'SHAMEFUL' COMMENTS ABOUT HAMAS ATTACKS ON ISRAEL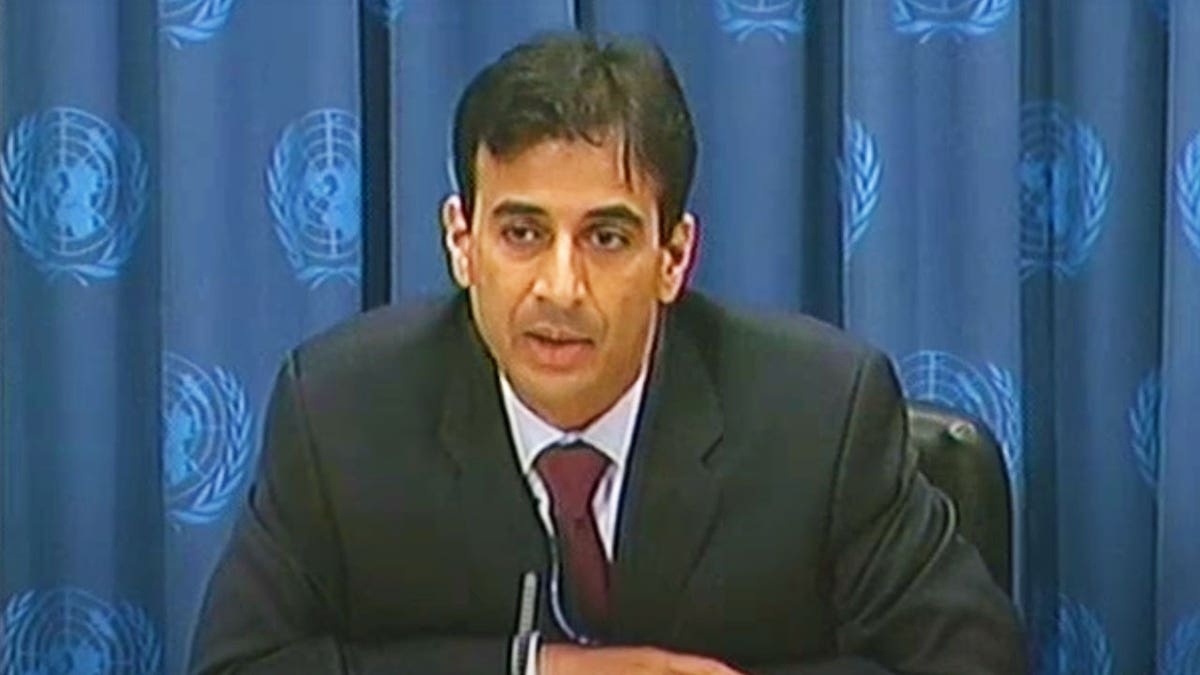 Craig Mokhiber retired Tuesday from his role as the director of the New York Office of the High Commissioner for Human Rights. (United Nations/YouTube)
"Mokhiber wrote this letter as one of the U.N.'s highest ranking 'human rights' officials, on U.N. letterhead, with a U.N. email address," Professor Anne Bayefsky, the director of the Touro Institute on Human Rights and the Holocaust, told Fox News Digital. "As such, his overt call for the destruction of the Jewish state, lays bare what is really going on at the U.N. in the war now being waged by and at the U.N. against Israel."
"Listen to Mokhiber's chilling words. Yes, Israel is engaged in an existential fight. At the U.N., there are human rights for everyone but Jews, who are supposed to lay down their arms in the face of a genocidal enemy currently enslaving their people. Mohkiber's phony 'human rights' cover is extremely disturbing. He says equality means 21 Arab states, 56 Islamic states and zero Jewish states. That's antisemitism dressed up as human rights," Bayefsky added.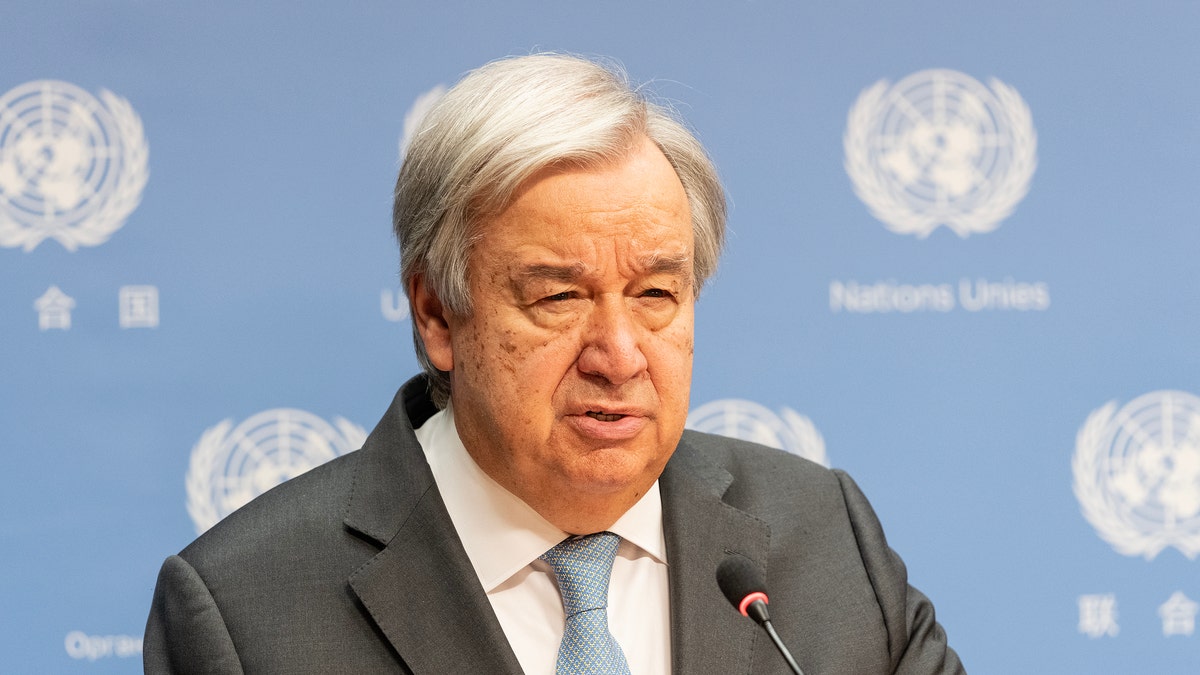 Secretary-General Antonio Guterres delivers a statement at the United Nations in New York following the terrorist attack by Hamas on Israel, on Oct. 11, 2023. (Lev Radin/Pacific Press/LightRocket via Getty Images)
Just last week, Israel's U.N. ambassador, Gilad Erdan, called for the secretary-general's resignation following a speech on the issue. Antonio Guterres said Hamas' attacks "did not happen in a vacuum," and the "Palestinian people have been subjected to 56 years of suffocating occupation." Erdan called Guterres' words a, "pure blood libel."
Guterres responded to the criticism against him, saying, "I am shocked by the misrepresentations by some of my statements yesterday in the Security Council. As if… as if I was justifying acts of terror by Hamas. This is false. It was the opposite."
The U.N. has long faced accusations by critics of antisemitism and anti-Israel hatred
ISRAEL WITHHOLDING VISAS FOR UN OFFICIALS AFTER HAMAS COMMENTS: 'TEACH THEM A LESSON'
Mohkiber's letter also took aim at the U.S. and Western allies.
"This is a text-book case of genocide," he wrote. "The European, ethno-nationalist, settler colonial project in Palestine has entered its final phase, toward the expedited destruction of the last remnants of indigenous Palestinian life in Palestine. What's more, the governments of the United States, the United Kingdom, and much of Europe, are wholly complicit in the horrific assault. Not only are these governments refusing to meet their treaty obligations 'to ensure respect' for the Geneva Conventions, but they are in fact actively arming the assault, providing economic and intelligence support, and giving political and diplomatic cover for Israel's atrocities."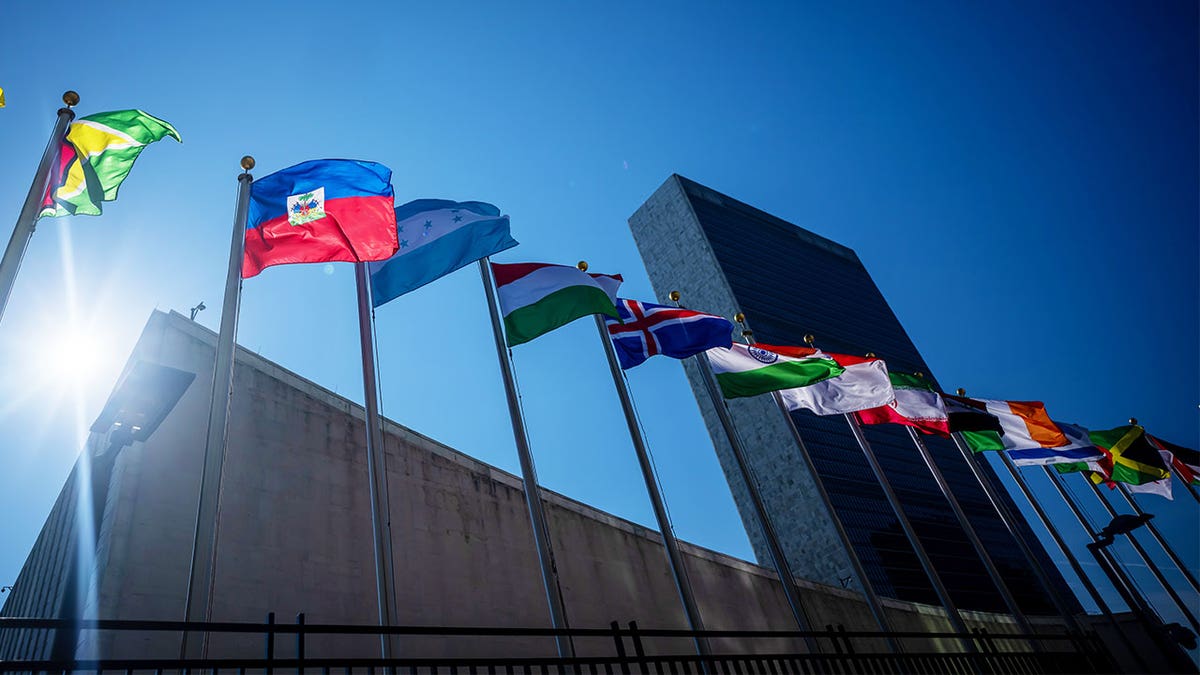 Flags fly in front of the United Nations headquarters during the General Assembly in New York. (Michael Kappeler/picture alliance via Getty Images)
CLICK HERE TO GET THE FOX NEWS APP 
In a statement to Fox News, the office of Human Rights said, "Mr. Mokhiber retires today. The views in his letter are his personal views. The position of the Office is reflected in its public reporting and statements."
Bayefsky noted that, "If he indeed suddenly 'retired,' instead of immediately being fired, it means the U.N. has made some kind of deal to save his pension. A new outrage – and one that leaves U.S. taxpayers on the hook."
A spokesperson for the U.N. secretary-general did not immediately respond to Fox News Digital's request for comment on whether Mokhiber's comments were representative of the U.N. as a whole or whether they are sentiments shared by Guterres.
Fox News' Benjamin Weinthal and Courtney De George contributed to this article.
Kyle Morris covers politics for Fox News. Story tips can be sent to [email protected] and on Twitter: @RealKyleMorris.