Far-left "Squad" member Rep. Ilhan Omar, D-Minn., lashed out at House Speaker Kevin McCarthy Tuesday, describing his effort to personally whip votes against her retaining her seat on the House Foreign Affairs Committee as "pathetic."
"The fact that this has become a sole focus for [House Speaker Kevin McCarthy] that he is personally whipping votes for it is really pathetic. Not the debt ceiling or all the actual priorities a Speaker should be fighting to deal with and whip votes for," Omar tweeted.
She was referencing a separate tweet from another user reporting that Rep. Nancy Mace, R-S.C., wasn't planning to change her vote against the upcoming resolution to remove Omar from her committee assignment.
WARREN SAYS GOP HAS BEEN TRYING TO 'SMEAR' REP. OMAR FOR YEARS AMID MOVE TO REMOVE HER FROM KEY COMMITTEE
Mace and a handful of other Republicans could end up saving Omar's committee assignment considering Republicans' slim majority in the House, and what is expected to be all Democrats joining together to vote against the measure.
McCarthy has maintained his hard line approach to removing Omar, despite the slim GOP opposition, and is also looking to remove Rep. Eric Swalwell, D-Calif., and Rep. Adam Schiff, D-Calif., from their positions on the House Intelligence Committee.
OMAR BLASTS GOP'S 'ISLAMOPHOBIA AMID COMMITTEE REMOVAL BID: 'THEY'RE NOT OK' WITH MUSLIMS 'HAVING A VOICE'
The situation surrounding Omar's committee assignments stems from her past anti-Israel statements that have played on antisemitic tropes, such as when she said, "It's all about the Benjamins, baby" to explain why McCarthy criticized her for opposing the Jewish State. She also drew ire for a remark in which she compared the U.S. and Israel to Hamas and the Taliban.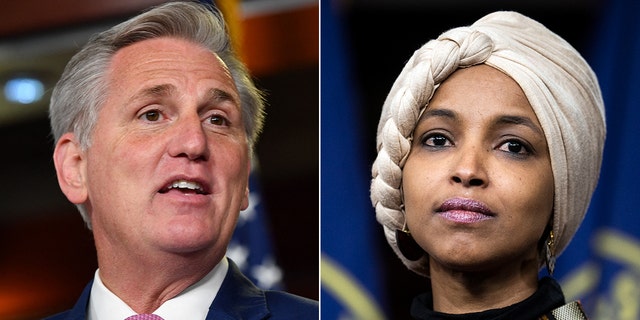 House Speaker Kevin McCarthy, R-Calif., and Rep. Ilhan Omar, D-Minn.
(NICHOLAS KAMM/AFP via Getty Images)
CLICK HERE TO GET THE FOX NEWS APP
It's unclear when the vote on the resolution barring the committee assignments will take place.
Fox News' Ronn Blitzer contributed to this report.