close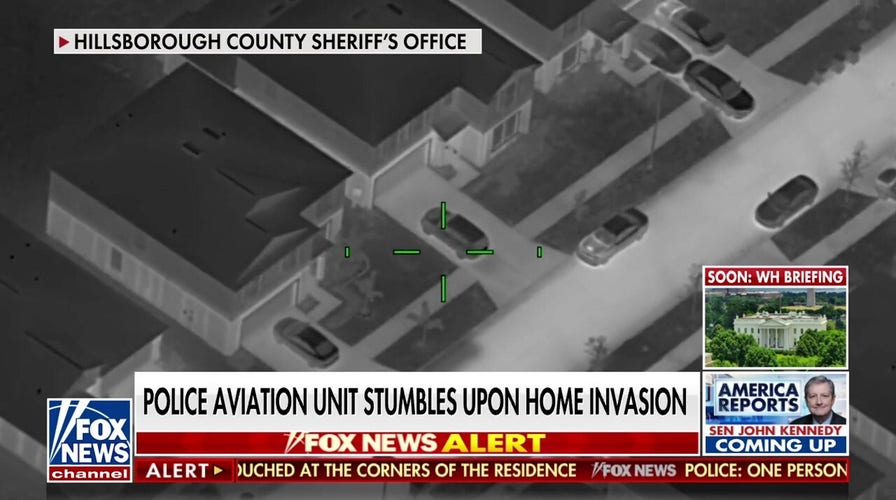 Video
Sheriff aviation unit catches four suspects in ambush-style home invasion
Fox News' Charles Watson reports on four suspects arrested in Florida after the Hillsborough County Sheriff's Office's aviation unit caught the individuals in an attempted home invasion.
An Ohio man wanted for the murder of a 77-year-old woman was shot by a man defending his family during a home invasion on Thursday, according to the Fayette County Sheriff's Office.
Michael James Brooks II, of Columbus, Ohio, was hospitalized Friday for injuries sustained during the home invasion. When he is released from medical care, he will face charges for burglary, home invasion and theft by receiving in Georgia and murder charges in Ohio, police said.
Investigators said Brooks has an extensive criminal history. He is wanted in connection with the fatal stabbing of Emily Foster, which occurred on September 9, 2023, in Columbus, Ohio, and also for the carjacking of a red Ford F-150 truck in Kettering, Ohio, which was later found outside the burglarized home in Georgia.
Fayette County Sheriff's Office (FCSO) deputies responded to a burglary call at the home just before 2 a.m. on Thursday. A security alarm at the home also alerted police to a potential intruder.
GEORGIA SUSPECTS TRICKED MURDERED MOM'S SON INTO BELIEVING SHE WAS STILL ALIVE TO CONCEAL DEATH: REPORT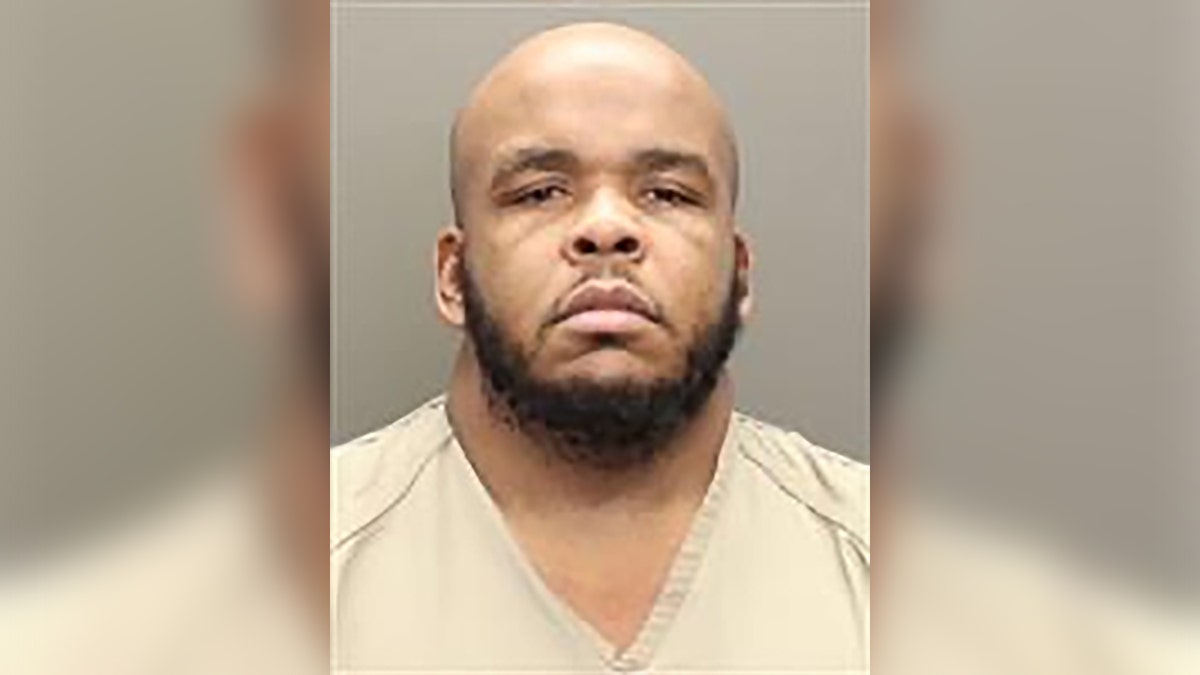 Suspect Michael James Brooks II was shot by a homeowner during an attempted burglary, police say. The 28-year-old is wanted for murder in Ohio and will be served an arrest warrant once he is released from the hospital.  (Fayette County Sheriff's Office)
Deputies were less than three minutes away. Police told FOX 5 Atlanta that the homeowner was armed with a gun and confronted the intruder, who was wielding a knife, in his basement.
The homeowner reportedly warned the suspect before shooting him. Police said the homeowner then left the basement and took up a defensive position on the second-floor staircase to protect his family.
"There, he took his stand as the subject made his way up to the second floor. [He] made the comment, something to the effect of, 'You're going to have to kill me.' When the resident fired a second shot. That was about the time the deputies got there. From we can tell, he was coming down the stairway with a second gunshot wound," said Fayette County Sheriff Barry Babb. "At that point, they actually still struggled with him [as they] took him into custody."
The suspect was transported to Grady Memorial Hospital with two gunshot wounds, FOX 5 reported.
MOM PLEADS GUILTY IN DEATH OF SON WHOSE FUNERAL SHE WAS ALLOWED TO ATTEND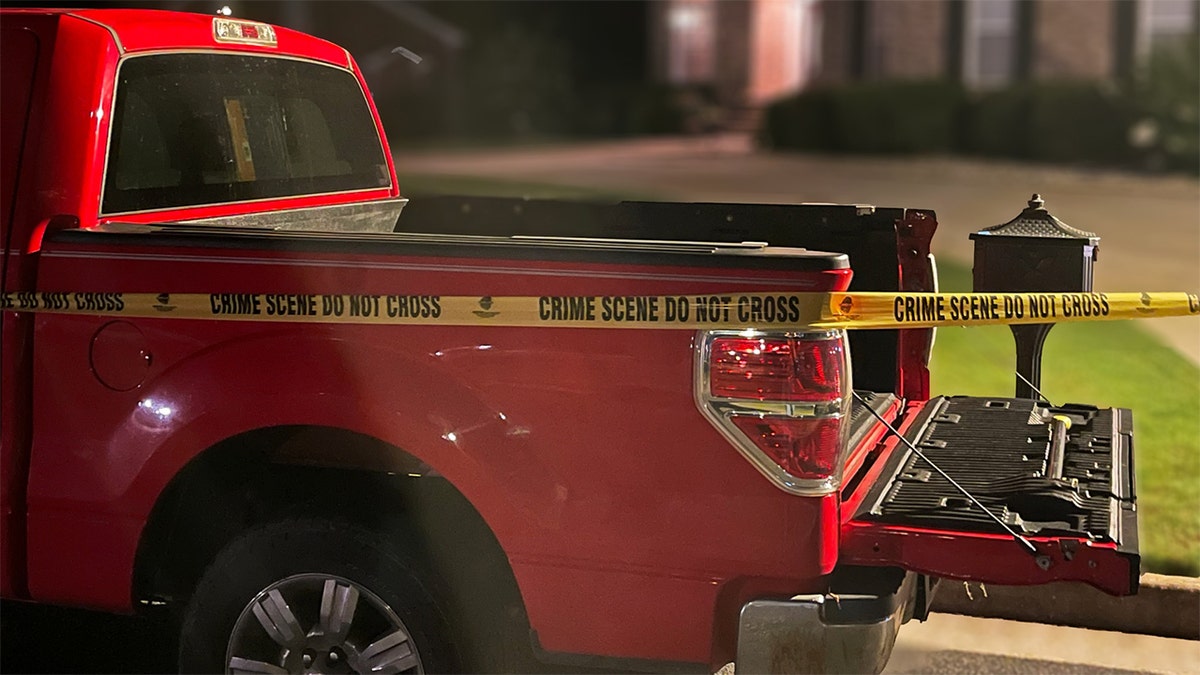 A red Ford truck believed to be driven by suspect Michael James Brooks II was reported stolen in Ohio and displayed a different state's license plate, Fayette County police said.  (Faytte County Sheriff's Office)
Police identified the intruder as Brooks by matching a Ford truck found at the crime scene to a vehicle that had been carjacked in Kettering, Ohio, days earlier. Fayette County deputies said the truck had different plates from the original displayed.
Fayette County investigators said the suspect had approached multiple houses in the Georgia neighborhood and that the targeted residence had been chosen at random. Police are working to determine whether Brooks has a connection between Georgia and Ohio.
The Columbus Division of Police identified Brooks as the person responsible for the deadly stabbing of Emily Foster, 77, following another home invasion in the city's University District on September 9.
Columbus police said that officers arrived at a home located in the 2000 block of Luka Avenue, near Ohio State University, and found the woman suffering from a stab wound. She was pronounced dead shortly after 4 p.m. by medics.
OHIO MURDER SUSPECT KILLED IN HOSTAGE STANDOFF AT GAS STATION IN WEST VIRGINIA AFTER MULTISTATE MANHUNT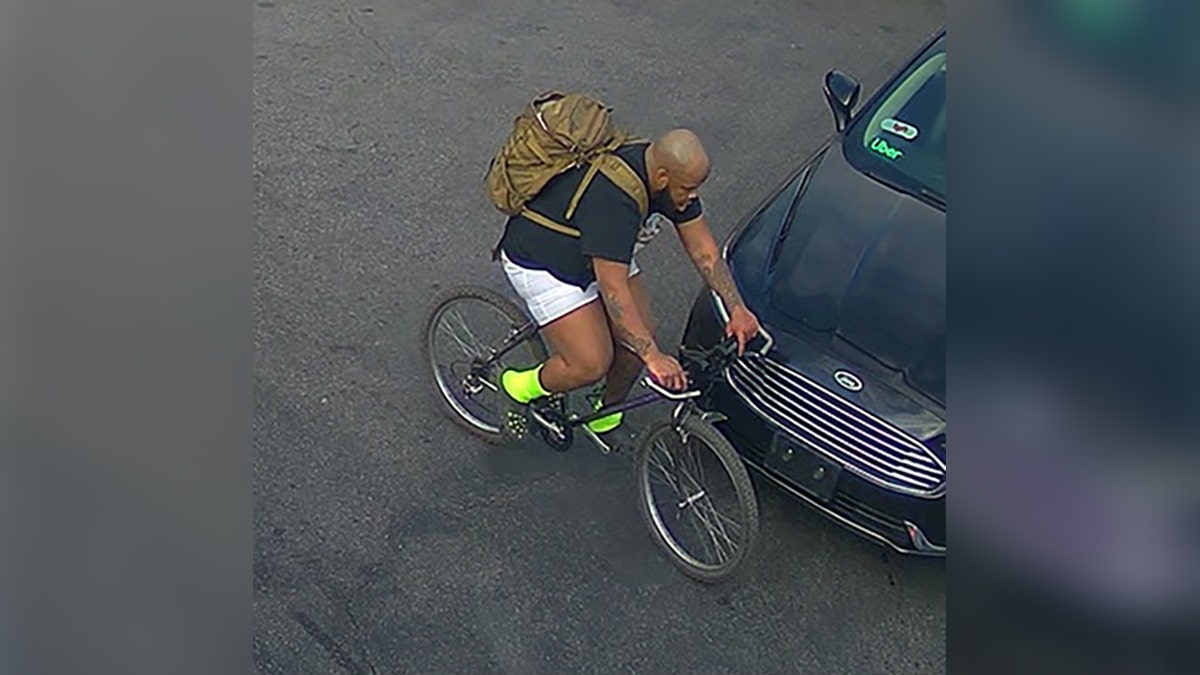 The Columbus Division of Police posted pictures of the suspect in the fatal stabbing of a 77-year-old woman that happened on September 9, 2023. (Columbus Division of Police)
Investigators said the attack was random.
Columbus police now want to know how Brooks got to the University District. They released photos showing Brooks, without pants, riding a bike through the area after the deadly stabbing. Cameras in the area captured Brooks' movements and assisted police in creating a timeline of events.
Deputy Chief Smith Weir said police determined the that suspect had been wearing sweatpants before he entered Foster's home but removed them afterward. The sweatpants were found near the home.
Brooks was identified based on forensic evidence collected at the home, and murder warrants were issued on Wednesday.
CLICK TO GET THE FOX NEWS APP
Columbus police said that Brooks had been released from the Franklin County Jail the night before he committed the murder. He had pleaded guilty to two counts of felony fleeing on aggravated assault charges in an unrelated case. Police said he had been released before sentencing in that case.
"Initially, he was on a parole hold. And the second part is, I believe, at a certain point, the parole hold ended, and he began serving time on the pending felony assault charge," said Deputy Chief Weir. "And at that point, he was awaiting sentencing, and I believe he bonded out at that point."
FOX 5 reported that Brooks has served time for aggravated robbery, robbery and receiving stolen property, having been released in 2016, according to the Ohio Department of Rehabilitation and Corrections. He was on parole until June of this year, the outlet reported.
Chris Pandolfo is a writer for Fox News Digital. Send tips to c[email protected] and follow him on Twitter @ChrisCPandolfo.