close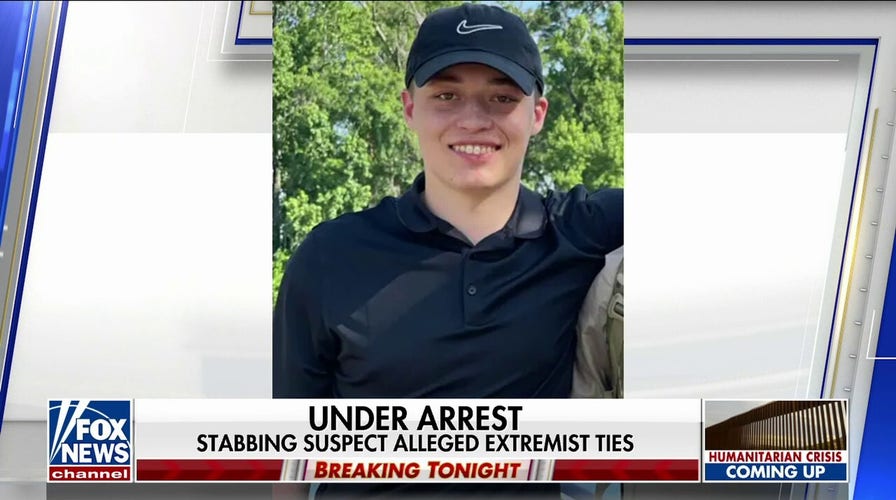 Video
New Year's Eve police attack suspect was on law enforcement's 'radar'
Fox News correspondent David Spunt shares details on authorities charging Trevor Bickford, 19, with attempted murder and assault after he allegedly attacked two New York City police officers with a machete in Manhattan on New Year's Eve.
Police say four people were wounded in a series of unrelated slashings that unfolded within a three-hour timespan on Tuesday just days after a New Year's Eve machete attack on cops in Times Square.
Tuesday's slashings all occurred in Manhattan – and left two of the victims slashed or stabbed in the face – yet the New York City Police Department doesn't believe any of the incidents are linked. No arrests have been made in any of the Tuesday morning attacks.
The first occurred at about 12:20 a.m. on West 42nd Street and Sixth Avenue, where police say a 41-year-old man was stabbed in the face and hand during a fight with three people outside Bryant Park. The three men allegedly responsible for the attack hopped into a yellow cab and fled the scene, police said.
The victim was transported to Bellevue Hospital, where he's expected to recover.
NYE SLASHING SUSPECT TREVOR BICKFORD CHARGED WITH ATTEMPTED MURDER OF POLICE OFFICERS
Just 10 minutes later and six blocks away, two men were slashed multiple times in a fight with two other men on West 46th Street near Eighth Avenue. The first victim, a 32-year-old, was slashed on his stomach and arm, while the second, a 36-year-old, was cut in the right arm, N.Y. Daily News reported.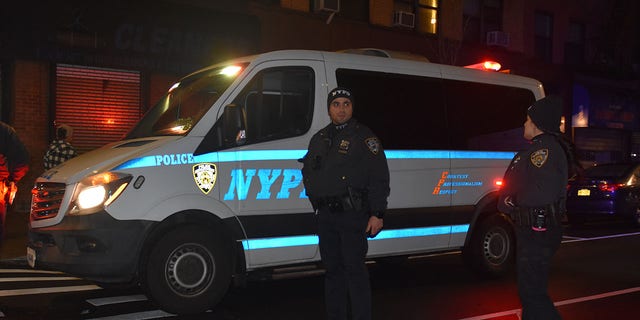 Police officers stand guard on a road after a 19-year-old assailant attacked three NYPD officers with a machete near Times Square during the New Year's Eve celebrations on Dec. 31, 2022.
(Kyle Mazza/Anadolu Agency via Getty Images)
They were both transported to Bellevue Hospital to be treated for the minor injuries.
The third slashing happened just after 3 a.m. when police say a man dressed in a yellow Superman shirt attacked a 50-year-old man at the Port Authority Bus Terminal on West 40th Street and Eighth Avenue. The suspect, who wore a blue surgical mask, is believed to be in his 20s and allegedly slashed the victim in the face before running from the scene, police said.
The victim in that attack was also sent to Bellevue Hospital.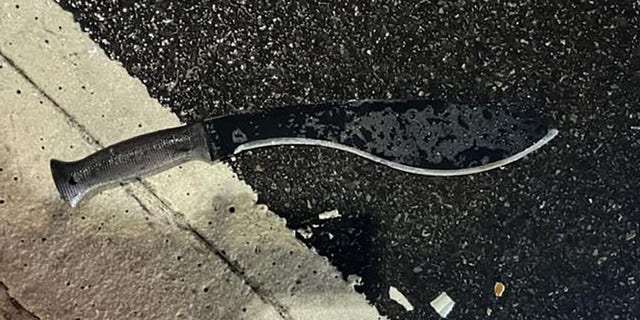 A machete alleged used in an attack on three police officers at Times Square in New York City on New Year's Eve.
(NYPD/Anadolu Agency via Getty Images)
The stabbings Tuesday come on the heels of the arrest of a 19-year-old man reportedly on the FBI watch list who is accused of attacking three police officers with a machete in Manhattan on New Year's Eve. The attacks took place around 10:11 p.m. Saturday just outside the security screening area for visitors gathering for the Times Square Ball Drop.
The suspect, identified as Trevor Bickford, is accused of approaching a cop and attempting to strike him in the head with a machete.
Bickford allegedly struck an additional two officers in the head with the machete before one of the officers fired their service weapon, striking the suspect in the shoulder. One officer, an eight-year veteran, suffered a laceration to the head, while another, who graduated the police academy just a day before, was also struck in the head, resulting in a skull fracture and a large laceration. All three officers were taken to Bellevue Hospital, where the suspect was also treated for his injuries, police said.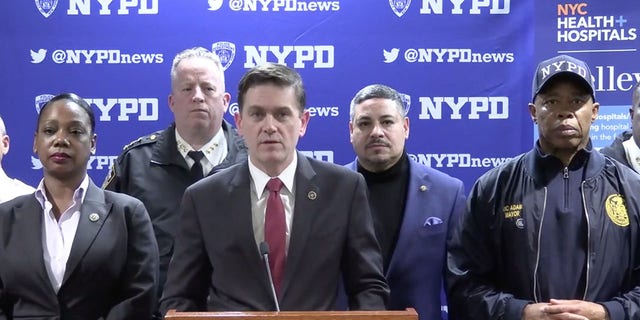 Mike Driscoll, deputy director of the FBI's New York office, speaks during a press conference after three police officers were attacked by a machete-wielding man at Times Square in New York City on New Year's Eve.
(NYPD/Anadolu Agency via Getty Images)
Afterward, the FBI said there was no ongoing threat, and the suspect is believed to have acted alone.
CLICK HERE TO GET THE FOX NEWS APP
Bickford, who is believed to have traveled from Maine, was charged with two counts of attempted murder of an officer and two counts of attempted assault. The NYPD and FBI are handling the investigation together, and FBI agents reportedly entered Bickford's Maine home on Monday.
Authorities are investigating Bickford for potential ties to Islamic extremism.
A high-level police source told Fox News Digital that Bickford was being watched by the FBI's counterterrorism task force in the weeks leading up to Saturday's attack. The source also said Bickford recently converted to Islam and a tipster claimed he had expressed interest in going to Afghanistan.
Fox News' Anders Hagstrom contributed to this report.
Danielle Wallace is a reporter for Fox News Digital covering politics, crime, police and more. Story tips can be sent to [email protected] and on Twitter: @danimwallace.