New York City Mayor Eric Adams said on Wednesday that the city's ongoing migrant crisis is projected to cost the city over $12 billion by 2025 as he renewed his calls for more action from the federal government.
"Since last year, nearly 100,000 asylum seekers have arrived in our city asking for shelter, and we are past our breaking point," Adams said in a statement. "New York City has been left to pick up the pieces of a broken immigration system – one that is projected to cost our city $12 billion over the course of three fiscal years without policy changes and further support from the state and federal governments."
"Our compassion may be limitless, but our resources are not," he said.
The self-described sanctuary city has repeatedly declared itself full and overwhelmed by the number of migrants that have come to the city, both on their own and with assistance from Texas – where Gov. Greg Abbott has been offering migrants buses to get to cities like the Big Apple as well as Washington, D.C., Chicago and Philadelphia.
MASSACHUSETTS GOV DECLARES STATE OF EMERGENCY DUE TO SURGE IN MIGRANTS; CALLS FOR FEDERAL ACTION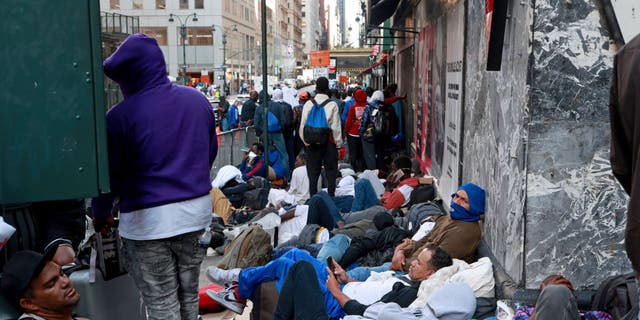 Lines of migrants are seen outside the Roosevelt Hotel in Midtown Manhattan on Wednesday, Aug. 2, 2023. (Luiz C. Ribeiro for NY Daily News via Getty Images)
Adams said there are currently more than 57,000 people in the city's shelter system, and it is spending $9.8 million a day, nearly $300 million a month and nearly $3.6 billion a year.
The city's migrant woes were highlighted this month when images emerged of scenes outside the Roosevelt Hotel, which is acting as an arrival center and where lines of adult migrants could be seen camping outside the building.
"We saw the effects clearly last week outside the Roosevelt Hotel," Adams said at a press conference. "Adult asylum seekers were sleeping on the pavement because our shelter system was full. I went again and again to speak with the men there. It broke my heart. It breaks this city's heart. Asylum seekers come here in search of a dream, not a nightmare."
SINEMA 'LIVID' NEW YORK CITY GETS FEDERAL FUNDS TO HELP WITH MIGRANT CRISIS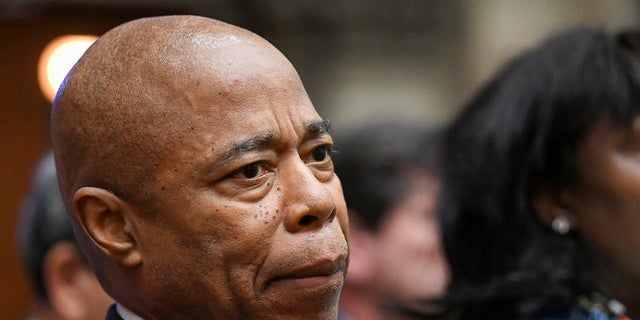 New York City Mayor Eric Adams has repeatedly requested federal help. (AP/Hans Pennink)
He also renewed his call for federal action, and supported Massachusetts Gov. Maura Healey's move on Tuesday to declare a state of emergency and call for more federal support.
"I agree with Massachusetts Gov. Healey. The federal government must take action," he said.
He said the government must push for expedited pathways to work authorizations for migrants, and also for a federal state of emergency.
MAYOR ERIC ADAMS SAYS NEW YORK CITY HAS 'RUN OUT OF ROOM' FOR MIGRANTS: 'IT'S NOT GOING TO GET ANY BETTER'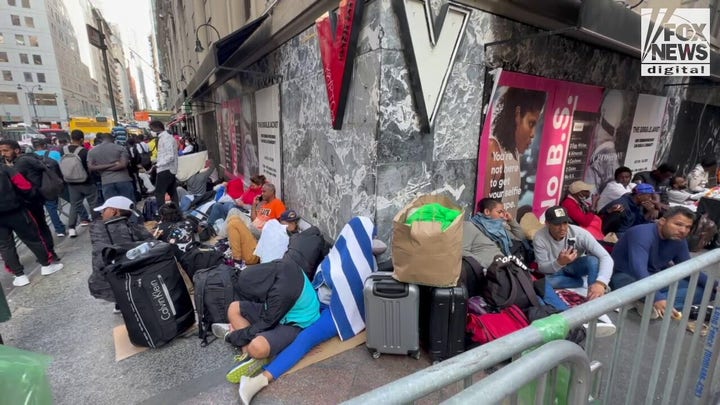 Video
"We are also asking the federal government to declare a state of emergency. Additionally, the federal government needs to provide more funding to match the reality of the cost on the ground," he said. "Finally, we need the federal government to lead a decompression strategy at the border so cities and states across the nation can do their part to shelter asylum seekers."
It marks the latest cry for help from a liberal jurisdiction now overwhelmed with migrant flows. Healey said on Tuesday that there are nearly 5,600 families or more than 20,000 people in the state shelter system as she declared the state of emergency.
Healey said there are numerous contributing factors, including "federal policies on immigration and work authorization" as well as a lack of affordable housing and the end of COVID-era programs.
"Many of these families are migrants to Massachusetts, drawn here because we are and proudly have been a beacon to those in need," she wrote in a letter to DHS Secretary Alejandro Mayorkas.
CLICK TO GET THE FOX NEWS APP
But those cries have also drawn criticism from some in border states, who have said that the numbers non-border states are facing are just a fraction of what southwestern states have been facing on a regular basis during the migrant crisis.
Sen. Kyrsten Sinema, I-Ariz., said last week that she is "livid" that New York City received an injection of over $100 million in funding.
"What we're experiencing here in Arizona is matched only by what folks are experiencing in southern Texas," Sinema said. "Those are the two communities that are experiencing this crisis. The rest of the country is experiencing some elements of it, but we are experiencing the brunt."