close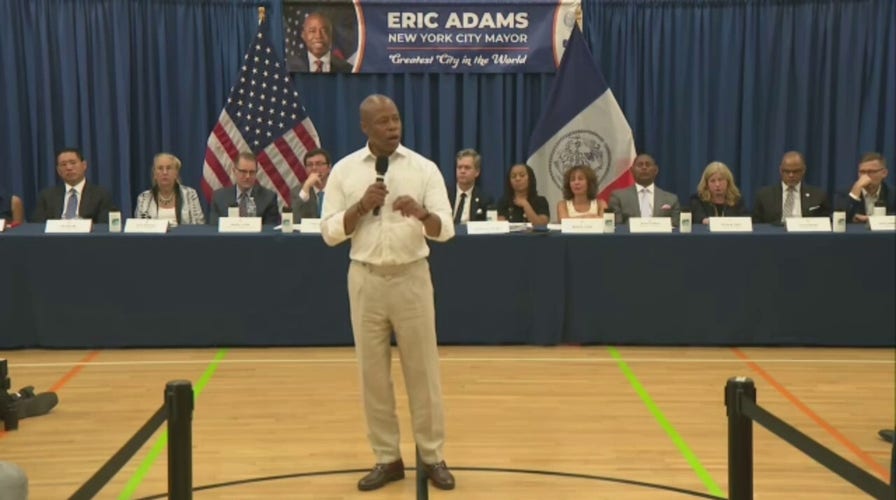 Video
Eric Adams says migrant crisis 'will destroy New York City' amid influx of 110,000 people
New York City Mayor Eric Adams says "the city we knew, we're about to lose" amid the influx of more than 110,000 migrants since last year.
New York City Mayor Eric Adams told reporters in Mexico that "there is no more room in New York," as he continues his Latin America tour in hopes of discouraging migrants from heading north to the Big Apple.
The Democrat made the remark in Puebla on Thursday after addressing the state's congress, during which he said, "We are neighbors, We are familiar," and migrants "are our future and we cannot lose one of them."
"There is no more room in New York. Our hearts are endless, but our resources are not," Adams told media that had gathered following his speech, according to The Associated Press. "We don't want to put people in congregate shelters. We don't want people to think they will be employed."
Adams said around 800,000 immigrants from the state of Puebla live in New York City, which has had to absorb over 120,000 more asylum seekers in the last year. In his address to Puebla's state legislature, the mayor also emphasized the role of New York City's migrant community during the pandemic.
ADAMS GOES ON LATIN AMERICA TOUR TO DISSUADE MIGRANTS FROM GOING TO NYC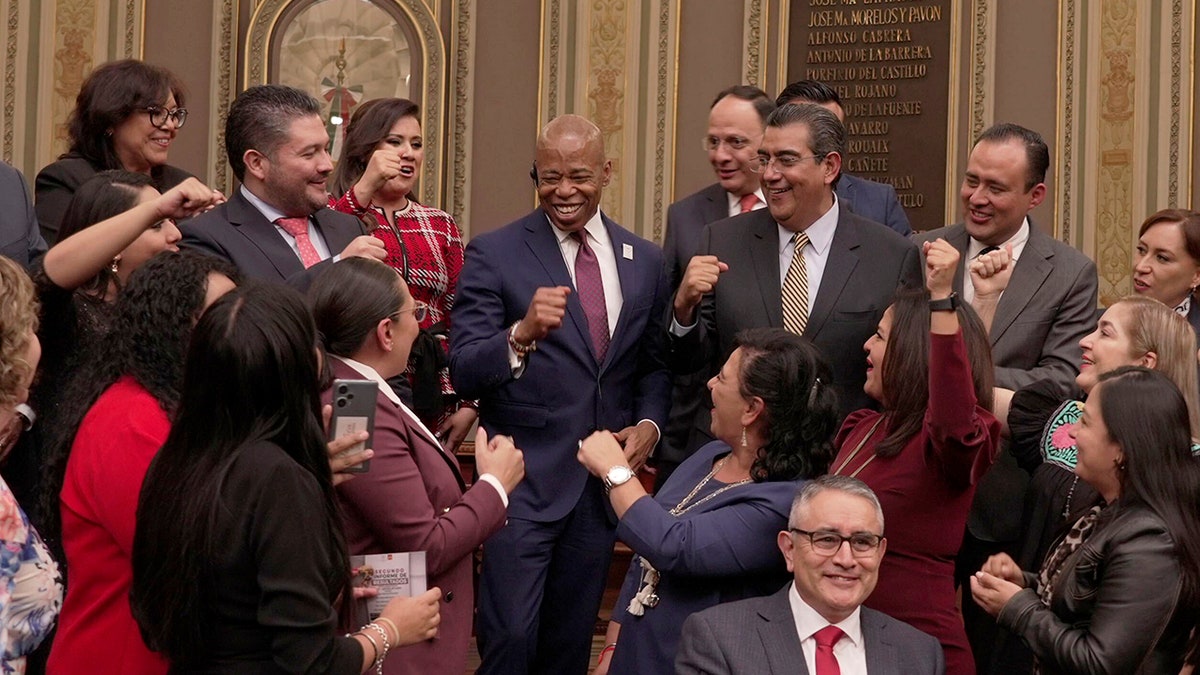 New York City Mayor Eric Adams, center, poses for photos with local lawmakers at the Puebla state congress in Mexico on Thursday, Oct. 5, 2023. (AP/Fernanda Pesce)
"During COVID-19 it was your children that kept our stores open, the first responders, transportation professionals, healthcare professionals," he was quoted by the AP as saying. "We survived COVID because your children were in our city."
TEXAS GOV. ABBOTT MAKES RARE NYC STOP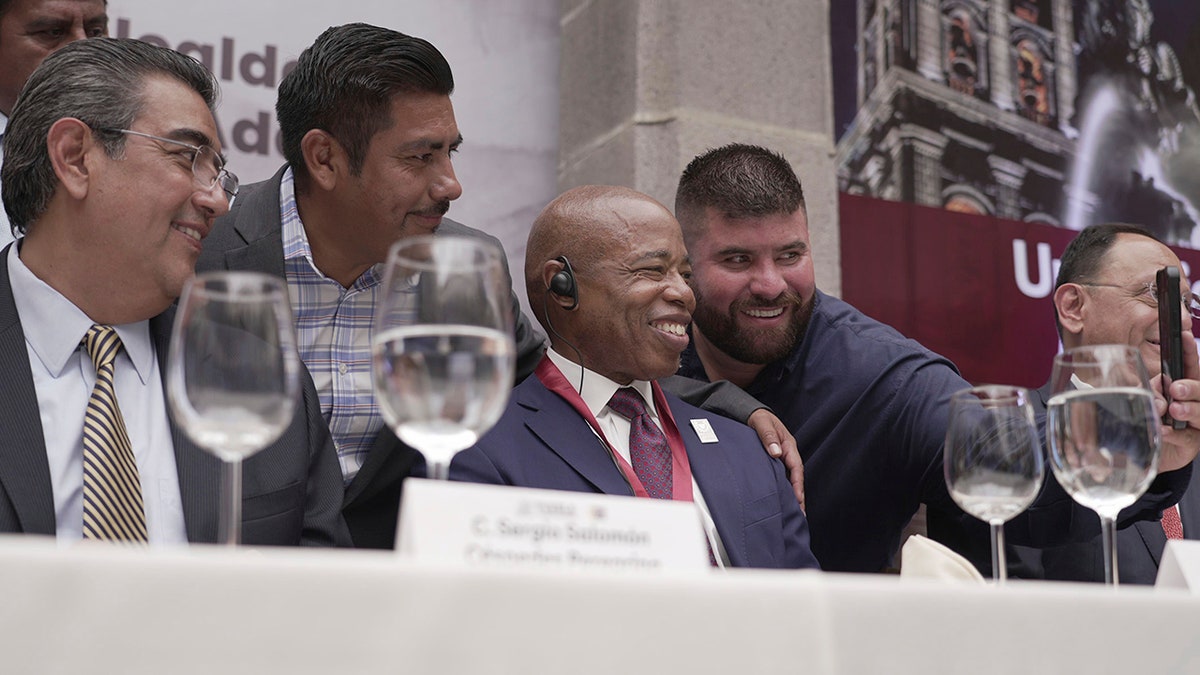 New York City Mayor Eric Adams poses for selfies with local businessmen and dignitaries during an event at the former Municipal Palace in Puebla, Mexico, on Thursday. (AP/Fernanda Pesce)
Adams has embarked on a four-day trip to Latin America. At a press conference Tuesday, Adams said he would travel to Mexico, Colombia and Ecuador, as well as the Darién Gap – a treacherous terrain of jungle between Panama and Columbia, where leaders who visited during the United Nations General Assembly last month told the New York City mayor that a "heavy flow" of migrants were pouring through to head north to the U.S.-Mexico border.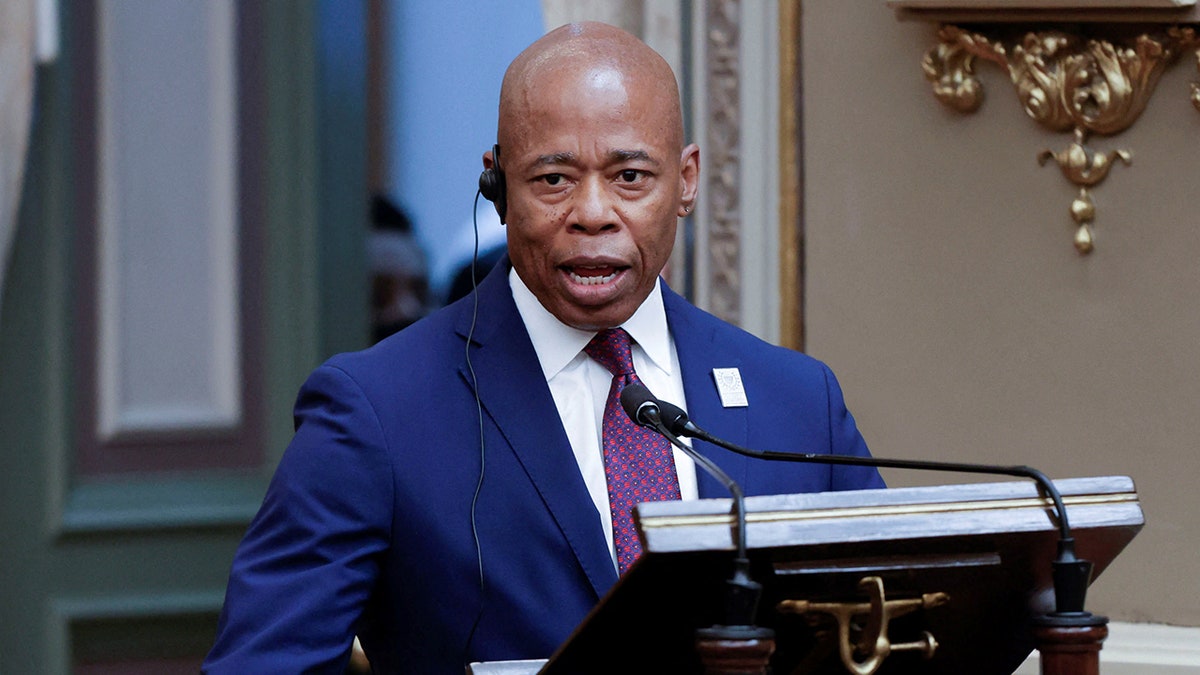 New York City Mayor Eric Adams visited Puebla, Mexico, on his 4-day trip to Latin America. (Reuters/Imelda Medina)
CLICK HERE TO GET THE FOX NEWS APP
"We believe the borders should remain open," Adams told reporters Tuesday. "That's the official position of this city. But we have made it clear there should be a decompression strategy that we could properly deal with the volumes that's coming into our city, and no cities should have to carry the burden of a nation … of the national government."
Fox News' Danielle Wallace and The Associated Press contributed to this report.
Greg Norman is a reporter at Fox News Digital.