close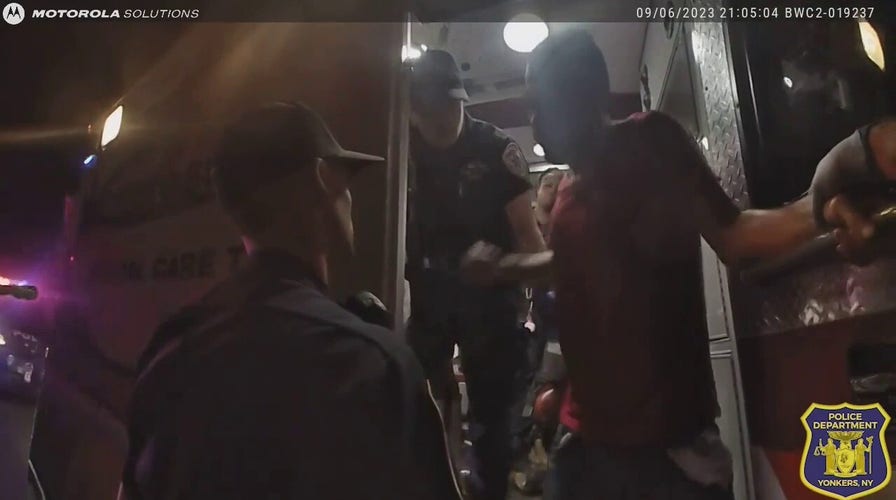 Video
Yonkers police officer punched in 'unprovoked' assault, authorities say
A police officer in Yonkers, New York, was punched in the face by a repeat felon he was trying to assist with getting medical attention, authorities said. (Credit: Yonkers Police Department)
A repeat felon in New York, who was released without bail after breaking the nose of a Yonkers police officer last week, has city officials decrying the situation as the "definition of insanity."
The assault happened on Sept. 6, when officers responded to a medical call for a "male down on the sidewalk" near Yonkers Avenue and Cypress Street, the Yonkers Police Department said in a statement.
Officers found the man, identified as 39-year-old Johnny McCray, and confirmed he was breathing before assisting him into an ambulance.
McCray attempted to leave the ambulance, but officers and medical staff "exercised great patience" to convince him to stay, the department said.
DANELO CAVALCANTE MANHUNT: HOW BORDER AGENTS FINALLY CAPTURED ESCAPED KILLER ALIVE AFTER 14-DAY JAILBREAK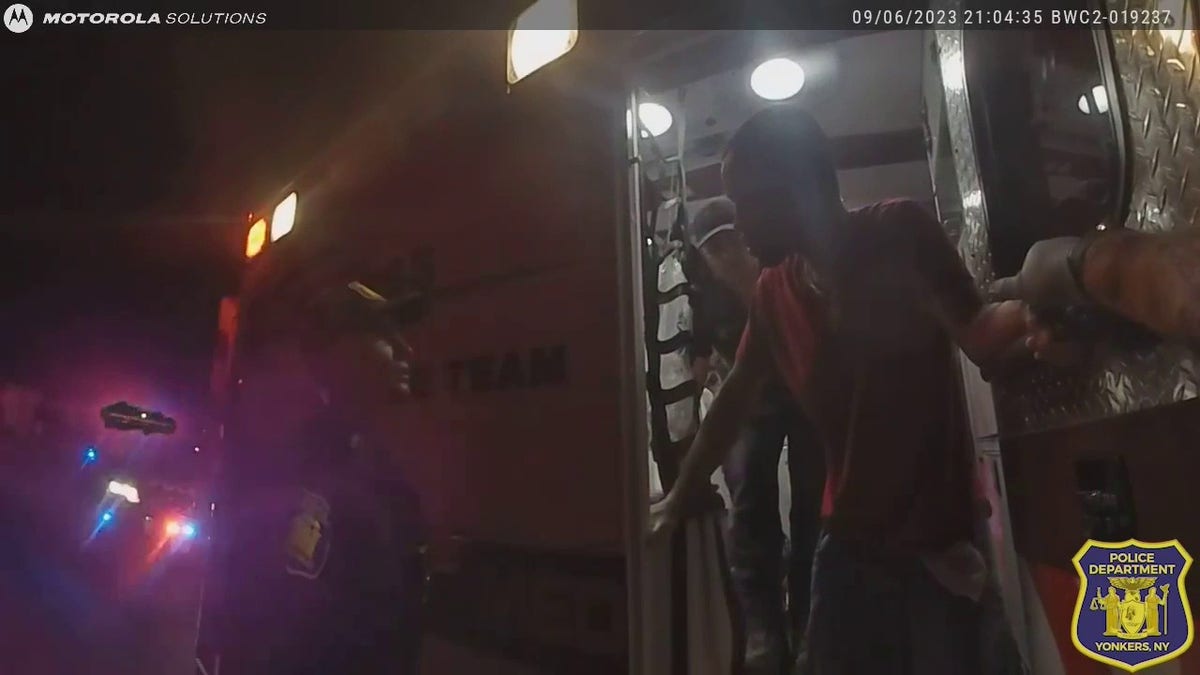 Police are seen conversing with Johnny McCray, who is standing in the doorway of an ambulance. (Yonkers Police Department)
Police said officer-worn bodycam footage shows the moment McCray suddenly delivered a "sucker punch" to an officer's face, breaking his nose in the "unprovoked" assault."
Officers can be seen rushing to pull McCray to the ground and put him in handcuffs.
Johnny McCray can be seen winding up his arm before landing a punch on the face of a Yonkers police officer. (Yonkers Police Department)
McCray was charged with felony second-degree assault on a police officer and other charges. He was held at a county jail – until his bail application hearing.
While the Westchester County District Attorney's Office requested a significant amount of bail, the department said McCray "convinced" a county court judge to release him until his next court date "by issuing a simple apology and mentioning an upcoming job interview."
Police said McCray is a repeat offender who is on parole through 2027 for an attempted robbery conviction from 2017. He served most of his five-year prison sentence in that case.
Following the punch, officers took Johnny McCray to the ground and handcuffed him. (Yonkers Police Department)
Prior to the alleged assault on the officer, McCray built a lengthy criminal record over the last 20 years with six felony and seven misdemeanor criminal convictions, according to police.
ILLEGAL IMMIGRANT CHARGED WITH MURDER RELEASED BY NEW YORK POLICE BECAUSE OF PAPERWORK DELAY: REPORTS
Yonkers Mayor Mike Spano called the situation "the very definition of insanity," in a written statement.
"The justice system is consistently bailing out criminal offenders," Spano said. "This Officer is now out on leave and not able to do his job, while this offender is able to continue to make a living. How can any reasonable person expect that we can protect the public if we can't even protect our Police Officers?"
Police Commissioner Christopher Sapienza said that officers put their lives on the line every day for the community, and, for the sake of all victims of crime, criminal acts cannot go unpunished.
"If we continue to tell offenders that crime, especially violent crime, is not taken seriously by the decisions made in our courts, we can be sure that judges' inaction and gentle approach to punishing repeat felons will severely undermine and limit the effectiveness of any crime-fighting strategy."
CLICK TO GET THE FOX NEWS APP
Spano said those who have "proven to hurt and plague the community" belong in jail "period."