The northern lights were captured on video Sunday dancing over Alaska skies.
The green lights shimmered over Anchorage terrain and communities.
The auroras made an appearance across the Northern Hemisphere through Monday morning, with reports as far south as Ohio.
The waves of light are caused by the sun. While the sun sends energy and small particles, the Earth is protected by its magnetic field. Some outputs are stronger than others, including solar storms.
HUGE MOOSE KICKS ALASKA WOMAN IN THE HEAD AFTER SNEAKING UP ON HER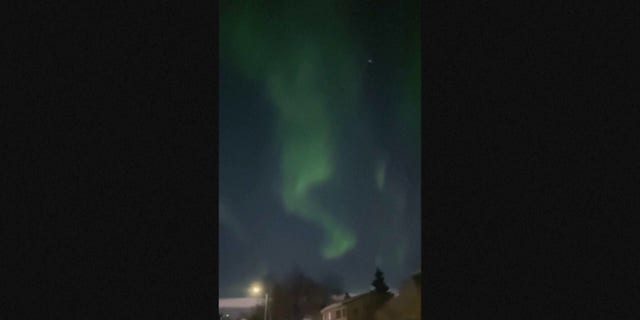 The northern lights dazzled the skies over Anchorage, Alaska, Sunday. (Stephanie Quinn-Davidson/via APTN)
When the solar storm heads toward Earth, some of the energy and small particles can travel down the magnetic field lines at the north and south poles into Earth's atmosphere. There, the particles interact with gases in the atmosphere, creating the light displays.
A 3,500-YEAR-OLD BEAR PRESERVED IN SIBERIAN PERMAFROST IS DISSECTED BY RESEARCHERS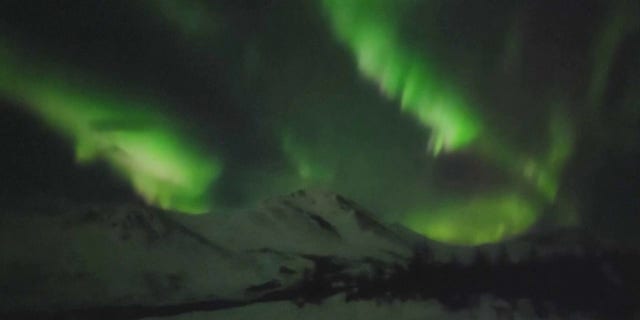 The green lights shimmered over Anchorage terrain and communities.  (Brian Brettschneider via APTN)
Oxygen gives off green and red light, and NASA says nitrogen glows blue and purple.
The aurora is named for the Roman goddess of dawn. While the aurora borealis occurs in the north, the southern pole sees the aurora australis, or southern lights.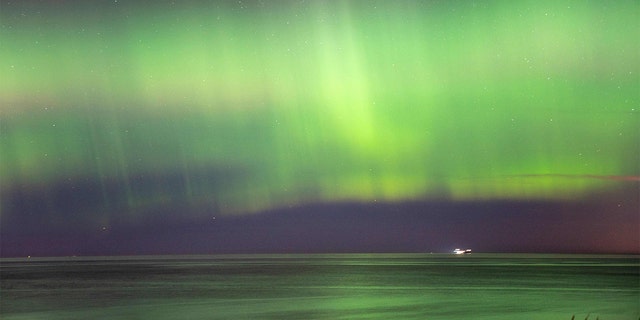 Northern lights (aurora borealis) illuminate the sky as visitors walk along Hornbaek Beach in the northern part of Sealand, Denmark, late on Feb. 27, 2023. (Mads Claus Rasmussen/Ritzau Scanpix/AFP via Getty Images)
CLICK HERE TO GET THE FOX NEWS APP
Over the weekend, two solar storms – coronal mass ejections – occurred.