close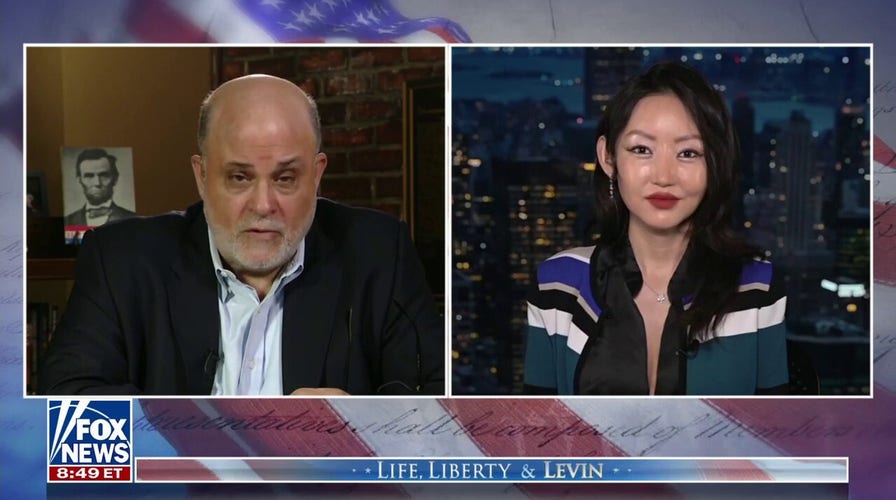 Video
North Korean defector to Levin: Indoctrination in schools is 'biggest threat' nation faces
'While Time Remains' author Yeonmi Park discusses the threat woke classrooms pose on America's freedoms on 'Life, Liberty & Levin.'
North Korea is reportedly planning to launch its first military spy satellite into orbit for monitoring U.S. military drills with South Korea.
The announcement came a day after North Korea informed Japan that it plans to launch a satellite sometime between May 31 and June 11 — despite the United Nations prohibiting it from engaging in such activity.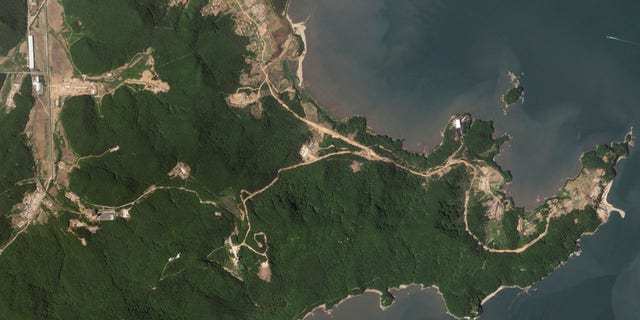 This satellite picture by Planet Labs PBC shows the Sohae Satellite Launching Station near Tongchang-ri, North Korea, Tuesday, May 30, 2023.  (Planet Labs PBC via AP)
It's not clear whether North Korea's satellite will be advanced enough to track and monitor U.S. and South Korean activities in real time.
North Korea placed Earth-observation satellites in orbit in 2012 and 2016, though their capabilities have been questioned.
Foreign experts have said those earlier satellites never transmitted imagery back to North Korea, and analysts say the new device displayed in state media in recent weeks appeared too small and crudely designed to process and transfer high-resolution imagery.
NORTH KOREA INFANT JAILED FOR LIFE AFTER PARENTS FOUND WITH BIBLE ACCORDING TO RECENT REPORT
Satellite images taken Tuesday by Planet Labs PBC and analyzed by The Associated Press, showed the massive orange gantry at a main pad at North Korea's Sohae Satellite Launching Station.
The gantry houses a rocket on the launch pad. Next to the gantry, a long, rectangular object could be seen with two other objects nearby. Those objects hadn't been seen in prior days' images of the site — and could potentially be rocket parts.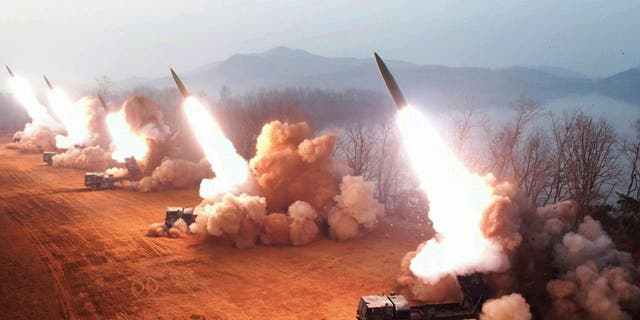 FILE: This photo provided by the North Korean government shows what it says is an artillery drill at an undisclosed location in North Korea, Thursday, March 9, 2023.  (Korean Central News Agency/Korea News Service via AP)
Since the start of 2022, North Korea has test-fired around 100 missiles, including ICBMs designed to reach the U.S. mainland and a slew of launches it described as simulated nuclear attacks on targets in South Korea.
North Korea has said its intensified testing activity is meant to counter its rivals' joint military exercises as it continues to use those drills as a pretext to advance its arsenal of nuclear-capable weapons.
The North has long regarded U.S.-South Korean military exercises as a dress rehearsal for an invasion. Washington and Seoul describe their regular military exercises as defensive, and have expanded their training since 2022 to cope with North Korea's evolving threats.
CLICK HERE TO GET THE FOX NEWS APP
Han Sung Geun, spokesperson of South Korea's Joint Chiefs of Staff, said during a briefing that the South Korean and U.S. militaries were closely watching North Korea over the possible satellite launch and other provocative military moves.
Geun did not provide specific assessments about the potential capabilities of the North Korean satellite and refused to say whether the South Korean military was preparing for the possibility that debris could fall in nearby waters.
Fox News' Landon Mion and The Associated Press contributed to this report.
Bradford Betz is a Fox News Digital breaking reporter covering crime, political issues, and much more.