close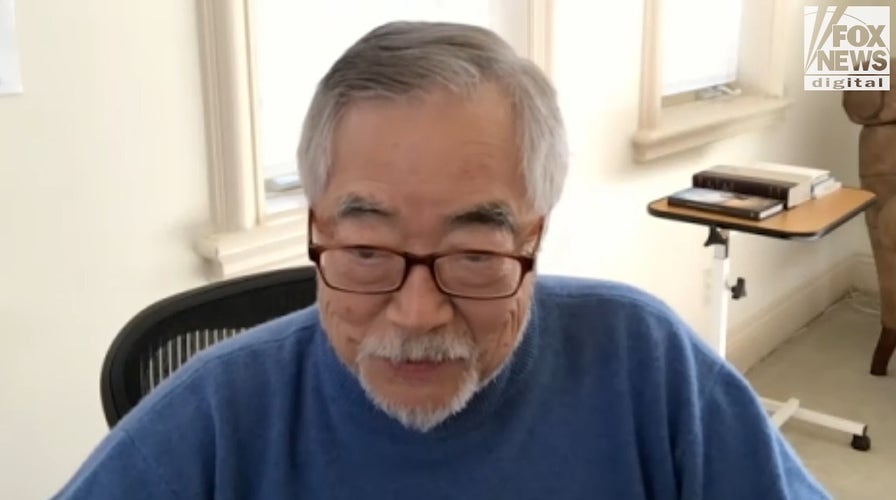 Video
American born in North Korea reveals what happens inside of military dictatorship
85-year-old Joon Bai fled North Korea as a teenager before becoming a successful businessman in the United States.
North Korea fired a short-range ballistic missile into the sea near South Korea's western coast on Thursday, according to South Korea military officials.
The South's Joint Chiefs of Staff said the weapon was fired at around 6:20 p.m. from an area around the western coastal city of Nampo. It did not immediately release an assessment of how far the missile flew.
The launch was a show of aggression that came days after Kim Yo Jong, the sister of dictator Kim Jong-Un, threatened "quick, overwhelming action" in response to a joint military exercise between the U.S. and South Korea.
NORTH KOREA THREATENS ACTION AFTER US FLIES NUCLEAR-CAPABLE B-52 BOMBER OVER KOREAN PENINSULA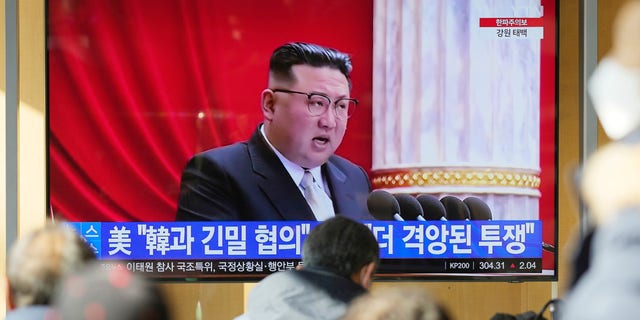 A TV screen shows a news program reporting with footage of North Korean leader Kim Jong Un in Pyongyang, at the Seoul Railway Station in Seoul, South Korea, on Dec. 27, 2022. South Korea's military said it detected North Korea firing one short-range ballistic missile into waters off its western coast on Thursday, March 9, 2023.  (AP Photo/Lee Jin-man, File)
The military exercise involved a U.S. B-52 bomber capable of carrying nuclear weapons flying over the Korean Peninsula along with South Korean warplanes. North Korea has previously described such exercises as "provocations."
The U.S. and South Korea have ramped up these exercises in response to North Korea bolstering its ballistic missile program, conducting a record number of missile tests and openly threatening to use its nuclear weapons.
US, SOUTH KOREA VOW TO RAMP UP NUCLEAR DETERRENCE IN FACE OF NORTH KOREA AGGRESSION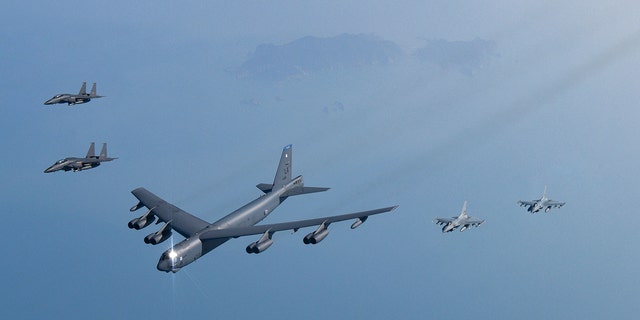 In this photo provided by South Korea Defense Ministry, a U.S. Air Force B-52H Stratofortress aircraft, center, flies in formation with South Korea's Air Force KF-16 fighters and South Korea's Air Force F-15K fighters over the western sea of Korean peninsula during a joint air drill in South Korea, Monday, March 6, 2023. (South Korea Defense Ministry via AP)
Last Friday, the South Korean and U.S. militaries initially announced they would restore their springtime field exercises and would conduct a computer-simulated command post training from March 13-23. The United States has also recently sent advanced warplanes, including the B-1B and B-52 long-range bombers, to train with South Korean aircraft in a show of strength, triggering protests from North Korea, which describes the allies' joint drills as invasion rehearsals.
The massive springtime exercise was previously canceled by former President Donald Trump in 2018.
SOUTH KOREA REFERS TO NORTH AS 'OUR ENEMY' FOR FIRST TIME IN SIX YEARS AS TENSIONS HEIGHTEN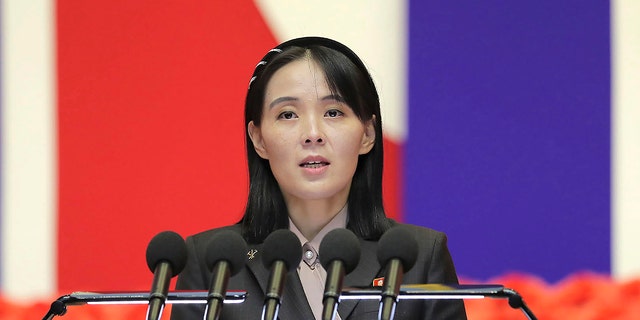 This photo provided by the North Korean government, Kim Yo Jong, sister of North Korean leader Kim Jong Un, delivers a speech during a national meeting against the coronavirus, in Pyongyang, North Korea, Aug. 10, 2022. Kim threatened "quick, overwhelming action" in response to a joint military exercise between the U.S. and South Korea on Tuesday. (Korean Central News Agency/Korea News Service via AP)
Last month, Kim Yo Jong said North Korea would continue its missile testing, going as far as to say her country would turn the Pacific into a missile firing range. On Tuesday, she reiterated that North Korea would consider an attempt by the U.S. to intercept one of its intercontinental ballistic missiles as a declaration of war.
CLICK HERE TO GET THE FOX NEWS APP
Fox News' Lawrence Richard and The Associated Press contributed to this report.
Chris Pandolfo is a writer for Fox News Digital. Send tips to c[email protected] and follow him on Twitter @ChrisCPandolfo.