North Dakota Gov. Doug Burgum suffered a leg injury in Milwaukee, Wisconsin last night while playing a game of pick-up basketball with his staff, Fox News has confirmed Wednesday.
Burgum is one of eight presidential hopefuls set to appear tonight in the first Republican presidential primary debate hosted by Fox News at 9 p.m. ET.
The event is being held in Milwaukee and his campaign tells Fox News that it is now "unclear if he will be able to stand at the debate."
The injury Tuesday night forced Burgum to be sent to a local hospital's emergency room. As of Wednesday, he has been discharged, his campaign says.
REPUBLICAN CANDIDATES DESCEND ON MILWAUKEE FOR FIRST 2024 DEBATE ON FOX NEWS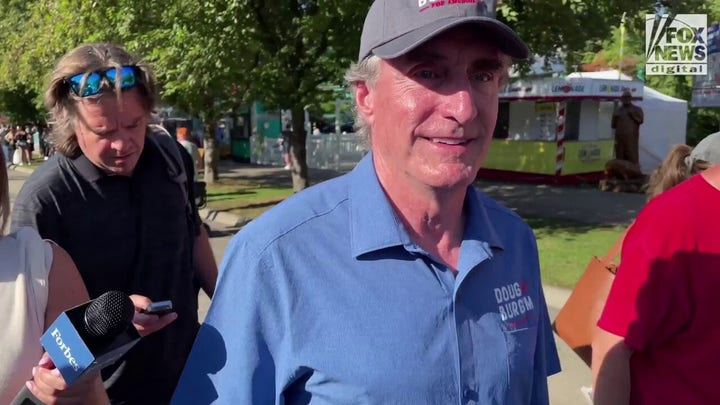 Video
Burgum is a dark horse in the race, lacking the name recognition that other candidates enjoy. He qualified for the debate by earning 3% support in the Fox Iowa poll, but has otherwise remained a relatively obscure figure in national politics.
Wednesday night's debate is an opportunity for Burgum to grab more attention from GOP primary voters. The billionaire software entrepreneur has poured more than $10 million into the race from his own bank account, and spent $8 million in the last quarter alone.
Up to $760,000 of that spend went to donors who accepted his offer to send a $20 gift card to any $1+ donor, a ploy that saw him reach the fundraising threshold for the first debate in record time this cycle.
BURGUM SLAMS RNC 'CLUBHOUSE RULES,' ACCUSES PARTY OF TRYING TO KEEP 'FRESH FACES' OFF DEBATE STAGE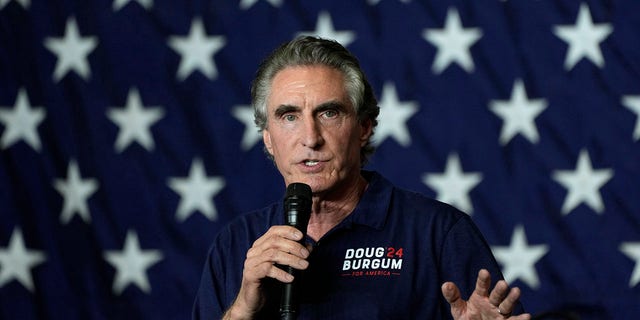 Republican presidential candidate North Dakota Gov. Doug Burgum speaks during a fundraising event for U.S. Rep. Ashley Hinson, R-Iowa, on Sunday, Aug. 6, 2023, in Cedar Rapids, Iowa.  (AP/Charlie Neibergall)
Before becoming the 33rd governor of North Dakota, Doug Burgum established himself as a successful businessman in the software industry.
Burgum, 67, steered his one-time small business, Great Plains Software, into a $1 billion software company. His business – and its North Dakota-based workers – were eventually acquired by Microsoft, and Burgum stayed on board as a senior vice president.
In 2016, the then first-time candidate and long shot convincingly topped a favored GOP establishment contender to secure the Republican nomination in North Dakota before going on to a landslide victory in the gubernatorial general election in the solidly red state. Burgum was overwhelmingly re-elected in 2020 to a second term as governor.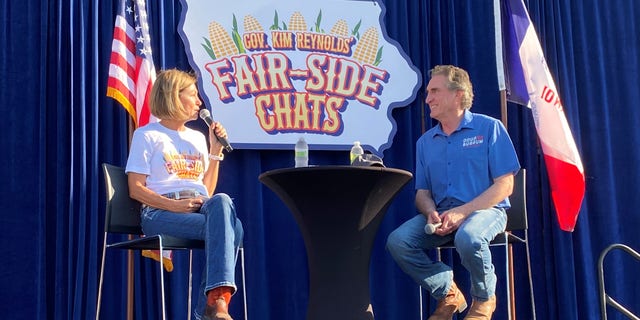 North Dakota Gov. Doug Burgum, a 2024 Republican presidential candidate, is interviewed by Iowa Gov. Kim Reynolds at the Iowa State Fair, on Aug. 11, 2023, in Des Moines, Iowa. (Fox News – Paul Steinhauser)
CLICK HERE TO GET THE FOX NEWS APP
"Governor Burgum is looking forward to sharing his focus on the economy, energy and national security at the August debate," Burgum campaign spokesman Lance Trover said last month. "In less than 7 weeks, Governor Burgum has exceeded all the requirements for the debate. As a Governor and business leader Doug knows how to fix the economy, unleash American energy and win the Cold War with China."
Fox News' Chris Pandolfo and Rémy Numa contributed to this report.