close
Video
Fox News Flash top headlines for March 20
Fox News Flash top headlines are here. Check out what's clicking on Foxnews.com.
A firebrand Israeli minister claimed there's "no such thing" as a Palestinian people as Israel's new coalition government, its most hard-line ever, plowed ahead on Monday with a part of its plan to overhaul the judiciary.
Prime Minister Benjamin Netanyahu's coalition said it was pushing a key part of the overhaul — which would give the coalition control over who becomes a justice or a judge — before the parliament takes a monthlong holiday break next week.
The development came a day after an Israeli and Palestinian delegation at a meeting in Egypt, mediated by Egyptian, Jordanian and U.S. officials, pledged to take steps to lower tensions roiling the region ahead of a sensitive holiday season.
ISRAELI FORCES KILL THREE PALESTINIAN MILITANTS IN WEST BANK GUNFIGHT
It reflected the limited influence the Biden administration appears to have over Israel's new far-right government and raised questions about attempts to lower tensions, both inside Israel and with the Palestinians, ahead of a sensitive holiday season.
As the negotiators were issuing a joint communique, Israeli Finance Minister Bezalel Smotrich delivered a speech in Paris saying the notion of a Palestinian people was artificial.
"There is no such thing as a Palestinian nation. There is no Palestinian history. There is no Palestinian language," he said in France late Sunday. He spoke at a lectern draped with what appeared to be an image showing the map of Israel that included the occupied West Bank, Gaza and Jordan.
Jordan's Foreign Ministry said that Smotrich's appearance with the icon was a "reckless inflammatory act and a violation of international norms and the peace treaty" between the two countries.
Palestinian Prime Minister Mohammad Shtayyeh said Smotrich's remarks were "conclusive evidence of the extremist, racist Zionist ideology that governs the parties of the current Israeli government."
A far-right settler leader who opposes Palestinian statehood, Smotrich has a history of offensive statements against the Palestinians. Last month, he called for the Palestinian town of Hawara in the West Bank to be "erased" after radical Jewish settlers rampaged through the town in response to a shooting attack that killed two Israelis. Smotrich later apologized after an international uproar.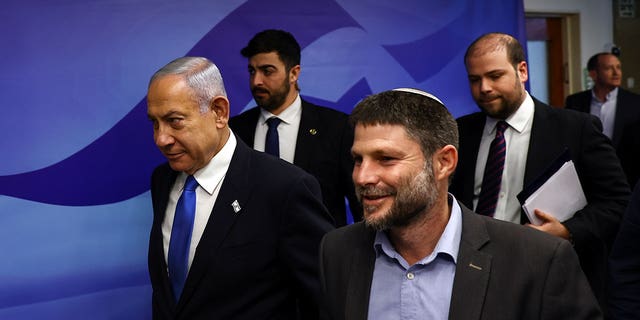 Israeli Prime Minister Benjamin Netanyahu, left, and Finance Minister Bezalel Smotrich, right, arrive to attend a cabinet meeting in Jerusalem on Feb. 23, 2023. Smotrich said there's no such thing as a Palestinian people. (Ronen Zvulun/Pool Photo via AP, File)
His remarks on Palestinians were reminiscent of those made by late Israeli Prime Minister Golda Meir that caused an uproar in 1969. She later told The New York Times that she meant there had never been a Palestinian nation. But critics say the comments continue to tarnish her legacy.
During Sunday's talks in Egypt, a Palestinian gunman carried out another shooting attack in Hawara, seriously wounding an Israeli man.
The new violence, along with Smotrich's comments, illustrated the tough challenges that lie ahead in soothing tensions after a year of deadly violence in the West Bank and east Jerusalem. More than 200 Palestinians have been killed by Israeli fire in the West Bank and east Jerusalem, and more than 40 Israelis or foreigners have been killed in Palestinian attacks during that time.
Sunday's summit was held ahead of the Muslim holy month of Ramadan, which begins this week. The Jewish festival of Passover is set to take place in April, coinciding with Ramadan.
The upcoming period is sensitive because large numbers of Jewish and Muslim faithful pour into Jerusalem's Old City, the emotional heart of the conflict and a flashpoint for violence, increasing friction points.
Large numbers of Jews are also expected to visit a key Jerusalem holy site, known to Muslims as the Noble Sanctuary and to Jews as the Temple Mount — an act the Palestinians view as a provocation.
Clashes at the site in 2021 helped trigger an 11-day war between Israel and Hamas, which rules the Gaza Strip.
ISRAELIS AND PALESTINIANS HAVE BEEN HOLDING SECRET TALKS FOR WEEKS: REPORT
On Monday, Israeli police closed the offices of a Palestinian radio station in east Jerusalem, saying it worked for official Palestinian Authority media in violation of the 1994 interim agreements between Israel and the Palestinians.
The heightened tensions with the Palestinians coincide with mass demonstrations inside Israel against Netanyahu's plans to overhaul the judicial system. Opponents of the measure have carried out disruptive protests, and the debate has embroiled the country's military, where some reservists are refusing to show up for service. Netanyahu has rejected a compromise by Israel's figurehead president.
During his call with Netanyahu, Biden appealed for caution, the White House said, "as a friend of Israel in the hopes that there can be a compromise formula found."
The president "underscored his belief that democratic values have always been, and must remain, a hallmark of the U.S.-Israel relationship," the White House said, and added that "fundamental changes should be pursued with the broadest possible base of popular support."
CLICK HERE FOR THE FOX NEWS APP
Netanyahu's government says the plan is meant to correct an imbalance that has given the courts too much power over the legislative process. Critics say the overhaul would upend the country's delicate system of checks and balances and push Israel toward authoritarianism. They also say Netanyahu could find an escape route from his corruption trial through the overhaul.
The protests, along with the rising violence with the Palestinians, have posed a major challenge for the new government. So far this year, 85 Palestinians have been killed, according to a tally by The Associated Press.
The number of Israelis killed during the same period rose to 15 on Monday after Or Eshkar, 33, died. He was shot in the head at point-blank range by a Palestinian in Tel Aviv on March 9.
Israel says most of the Palestinians killed have been militants. But stone-throwing youths protesting the incursions and people not involved in the confrontations have also been killed.
Israel captured the West Bank, east Jerusalem and the Gaza Strip in the 1967 Mideast war. The Palestinians seek those territories for their future independent state.