YouTube TV: $65



Best for everything including the NFL Network



See at YouTube TV



Sling TV Blue: $40



Cheapest option for NFC fans



See at Sling TV



Paramount Plus Premium: $10



Cheap alternative for AFC fans on Sunday



See at Paramount Plus

The NFL playoffs are here. After 18 weeks of regular season football, the field is set for the 2023 postseason. The top-seeded Eagles and Chiefs will have byes, while the other 12 qualifying teams will begin their quests to reach Super Bowl LVII in Arizona in February. 
Kicking things off is "Super Wild Card" weekend with three days of playoff football. Saturday saw the 49ers take down the rival Seahawks and the Jaguars pull off a remarkable rally to beat the Chargers. The fun continues on Sunday with three contests while this coming Monday will have one game on ESPN (and its associated networks).
Here's how you can watch all the action this weekend and throughout the rest of the playoffs with or without cable.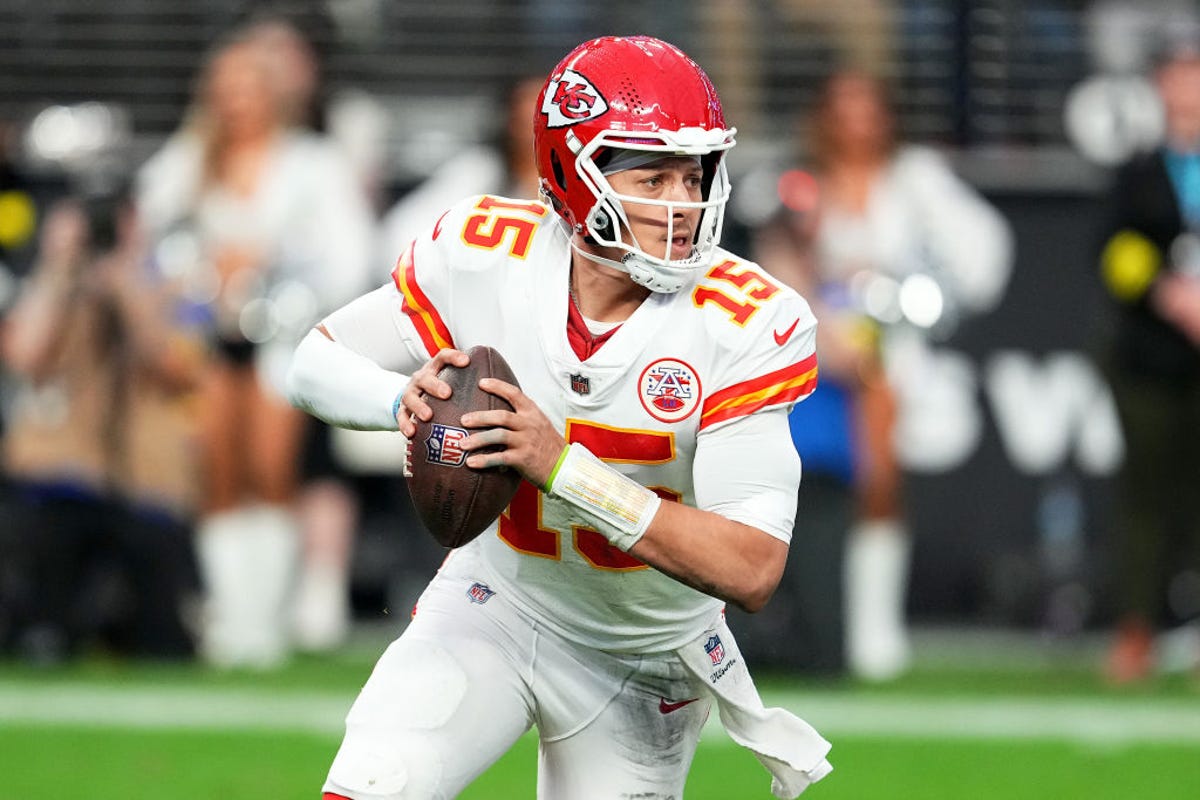 Patrick Mahomes and the Kansas City Chiefs are the top seed in the AFC.

Chris Unger/Getty Images

What is the NFL schedule this weekend? 

As mentioned there are games scattered throughout the weekend. Here's the remaining schedule: 
Sunday, Jan. 15
Dolphins vs. Bills, 1 p.m. ET (10 a.m. PT) on CBS and Paramount Plus
Giants vs. Vikings, 4:30 p.m. ET (1:30 p.m. PT) on Fox
Ravens vs. Bengals, 8:15 p.m. ET (5:15 p.m. PT) on NBC and Peacock
Monday, Jan. 16
Cowboys vs. Buccaneers, 8:15 p.m. ET (5:15 p.m. PT) on ABC, ESPN and ESPN Plus
What does the NFL bracket look like? 
There are 14 teams in the NFL playoffs, with the Chiefs the top seed in the AFC and the Eagles the top seed in the NFC. Both of those teams have a bye this round and automatically advance to the Divisional Round next weekend. Here is how the full bracket broke down heading into the weekend. 
THE BRACKET IS SET! #NFL

LET'S DO THIS THING. pic.twitter.com/eMOGViN9D4

— Sunday Night Football on NBC (@SNFonNBC) January 9, 2023
Are games available in 4K? 
As spotted by The TV Answer Man, Fox will be broadcasting its games in 4K, assuming you have the proper setup. To get the game in its best resolution, you'll need to have service from a company that offers 4K broadcasts (DirecTV, Dish, Comcast, Optimum and Verizon Fios are some traditional cable/satellite companies that offer 4K) or a 4K-capable plan on a streaming service like YouTube TV or FuboTV. 
If you don't have a 4K set-top box but have a login to a cable or satellite provider, you can watch in 4K using the Fox Sports or Fox Now apps. 
When is the Super Bowl and which network will broadcast it? 
Super Bowl 57 will take place on Sunday, Feb. 12, at State Farm Stadium in Glendale, Arizona (the home of the Arizona Cardinals). 
This year's game will air on Fox, with kickoff set for 6:30 p.m. ET (3:30 p.m. PT). 
What are my streaming options for NFL games?

Paying for cable is the easiest solution, but not the cheapest. For cord-cutters looking to save some money, NFL football streaming options can get complicated, with games played across three different days and nights each week on different channels and streaming services. For the playoffs, games will be shown on ABC, CBS, Fox, NBC and ESPN as well as on streaming services like Paramount Plus (CBS games), Peacock (NBC games) and ESPN Plus (ESPN/ABC game). 
All five of the live TV streaming services carry ESPN and Fox, and all but Sling TV carry CBS. For the games on CBS and Fox, keep in mind that not every service carries every local network, so check each one using the links below to make sure it carries CBS and Fox in your area.
There are three other streaming services that cord-cutting NFL fans should consider. The paid Premium plan of Paramount Plus will show CBS games on Sundays, and the paid Premium plan of Peacock will show NBC's broadcasts of Sunday Night Football. And ESPN Plus will show both games on the final Saturday of the season.
Wait, there's one more streaming service to consider for the remainder of the year. Prior to the season, the NFL launched a new streaming service for watching games on your phone or tablet — no casting to your TV. In past years, you could do this for free with the Yahoo Sports app, but now you'll need to pay $5 a month or $40 for the season for the NFL Plus subscription. With it, you'll be able to watch every local game on Sunday and the national games on Sunday, Monday and Thursday nights as well as the playoffs and Super Bowl — again, only on your phone or tablet.
Best for everything: YouTube TV ($65)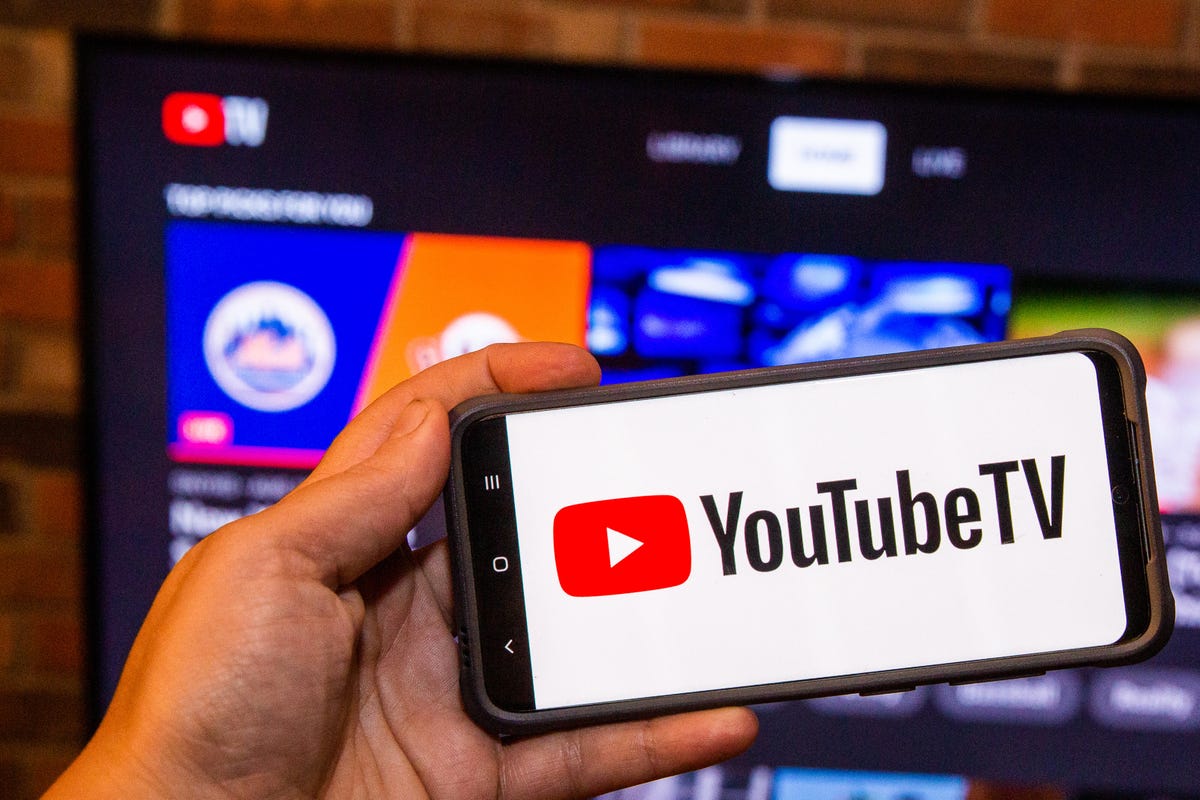 Sarah Tew/CNET

Our pick from the last two years remains our go-to choice in 2022. 
At $65 per month each, YouTube TV checks all the NFL boxes. Local channels CBS, NBC and Fox are included in many markets, and ESPN and the NFL Network are also included so you can watch all the football action. The next best options are FuboTV and Hulu Plus Live TV; both offer the same channels as YouTube TV for NFL fans, but for $70 a month.
Both YouTube TV and FuboTV allow three people to watch at once (Hulu allows two live streams) and all three have apps on nearly every mobile device and major streaming platform, including Amazon Fire TV, Google TV, Roku and Apple TV. 
While all three are largely similar, we like YouTube TV for its superior DVR — unlimited storage compared with 30 hours on FuboTV and 50 hours on Hulu. We also like YouTube TV because it gives you the option to stream in 4K for an extra $20 a month. FuboTV does, too, with its $80-a-month Elite plan. Keep in mind that only Fox and NBC offer 4K NFL broadcasts; CBS and ESPN do not. 
See at YouTube TV
DirecTV Stream offers the main broadcast channels for NFL games, but it starts at $70 per month.
Sling TV's Orange and Blue plan for $55 a month gets you ESPN and the NFL Network, and, in select major markets, Fox and/or NBC, but you'll still lack CBS. 
Budget alternative for NFC fans in big cities: Sling Blue ($40) or antenna ($20 one-time)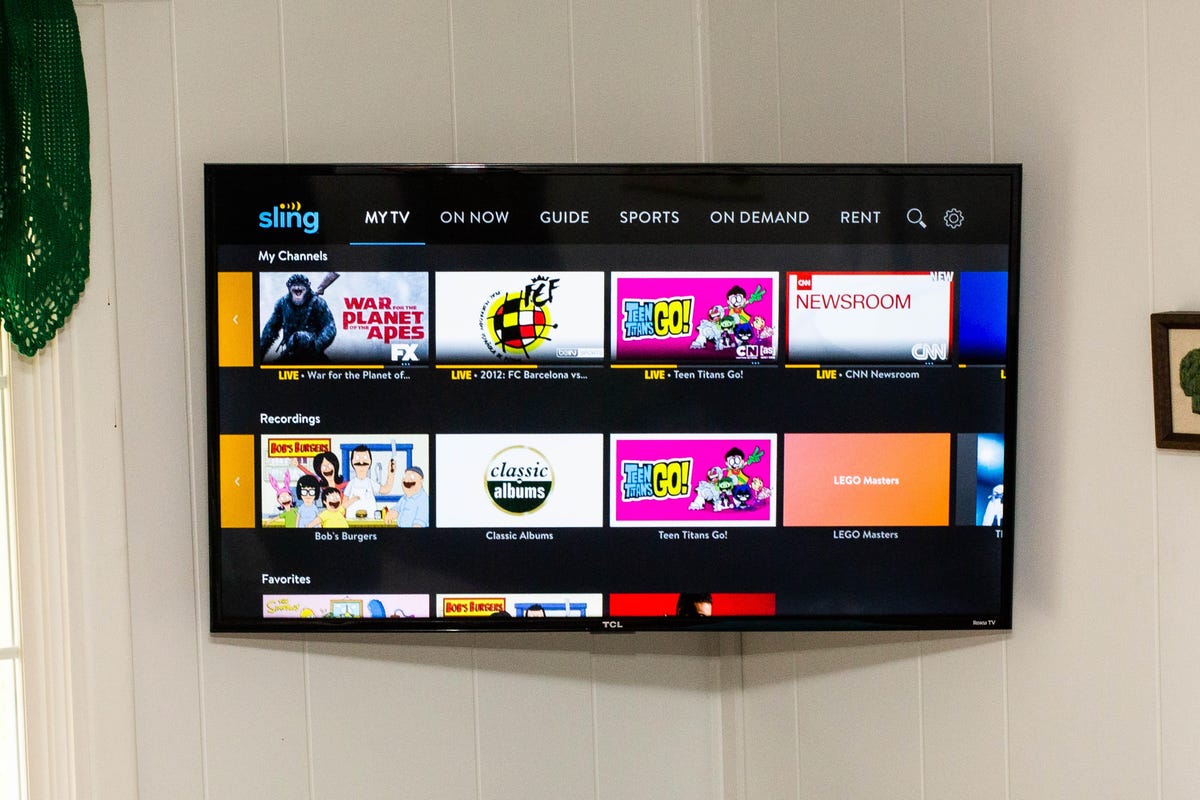 Sarah Tew/CNET

Those looking to save some cash might want to check out Sling Blue for $40 a month. While it lacks ESPN, meaning you'll miss out on Monday Night Football, in select markets you'll be able to get Fox and NBC. The catch is that those markets are mainly in big cities, so if you live outside one of those areas, Sling Blue might not be for you. 
Fox broadcasts most NFC games on Sundays, while NBC has Sunday Night Football. CBS, which broadcasts the bulk of AFC games, isn't included on Sling at all. But an antenna can fill those local channel gaps without a monthly charge.
Budget alternatives for AFC fans: Paramount Plus (or an antenna)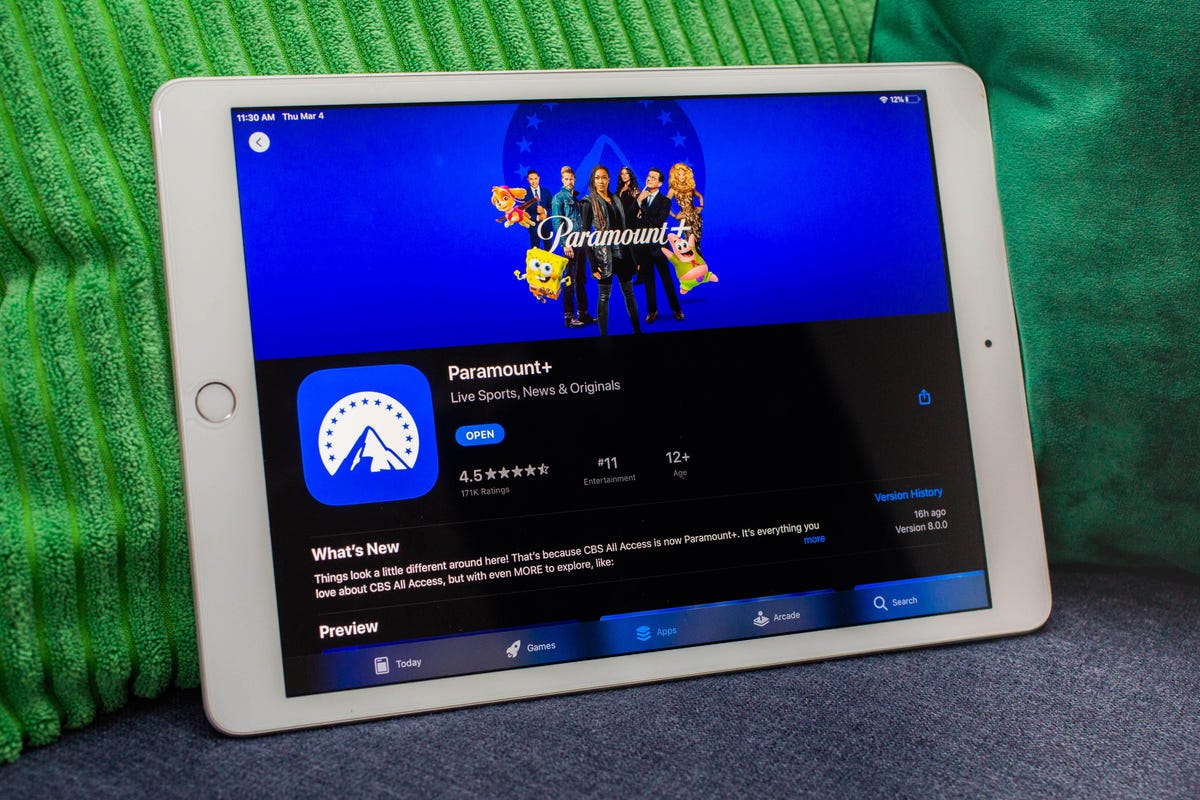 Sarah Tew/CNET

There are some apps that offer CBS' slate of Sunday AFC games live, including Paramount Plus' Premium tier for $10 per month. Depending on where you live, however, your local CBS station (and those NFL games) might not be available. CBS offers livestreaming services in many markets; you can check for yourself if your area has live CBS streaming here. 
An antenna is another option for getting CBS. And as we mentioned above, an over-the-air antenna connected to your TV provides all major football channels — ABC, CBS, Fox and NBC — with no streaming or monthly fee required, as long as you have good reception.
The Picks
YouTube TV: $65
Best for everything including the NFL Network
For $65 a month, you'll get all the major football channels with YouTube TV. Plug in your ZIP code on YouTube TV's welcome page to see which local networks are available in your area.
Read our YouTube TV review.
See at YouTube TV
Sling TV Blue: $40
Cheapest option for NFC fans
Sling TV's $40-a-month Blue plan includes NBC, Fox and the NFL Network. Enter your address here to see which local channels are available where you live. 
Note: This version of Sling TV does not include ESPN. For that, you'll need to switch to the similarly priced Orange plan or go for the combined $55 per month Orange and Blue bundle. 
Read our Sling TV review.
See at Sling TV
Paramount Plus Premium: $10
Cheap alternative for AFC fans on Sunday
Those looking for CBS' Sunday games will be able to stream them on Paramount Plus with its $10 per month Premium tier. You can check for yourself if your area has live CBS streaming here.
Read our Paramount Plus review.
See at Paramount Plus