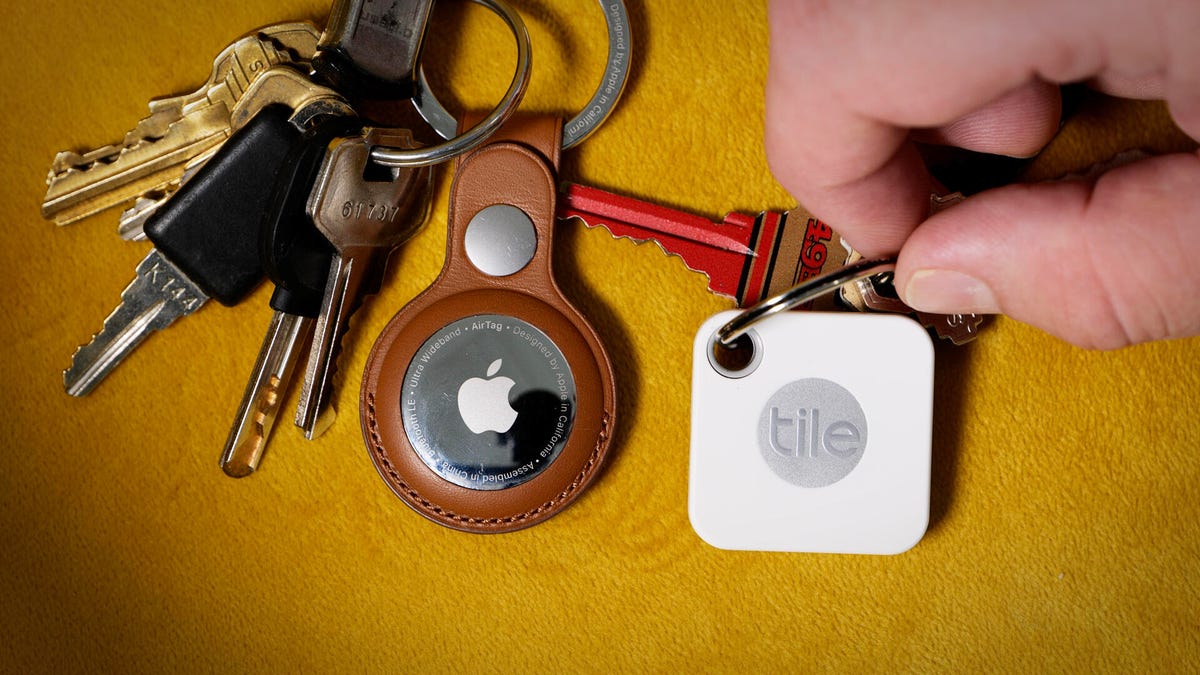 Location trackers are meant for keeping track of your keys and luggage — but they're not always used for good reasons.
James Phelan/CNET
You may have seen something like this headline in the last year: "Criminals Are Using AirTags to Stalk People and Steal Their Cars." The premise is simple enough: A thief or stalker places a location tracker, like an Apple AirTag, in someone's car and then follows them around, whether it's to commit a robbery or simply keep track of where they go.
As a result of these threats, Apple has made changes to how AirTags work, making it harder for criminals to use these tiny tracking devices in this way. The iPhone now has a built-in setting that sends you alerts any time it thinks you're being tracked by an AirTag — and Apple even released an app that alerts Android users of any rogue AirTags as well.
Now, however, Android has its own built-in feature so that you're alerted of any unwanted AirTag tracking — no app required. Here's how to find the new "unknown tracker alerts" setting on your Android phone.
Want to learn more about Android? Check out the best Android phone you can get in 2023 and our review of the new Galaxy Z Fold 5.
How to check if your Android can send 'unknown tracker alerts'
As long as you're running Android 6 or later, here's how you can check if this setting is available on your phone.
In the Settings application, go to Safety & emergency > Unknown tracker alerts. The Allow alerts setting should be turned on by default, but if for some reason it's not, go ahead and toggle it on.
Note: The setting may also be in Personal Safety if you're running an older version of Android. You can always just type "unknown tracker alert" in your settings to find it.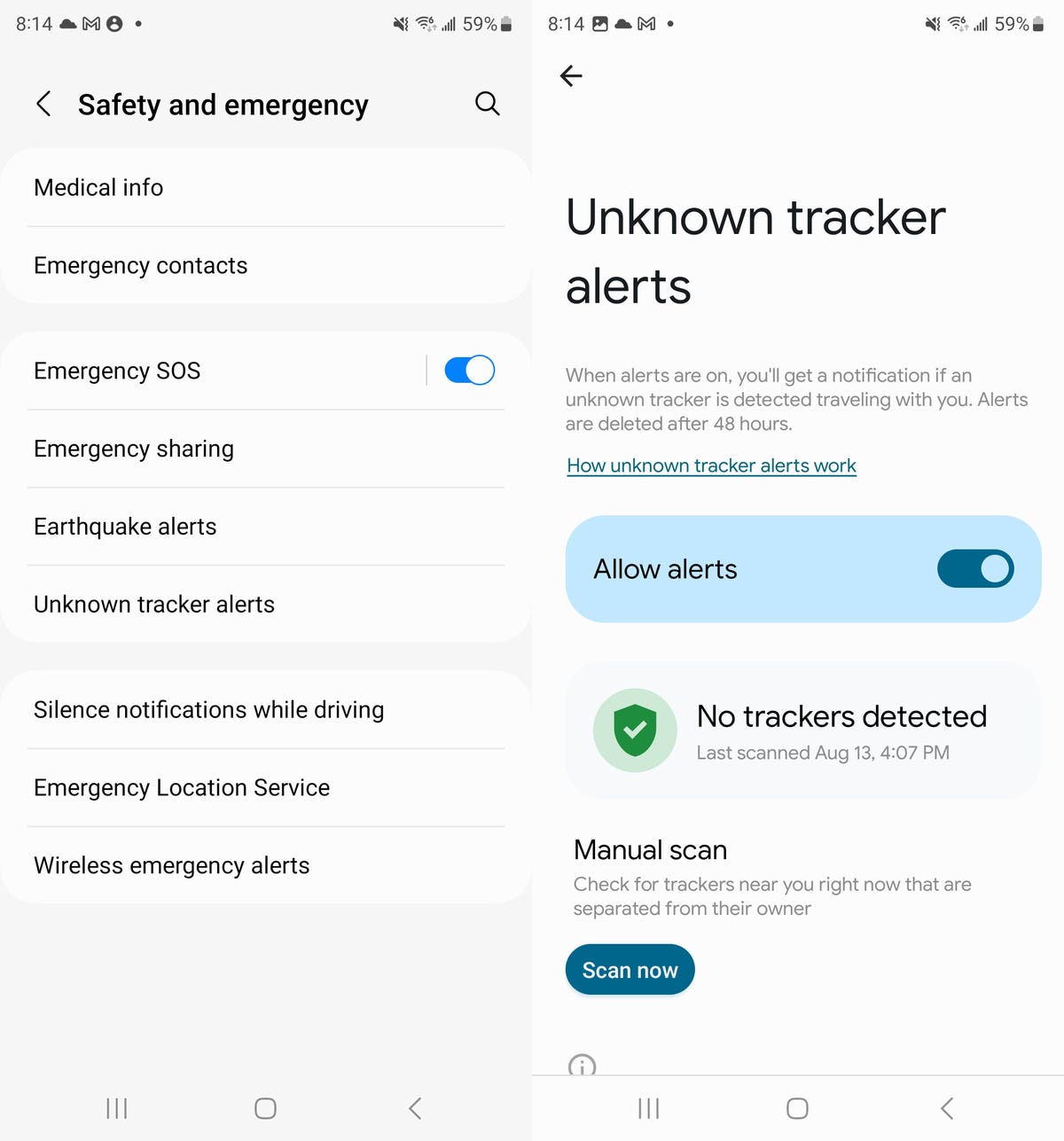 You can check if any trackers have been detected and the last time the feature scanned for trackers.
Screenshots by Nelson Aguilar/CNET
If you receive a notification about an unknown tracker, it should tell you where the tracker is, how to find it and what to do next. If you tap the notification tracker, a map will appear. You can hit Play sound to force the tracker to play a sound. The notification will also inform you of your options, like contacting law enforcement, getting information from the tracker and disabling the tracker if possible.
If you want to check for any possible rogue location trackers without waiting for an alert, hit the Scan now button at the bottom of the setting's page. It will scan your area for any unknown trackers for about 10 seconds.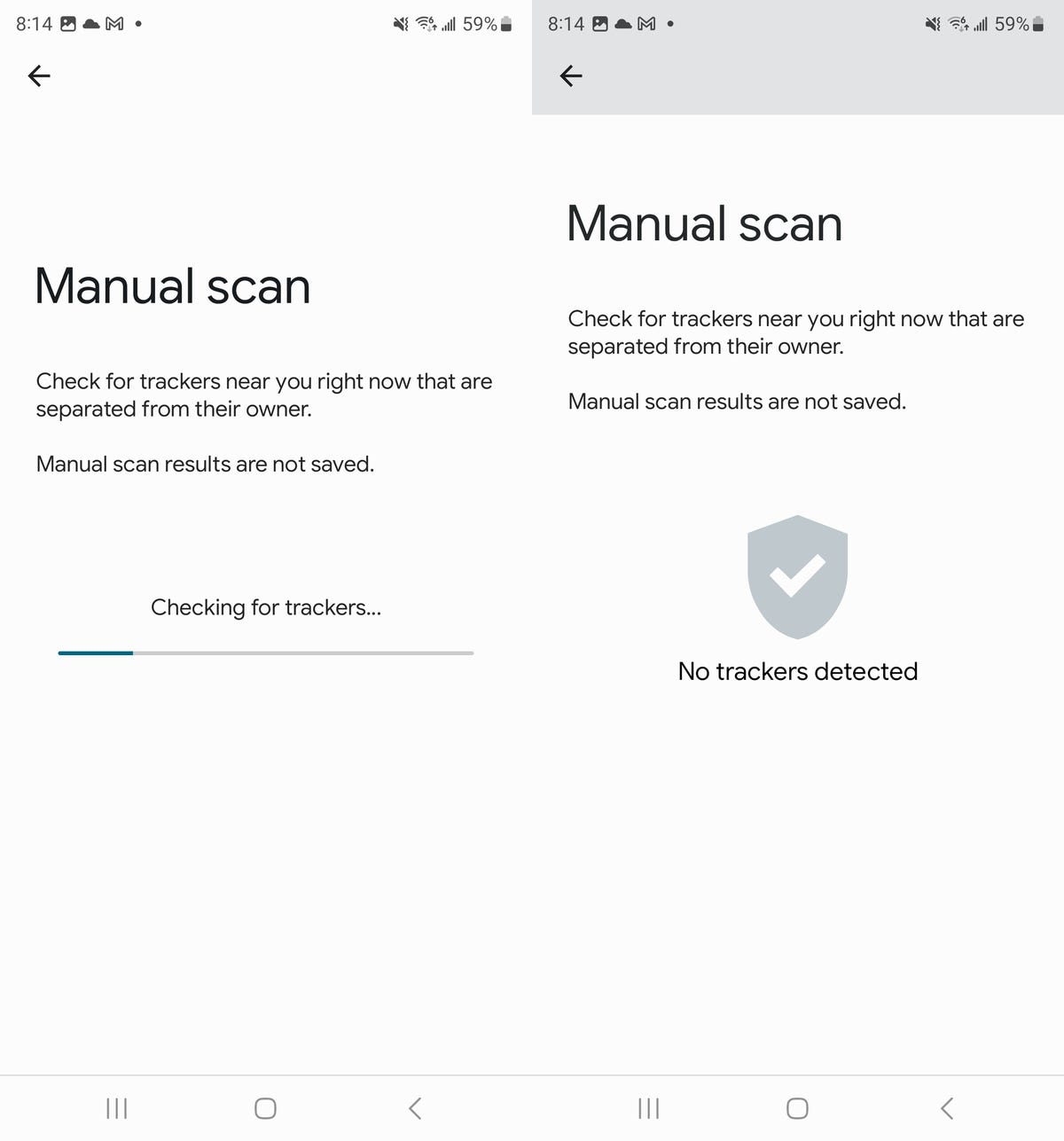 If you manually scan for trackers, the results are not saved. Only when it's done automatically.
Nelson Aguilar/CNET
The unknown tracker setting should be available on most Android devices, including Pixel and Samsung phones.
For more about location trackers, check out which Bluetooth tracker is the best for you and unexpected (but legal!) uses for AirTags.