Lawyers for New York Gov. Kathy Hochul slammed New York City Mayor Eric Adams' response to the migrant crisis that has strained the city's resources.
In a 12-page letter sent to the mayor's office, Hochul's lawyer, Faith E. Gay, accused the city of being slow to make timely requests for regulatory changes or inform the state of crucial decisions.
"The city can and should do more to act in a proactive and collaborative manner with the state," read the letter, which was first obtained by The New York Times.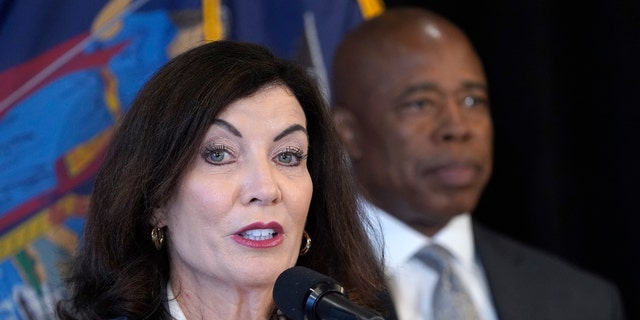 FILE: New York Governor Kathy Hochul speaks, joined by New York City Mayor Eric Adams (R) and the newly appointed ATF Director Steve Dettelbah, as she delivers remarks about their joint effort to combat gun violence at the High Intensity Drug Trafficking Areas (HIDTA) office on August 24, 2022, in New York City.  (John Lamparski/Getty Images)
The state reminded Adams of the nearly $1.5 billion in financial support for the city and said it will continue to provide significant financial assistance for support.
"The migrant crisis has been extremely costly and will continue to require significant financial resources," the letter said. "Neither the City nor the State should have to absorb these operational needs or costs for what is a matter of federal concern." The state also questioned management of funds by the city's main subcontractor, and the city's decision to allow migrants to sleep on the street outside the Roosevelt Hotel.
ADAMS UNLOADS ON BIDEN ADMIN OVER MIGRANT CRISIS, REPEATING IT'S 'ANTI-AMERICAN' NOT TO LET 100K PEOPLE WORK
Deputy Mayor of Communications Fabien Levy told Fox News Digital that Adams' office was reviewing the state's letter.
"The city has already spent more than $1.7 billion and expects to spend $5 billion this fiscal year if we do not get the proper support," Levy said. "We appreciate the state offering space on the parking lot of the Creedmoor Psychiatric Facility, which opened yesterday, and for the funding they've promised."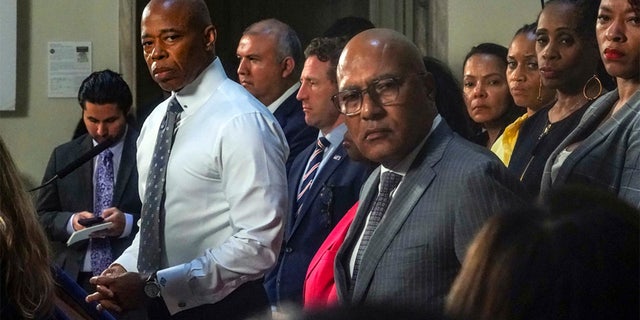 New York Mayor Eric Adams, left, and city officials listen to a reporter's question during a City Hall press conference, Wednesday Aug. 9, 2023, in New York.  (AP Photo/Bebeto Matthews)
Levy said the magnitude of the crisis should compel the state to bar localities from preventing asylum seekers from being relocated there.
"New York City represents five-hundredths of one percent of the state's land area, yet, since last spring, we've managed to provide shelter and services to more than 100,000 asylum seekers — more people than live in the entirety of Albany — and open up over 200 emergency sites to provide shelter," Levy said.
MIGRANTS TOUT 'NICE POOL,' 'HOT FOOD' AT NEW YORK CITY PARK CONVERTED TO SHELTER: REPORT
"Thousands of city employees and hundreds of volunteers and community-based organizations have performed miracles to offer food, shelter, and care to the largest concentrated influx of asylum seekers this city has ever seen, but while our compassion is limitless, our resources are not. This is a state and national crisis, and we need more of this kind of partnership from our state and national partners."
Last week, Mayor Adams appealed to the federal government to help the city avert a budgetary crisis as expenses mount. The city is now projecting costs to exceed $12 billion by the end of next year to help care and temporarily house people coming from the southern U.S. border.
CLICK HERE TO GET THE FOX NEWS APP
But despite a dip in the number of people crossing the southern U.S., thousands of migrants continue to head to New York City. The U.S. Department of Homeland Security has dispatched a small team to the city to help determine how the federal government should respond.
The Associated Press contributed to this report.