Certain sex offenders in New Mexico would be required to undergo chemical castration as a condition of their parole, according to a bill being proposed by state lawmakers.
Reps. John Block of Alamogordo and Stefani Lord, both Republicans, said House Bill 128 would be a "commonsense" step to protect children from pedophiles.
"Passage of this commonsense bill is the very least we can do to protect children in our communities from the horrific threat of pedophiles," Block told Fox News Digital. "The New Mexico Legislature must now choose to either stand on the side of children's safety by passing our bill or risk letting predators continue to abuse New Mexico children when let out on parole."
NEW HAMPSHIRE SURGEON ACCUSED OF SEXUALLY ABUSING PATIENT DURING OFFICE VISIT
Chemical castration causes the human body to stop producing sex hormones and has been shown to weaken sexual urges.
Under the bill, a person required to undergo the treatment would begin the process at least one month prior to their release from a correctional facility. The treatment would continue until a court determines it is no longer necessary.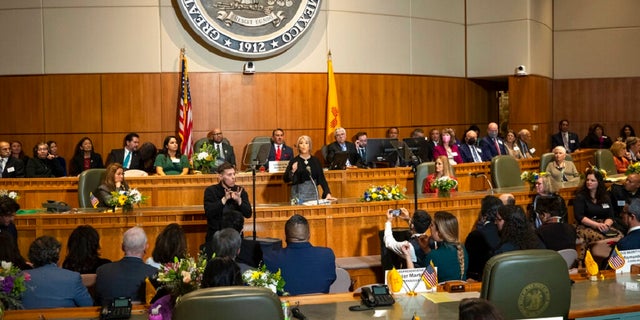 New Mexico Gov. Michelle Lujan Grisham delivers her State of the State address at the opening day of an annual legislative session in the House of Representatives in Santa Fe on Jan. 17. Lawmakers will consider a bill requiring certain sex offenders to undergo chemical castration as a condition of their parole. 
(AP)
The therapy would be administered by the New Mexico Department of Health and the offender would be responsible for the costs unless they are indigent, according to the bill.
In addition, parolees would be required to allow the Health Department to share their medical records with the state Parole Board.
Offenders will not be forced to undergo the treatment, but those who elect to stop the process before a court determines it is no longer necessary will be charged with a fourth-degree felony for being in violation of their parole, the measure states.
CLICK HERE TO GET THE FOX NEWS APP
Other states – Alabama, California, Florida, Iowa, Georgia, Louisiana, Montana, Oregon, Texas, and Wisconsin – have passed chemical castration laws.