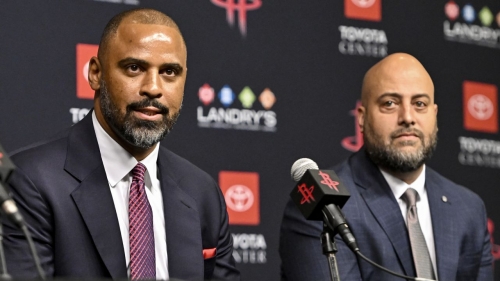 Ime Udoka (left) was introduced as the Houston Rockets' new head coach on Wednesday.
Logan Riely/NBAE/Getty Images

CNN
—
Ime Udoka addressed the "poor decision" that led to his departure from the Boston Celtics as he was announced as the Houston Rockets' new head coach Wednesday.
In September, Boston suspended Udoka for the entire 2022/23 season for violating team policies, following an investigation into his conduct by an independent law firm. According to ESPN, The Athletic and the Boston Globe, Udoka had a consensual relationship with a female member of the team's staff.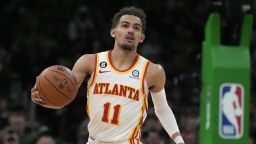 Atlanta Hawks guard Trae Young (11) during Game 5 in the first round of the NBA basketball playoffs, Tuesday, April 25, 2023, in Boston. (AP Photo/Charles Krupa)
Charles Krupa/AP
The Atlanta Hawks shock the Boston Celtics to extend playoff series — and postpone a Janet Jackson concert
Udoka was let go by Boston in February after the Celtics removed the interim tag off current Celtics head coach Joe Mazzulla.
"I released a statement months ago when everything happened and apologized to a lot of people for the tough position I put them in," Udoka told reporters. "I stand by that, and I feel much more remorse even now."
The 45-year-old said he spent time working on himself by going to counseling with his son and taking sensitivity training.
"Having that time off and really a full understanding of how many people you impact by a poor decision, that's where you start with the ownership and accountability," Udoka said.
"I preach that to the players and so I have to take responsibility for my part in it. (I) took leadership and sensitivity training and some counseling with my son to help him improve the situation that I put him in."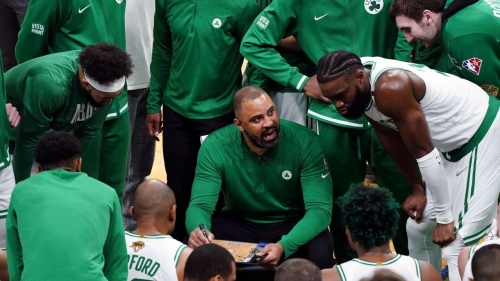 Udoka talks with Celtics players during a timeout against the Golden State Warriors last year.
David Butler II/USA TODAY Sports/Reuters
On whether the Celtics were justified in the actions they took against him, Udoka said: "They had a choice to make a decision and they went that route. My thing was own up to it, take responsibility and I served the suspension … It was their right to go about it however they wanted to."
Rockets governor Tilman Fertitta said he felt comfortable hiring Udoka after speaking with the league.
"The NBA told me that they felt very comfortable with Ime becoming the coach of the Houston Rockets and so that made me feel really good after a lengthy, lengthy conversation with them."
In his lone season (2021/22) at the helm in Boston, Udoka guided the Celtics to a 51-31 record and an NBA Finals appearance in which they lost to the Golden State Warriors. The season prior to his arrival, the Celtics finished 36-36.
Udoka inherits a Rockets team that finished the year 22-60, tied for the worst record in the Western Conference with another Texas team, the San Antonio Spurs.