Want a quick way to make your favorite text conversations easy to access? Tired of scrolling through your phone trying to find a certain message chain?
Well, look no further. With these steps, you can easily pin whatever conversations you need so they're always at the top of your messaging app on an iPhone or Android.
CLICK TO GET KURT'S FREE CYBERGUY NEWSLETTER WITH SECURITY ALERTS, QUICK TIPS, TECH REVIEWS AND EASY HOW-TO'S TO MAKE YOU SMARTER
How to pin on Google Messages on Android devices:
HOW TO GET DISCOUNTED HIGH-SPEED INTERNET AND START SAVING MONEY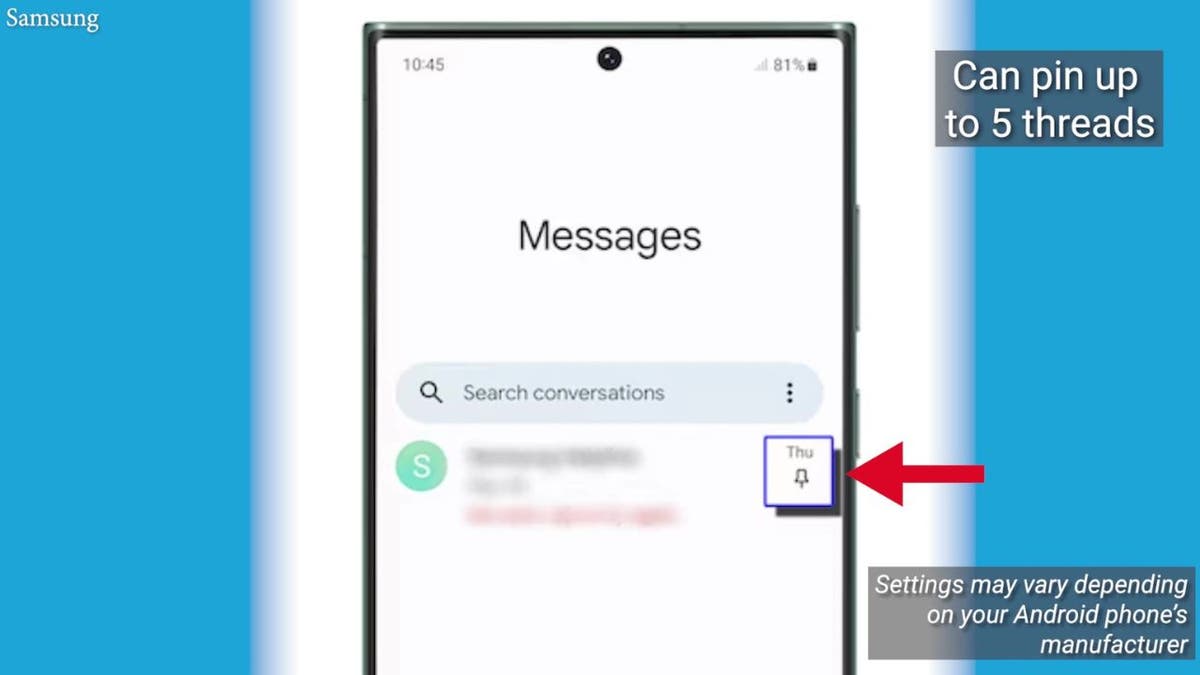 Android users can pin Google messages on their device. (CyberGuy.com)
GOOGLE'S AI IS TRYING TO ONE-UP CHATGPT AND BING WITH NEW EVERYDAY AI FEATURES
Settings may vary depending on your Android phone's manufacturer
Open the Google Messages app on your Android device
Find the text conversation that you want to pin and click on it
Now, tap on the little pin icon in the text conversation
The conversation will now be pinned to the top of the app, and you can pin up to five threads.
This feature can help you quickly access your most important text conversations without having to scroll through your device.
MORE: ASK KURT: HOW TO EASILY ACTIVATE AUTOREPLY FOR TEXT MESSAGES ON IPHONE OR ANDROID
How to pin favorite text message conversations on iPhone
7 EFFECTIVE WAYS TO MAKE YOUR LIFE MORE SECURE AND PRIVATE ONLINE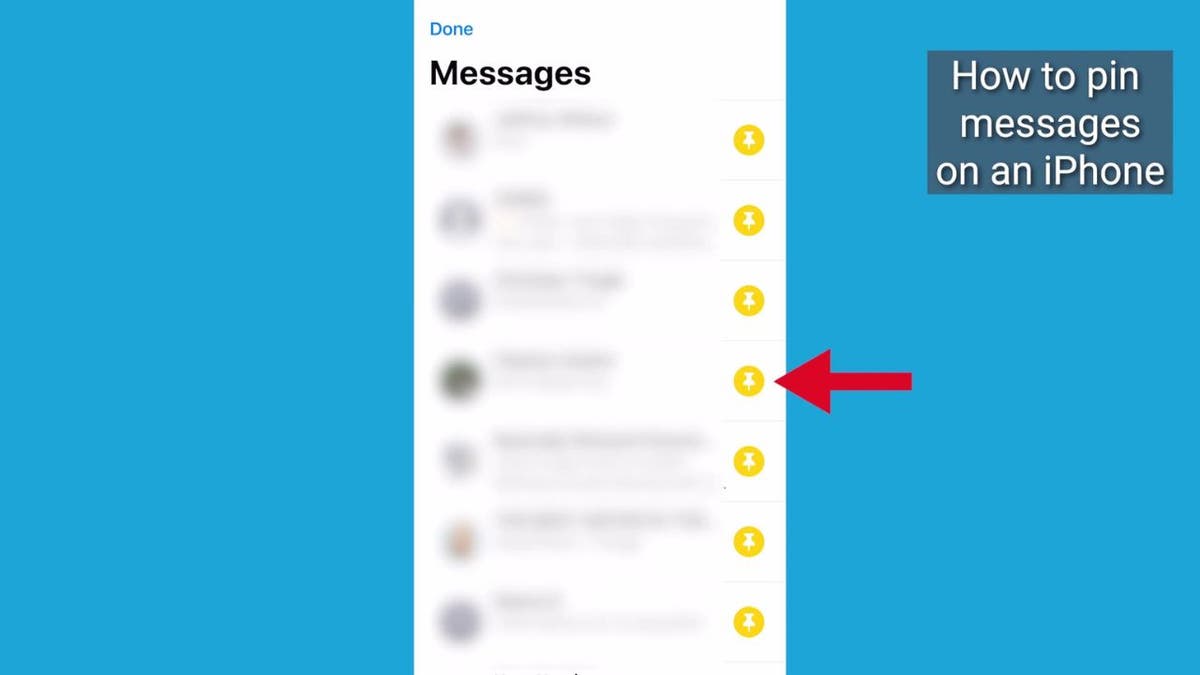 IPhone users can pin important text messages. (CyberGuy.com)
BEST WAYS TO BOOST YOUR INTERNET WIFI SIGNAL IN YOUR HOME
Click on the Messages app
First, click on Edit in the top left corner
Click edit pins 
Select the yellow icons at the end of the row of the people whom you text regularly, and their messages/icons will now be pinned at the top.
If you want to remove a contact from your pins, simply click on the dash next to their icon.
MORE: HIDDEN IPHONE SETTINGS TO CHANGE THE MOMENT YOU DOWNLOAD THE NEW IOS 17
Kurt's key takeaways
Well, isn't this a nice and easy feature? Having your family or closest friends pinned means giving them the importance to rise above the fray and completely eliminating the hassle of searching through loads of conversations. It is a quick and easy change to make, but one that I guarantee you'll appreciate. Go ahead and try it now.
What other features do you believe should be implemented into your devices? Let us know by writing us at Cyberguy.com/Contact.
For more of my tech tips and security alerts, subscribe to my free CyberGuy Report Newsletter by heading to Cyberguy.com/Newsletter.
CLICK HERE TO GET THE FOX NEWS APP
Answers to the most asked CyberGuy questions:
What is the best way to protect your Mac, Windows, iPhone and Android devices from getting hacked?
What is the best way to stay private, secure, and anonymous while browsing the web?
How can I get rid of robocalls with apps and data removal services?
Copyright 2023 CyberGuy.com. All rights reserved.