Israeli Prime Minister Benjamin Netanyahu praised House Minority Leader Hakeem Jeffries' work to fight antisemitism on Monday, months after the New York Democrat made headlines for his past defense of his controversial uncle who made disparaging comments about Jews.
Jeffries led a congressional delegation of two dozen lawmakers to Israel and the West Bank this week to reaffirm ties with the longstanding U.S. ally and push for a two-state solution, an idea that does not have broad support among Israel's population or its government.
"I wanted to thank you for your position on antisemitism and on the mendacious attack on Israel as an apartheid state, for your support for Israel's security and supporting the president's effort to expand the peace," Netanyahu said after a meeting with Jeffries and the lawmakers.
"These are hectic times but also full of promise," he said.
CNN'S WOLF BLITZER CUTS OVER NETANYAHU MULTIPLE TIMES IN TENSE EXCHANGE OVER ISRAELI REFORMS: 'LET ME ANSWER'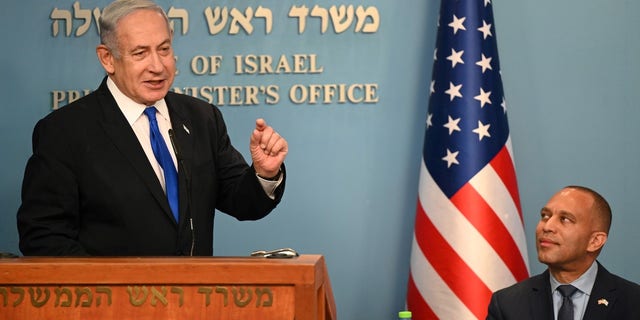 Israeli Prime Minister Benjamin Netanyahu, left, praised U.S. House Minority Leader Hakeem Jeffries on Monday. (Prime Minister of Israels Office)
While it has historically been the norm for both Democrats and Republicans to overwhelmingly back Israel, the left has grappled with its position on the issue in recent years as a growing faction of progressives ratchet up vocal criticism of Israel over its treatment of Palestinians and their homeland.
Last month, Progressive Caucus Chair Pramila Jayapal, D-Wash., called Israel a "racist state." That prompted a GOP-led resolution declaring Israel was not "a racist or apartheid state" in a direct rebuke. Jayapal voted for the resolution but 10 other Democrats withheld their support for it.
ISRAELI FORCES REVEAL WEAPONS CACHES HIDDEN UNDER PALESTINIAN MOSQUE AFTER RAID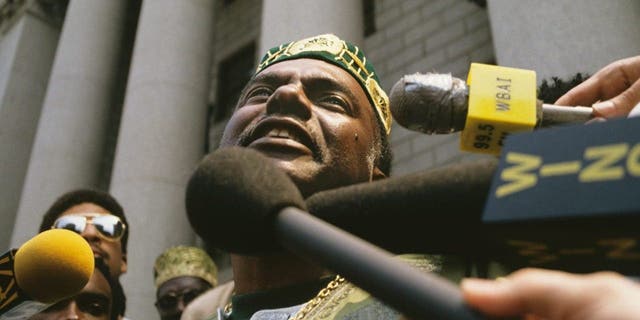 House Minority Leader Hakeem Jeffries fielded controversy earlier this year when his 1992 defense of his uncle, Black Studies Professor Leonard Jeffries, pictured here, resurfaced. (Photo by mark peterson/Corbis via Getty Images)
Jeffries has grappled with his own accusations of antisemitism, primarily from his opponents on the right, after a college op-ed of his from Binghamton University resurfaced. At the time, Dr. Leonard Jeffries Jr. was forced out of his position leading the City College of New York's Black studies program after making racist comments about White people and Jews.
"Dr. Jeffries has challenged the existing white supremist educational system and long standing distortion of history," Hakeem Jeffries wrote about the incident. "His reward has been a media lynching complete with character assassinations and inflammatory erroneous accusations."
NEW YORK TIMES' FRAUGHT HISTORY COVERING JEWS, ISRAEL DRAWS FRESH BACKLASH AMID REPORT ON HASSIDIC SCHOOLS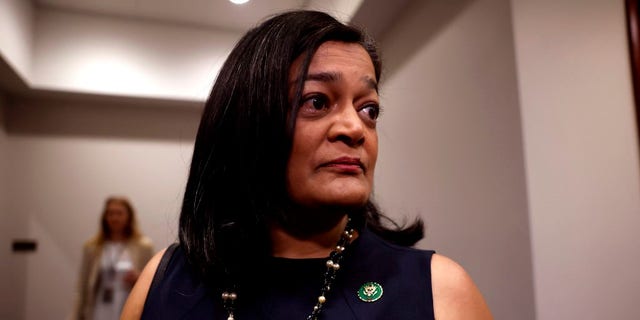 Progressive Caucus Chair Rep. Pramila Jayapal faced criticism last month for calling Israel a "racist state."
Leonard Jeffries said during a speech in Albany in 1991, "For years I grew up as a youngster just like you did going to movies where the African peoples were completely denigrated. That was a conspiracy, planned and plotted and programmed out of Hollywood, where people called Greenberg and Weisberg and Trigliani and whatnot. It's not being anti-Semitic to mention who developed Hollywood. Their names are there… Russian Jewry had a particular control over the movies, and their financial partners, the Mafia, put together a system of destruction of Black people."
CLICK HERE TO GET THE FOX NEWS APP
Jeffries disavowed his uncle's views and distanced himself from them when asked by reporters this year. He has also been defended by his Jewish Democratic colleagues.