Days after the death of musician David Crosby, estranged bandmate Neil Young spoke out about the loss of his former friend, writing he will "remember the best times" in a heartfelt tribute on his website "Neil Young Archives."
Underneath a blown-up picture of the late rocker, Young wrote the following:
"David is gone, but his music lives on. The soul of CSNY, David's voice and energy were at the heart of our band. His great songs stood for what we believed in and it was always fun and exciting when we got to play together. 'Almost Cut My Hair,' 'Dejavu' and so many other great songs he wrote were wonderful to jam on and Stills and I had a blast as he kept us going on and on. His singing with Graham was so memorable, their duo spot a highlight of so many of our shows."
"We had so many great times, especially in the early years. Crosby was a very supportive friend in my early life, as we bit off big pieces of our experience together. David was the catalyst of many things."
DAVID CROSBY, FOUNDING MEMBER OF THE BYRDS AND CROSBY, STILLS & NASH, DEAD AT 81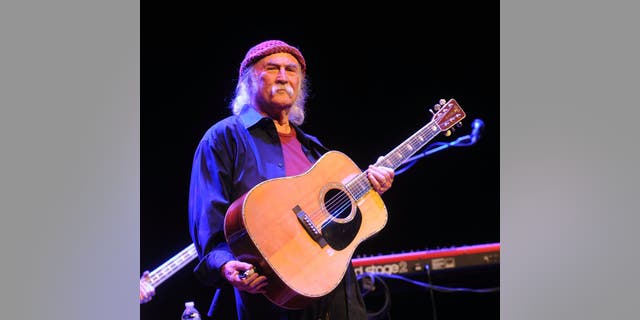 David Crosby performs at Mayo Performing Arts Center on June 17, 2018 in Morristown, New Jersey.
(Bobby Bank/Getty Images)
Young continued, writing his heart and "lots of love" go out to Crosby's wife, Jan Dance, and their son Django.
He finished the tribute with: "Thanks David for your spirit and songs. Love you man. I remember the best times!"
Young, 77, and Crosby had experienced years of tension after Crosby publicly blasted Young's now wife, actress Daryl Hannah, in 2014, calling her "a purely poisonous predator." His comment resulted in Young announcing the band would "never tour again, ever."
Crosby later admitted to Howard Stern he regretted the comments and said he had asked the couple for forgiveness to no avail.
"Neil has got a genuine beef," Crosby told "The Guardian" in 2021. "I did say something bad about his girlfriend."
The duo also had a few rifts over politics.

next
Image 1 of 2

Neil Young performs with David Crosby at the Santa Cruz Civic Auditorium in Santa Cruz, California on Aug. 12, 1977. (Ed Perlstein/Redferns/Getty Images)


prev
Image 2 of 2

Neil Young and David Crosby (L-R) perform on Day 2 of the 27th Annual Bridge School Benefit concert at Shoreline Amphitheatre on Oct. 27, 2013 in Mountain View, Calif. (Steve Jennings/WireImage)
DAVID CROSBY TWEETED THAT HEAVEN IS 'OVERRATED,' 'CLOUDY' A DAY BEFORE HIS DEATH
Crosby co-founded the rock group Crosby, Stills & Nash in the late 60s with Stephen Stills and Graham Nash. The band later added Young and became known as Crosby, Stills, Nash & Young.
He also was a founding member of The Byrds, a band he left in 1967, reportedly because of feuds with other members.
The singer/songwriter and guitarist was first inducted into the Rock & Roll Hall of Fame in 1991 as a member of The Byrds. He was inducted a second time in 1997 as a member of Crosby, Stills & Nash.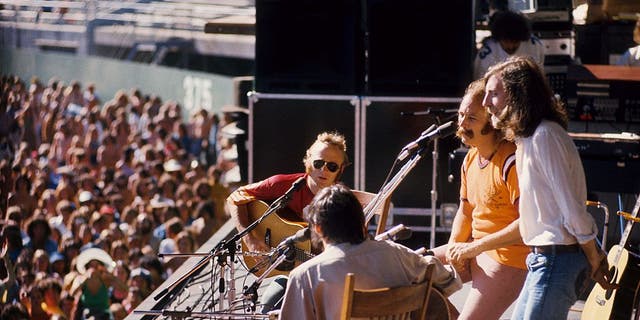 (L-R) Stephen Stills, Neil Young, David Crosby and Graham Nash of Crosby Stills Nash And Young perform on stage at Oakland Coliseum on 13th July 1974 in Oakland, Calif.
(Gijsbert Hanekroot/Redferns)
CLICK HERE TO GET THE FOX NEWS APP
Crosby died Wednesday at 81-years-old with his wife and their son by his side, according to a statement from Dance.
He is survived by five of his children. A son, whom he shared via sperm donation with singer/songwriter Melissa Etheridge, Beckett Cypher, died after an opioid addiction in 2020 at the age of 21.
Fox News' Janelle Ash contributed to this report.