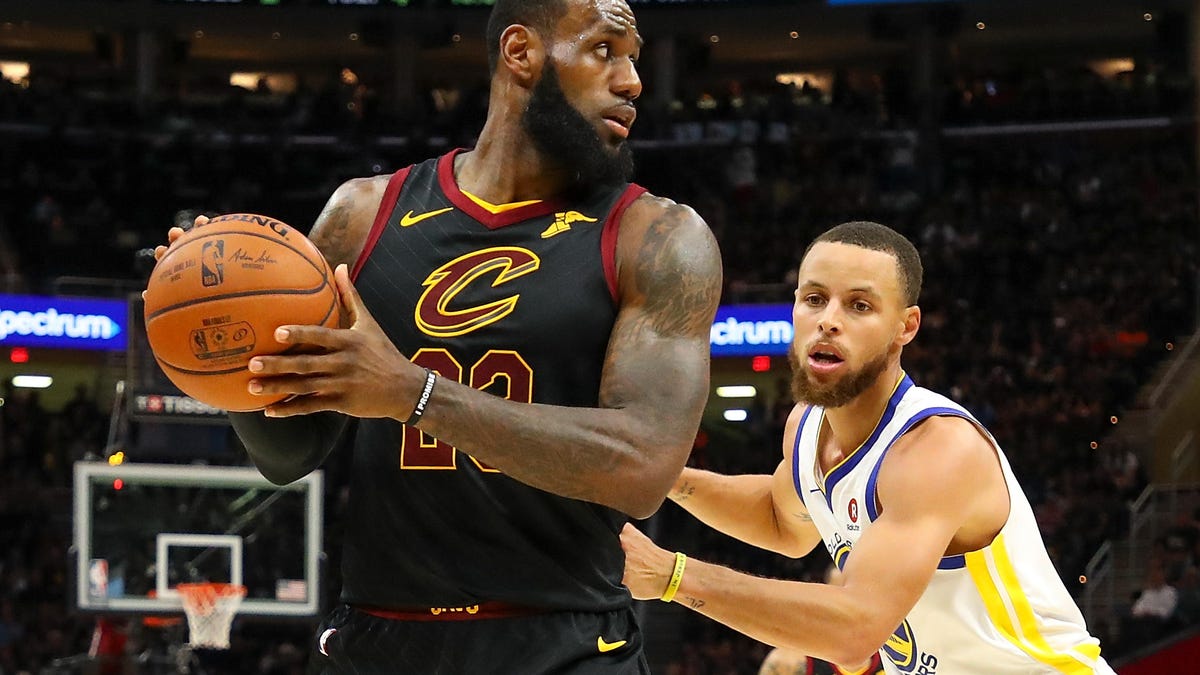 Is LeBron James going to be moving on to a new NBA team?
Gregory Shamus / Getty Images
Get out the brooms, we've got a sweep. The Golden State Warriors won Game 4 of the NBA Finals Friday night, beating the Cleveland Cavaliers 108-85 to claim their third championship in four years and sweep the finals 4-0.
More sports memes

Twitter memes dunk all over JR Smith's blunder in NBA Finals
NBA Finals Game 2 memes target the refs, and JR Smith, too
NBA Finals Game 3 memes: Kevin Durant photo goes viral
Washington Capitals win Stanley Cup, turn Twitter #ALLCAPS
The Warriors dominated the series. Steph Curry led them in Game 4 with 37 points. Kevin Durant helped out with a triple-double (20 points, 12 rebounds and 10 assists) and was named MVP of the finals for the second straight year (though some thought the award should've gone to Curry).
Stephen Curry to Lebron Fans:#DubNation #StrengthInNumbers #NBAFinals pic.twitter.com/9ksq0U6RC8

— Lord Drakkon is the Wae (@Lennyfrigginleo) June 9, 2018
This game is so unfair pic.twitter.com/v4aO15fnC0

— CBS Sports (@CBSSports) June 9, 2018
FINALS SWEEP: COMPLETE pic.twitter.com/N2XruFWmQD

— CBS Sports (@CBSSports) June 9, 2018
"All you gotta do is join a 73 win team and you can have some of these too baby"#NBAFinals pic.twitter.com/jXcfJlFOd1

— NYK-NYJ-NYY-4LIFE (@knicksjets4life) June 9, 2018
Wanna know what it's like in the BACK-TO-BACK CHAMPS locker room? 👀🍾🏆 pic.twitter.com/XMC418ajmR

— Golden State Warriors (@warriors) June 9, 2018
Of course, a few tweets had to reference J.R. Smith's colossal blunder from Game 1, when he apparently didn't know the score at the end of regulation.
"We'll get 'em in Game 5." – J.R. Smith

— NotKennyRogers (@NotKennyRogers) June 9, 2018
J.R. Smith is so confused right now. pic.twitter.com/yabFXQ9fiw

— NBA Memes (@NBAMemes) June 9, 2018
J.R. Smith: Don't worry, we'll get them in Game 5 of the #NBAFinals !

LeBron: We've already been swept…

J.R. Smith: pic.twitter.com/Hu3lM8sCep

— Carter Glenn (@CarterFGlenn) June 9, 2018
JR Smith is in the locker room right now asking LeBron who they play next.

— Tom Fornelli (@TomFornelli) June 9, 2018
I maintain JR should win Finals MVP https://t.co/CZU3pFARUi

— Hardwood Paroxysm (@HPbasketball) June 9, 2018
James tried his best to drag his team to at least one victory, to no avail. And now that the series is over, the Ohio native may have played his last game in Cleveland. His future plans were the target of much social-media speculation.
LeBron leaving Cleveland like… 😂 pic.twitter.com/32n6CG03as

— Cycle (@bycycle) June 9, 2018
It's so quiet in Cleveland right now that you can hear a mouse urinate on LeBron's moving truck keys.

— Rob Parker (@RobParkerFS1) June 9, 2018
Many guessed the L.A. Lakers will be his next team…
With his kid being linked to Sierra Canyon in LA, and after watching this video where he puts emphasis on his kids/family, it looks pretty much a done deal that #Lebron is going to sign with the @Lakers. #LABron

— .EDU (@maytimaws2k1) June 9, 2018
LeBron will go to the Lakers. The most money the NBA can make is a Lakers v Celtics final with LeBron vs Kyrie. That's the end game. Calling it now.

— Bill Squire (@billsquire) June 7, 2018
The Lakers are now the betting favorites to sign LeBron James this summer.

Here are the latest odds from BetOnline:

Lakers +200
Rockets +220
76ers +450
Cavaliers +450
Celtics +1000
Spurs +1200
Warriors +2000
Clippers +2000
Heat +3300https://t.co/cec2eNGi21 pic.twitter.com/4aRduJpAmi

— OddsShark (@OddsShark) June 9, 2018
…or the Houston Rockets…
LeBron catching the first plane to Houston after game 4 like…#NBAFinals18 #LebronToHouston pic.twitter.com/3QBM4jiJRb

— Jayson Burnett (@_jayburnett) June 9, 2018
Chris Bosh today, on LeBron. to Colin Cowherd: "I think he goes to Houston. It's a star power league. It's like the next Avengers movie."

— Ira Winderman (@IraHeatBeat) June 7, 2018
Hopefully the Cavs win the finals…. then Lebron should join Chris Paul with the Houston Rockets 😉

Houston takes down Golden State and there's a Lebron vs Kyrie finals pic.twitter.com/E5QQRIurVe

— Janerika Owens 🎬🎥 (@msjaehasclas) June 6, 2018
…or the Philadelphia 76ers…
The more I think about it LeBron James will go to Philly next year. With Simmons and Embiid being Future Stars, LeBron will have his most talented team ever

He knows he won't catch Jordan's 6 Titles. But LeBron going to 10 straight NBA Finals might be more impressive pic.twitter.com/a6OIKETAKh

— William DuPont (@WilliamDuPontJ5) June 4, 2018
Hey LeBron… come to Philly.

When you drop 49 points here, J.R. Smith won't ruin it for you. #HereTheyCome

— Eagles Fan Problems (@EagleFanProbs) June 1, 2018
Waiting for LeBron to come to Philly like…. pic.twitter.com/ScG9xBbY0P

— The Daily Loud (@DailyLoud) June 9, 2018
…or the Boston Celtics.
Lebron interested in joining the Celtics? What if him and Kyrie planned this all along, create some fake drama for Kyrie to leave to Boston then Lebron follows him a year later so they can get away from the Cavs and those awful contracts thus creating a super team Celtics pic.twitter.com/WC0PzB6m9P

— freddy ☘️ (@freddtheleb) June 6, 2018
From a purely basketball perspective, there is no team that offers LeBron a better chance at winning in the short and long term than the Celtics. @JonathanTjarks lays out how it could happen: https://t.co/xiC7NM21Kl

— The Ringer (@ringer) June 8, 2018
LeBron James will have conversations with the Boston Celtics this summer during free agency

( via Stephen A. Smith ) pic.twitter.com/oyunuxu9v8

— Celtics Junkies (@CelticsJunkies) June 6, 2018
And for some, it just didn't matter.
Wherever Lebron will be next year, then I'll be there too #greatness #NBAFinals

— Jackson Drake (@actionjacksond3) June 9, 2018
There was also plenty of reaction to James announcing he hurt his hand punching a locker-room blackboard after Game 1 (yes, the J.R. Smith game) and "pretty much played the last three games with a broken hand."
LeBron James suffered a significant right hand injury after Game 1 when he punched a black board in the locker room, sources told me & @mcten. He had 2 MRIs & has been wearing a soft cast. LeBron not using injury as an excuse but kept quiet to prevent Warriors from knowing.

— Brian Windhorst (@WindhorstESPN) June 9, 2018
Is "black board" a code name for JR Smith?

— Nick Albicocco (@NickCocco18) June 9, 2018
JR cost a game and LeBron's shooting hand

— Justin Rowan 🇨🇦 (@Cavsanada) June 9, 2018
JR Smith watching LeBron punch the whiteboard after game 1 and realizing he might be next pic.twitter.com/mk6J8vCs9X

— Bruh Report (@BruhReport) June 9, 2018
Pretty devastating scene in the Cavs locker room. LeBron, ice on his knees, feet in an ice bucket, right hand wrapped in ice and a towel over his head is slumped back in his chair. Everyone else quiet with 1000 yard stares.

— Dave McMenamin (@mcten) June 9, 2018
Some are saying, "Why's LeBron's injury just coming to light now? This is just an EXCUSE!" The actual reason we're learning of it now is because LeBron didn't want to let the Warriors know he had a bone contusion in his hand! Like they needed another advantage/weakness to attack.

— Alex Kennedy (@AlexKennedyNBA) June 9, 2018
Well, LeBron finally got a supporting cast.

— usman bhatti (@ubhatti234) June 9, 2018
Gotta feel for Golden State Warriors… They win but my timeline and the headlines are full of @KingJames broken hand… Oh and where will he will go next. (Lakers BTW)
He is the story. Win or lose.#NBAFinals

— Chris Mitchell (@chrismbbcsport) June 9, 2018
The Warriors will hold their third victory parade in four years Tuesday at 11 a.m. PT in Oakland.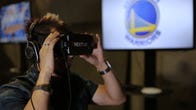 Now playing:
Watch this:

Trick your mind into thinking you went to a Warriors…
3:34

Tech Culture: From film and television to social media and games, here's your place for the lighter side of tech.
Best TVs right now: The past year's best sets, all in one place.