close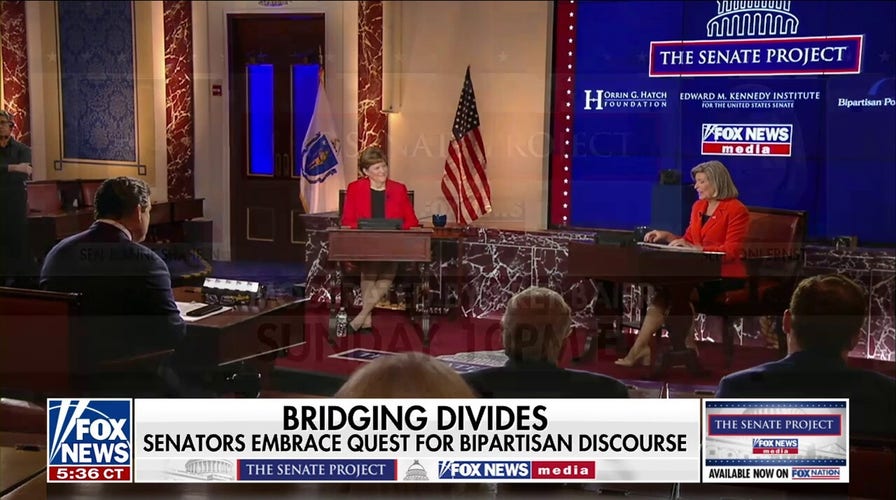 Video
Joni Ernst, Jeanne Shaheen debate on the Ukraine war, China's growing influence, and more
Sens. Joni Ernst, R-Iowa, and Jeanne Shaheen, D-N.H., face off in a debate on Fox Nation's live debate series 'The Senate Project.'
NATO has launched what it's calling its "largest deployment exercise" in history, aimed at sending a message to countries like Russia that it "is ready to defend every inch of Allied territory."
The two-week long "Air Defender" exercise is set to run until June 23 and will involve 25 countries, 10,000 personnel and 250 aircraft, according to NATO.
"Air Defender is necessary because we live in a more dangerous world," NATO spokesperson Oana Lungescu said in a statement. "As we face the biggest security crisis in a generation, we stand united to keep our countries and our people safe."
"Air Defender sends a clear message that NATO is ready to defend every inch of Allied territory," she added.
UKRAINE CLAIMS 7 VILLAGES RETAKEN FROM RUSSIANS IN PAST WEEK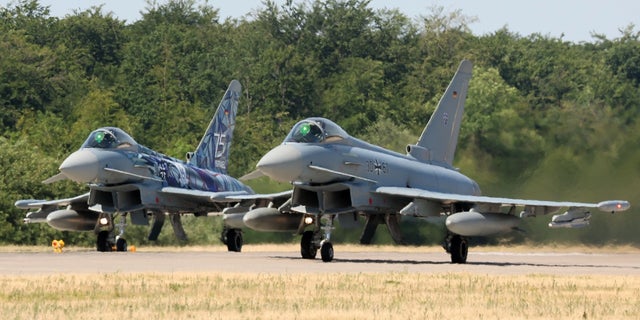 Two German Air Force Eurofighters take off on Tuesday, June 13 as part of the NATO "Air Defender" exercises.
(Bernd Wüstneck/picture alliance via Getty Images)
The military drills are being hosted by Germany.
"With 250 aircraft, including around 100 from the United States, Air Defender also demonstrates the strong bond between Europe and North America, working together in NATO," Lungescu said.
Lt. Gen. Ingo Gerhartz, chief of the German Air Force, told The New York Times that Russia's annexation of Ukraine's Crimean Peninsula in 2014 was a "wake-up call" for NATO to organize such drills.
The U.S. has sent over thousands of service members, mostly from National Guard units, to participate in the exercises, the newspaper adds.
"It's pretty much unprecedented, the amount of aircraft and people that we've moved over here in such a short period of time," Maj. Will Dyke, a pilot with Kentucky's Air National Guard, told The New York Times.
KIM JONG UN SAYS HE WANTS TO STRENGTHEN RELATIONSHIP WITH PUTIN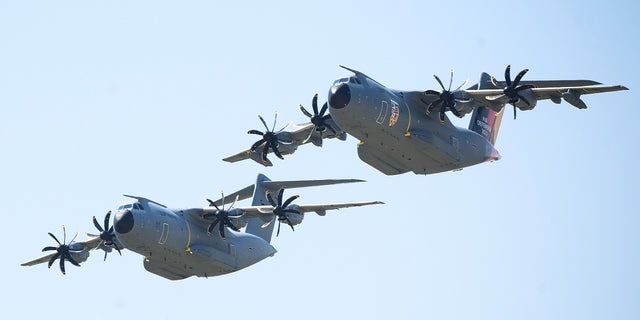 Two Airbus A400M of the German Air Force fly over Wunstorf Air Base in the Hanover region at the beginning of the NATO exercises on Monday.  (Julian Stratenschulte/picture alliance via Getty Images)
NATO said "Air Defender" has been planned for several years.
"Most of the aircraft will be stationed on several German air bases. Training missions will primarily take place over the North Sea, the Baltic Sea and Southern Germany," it said.
"The drills are aimed at boosting interoperability and preparedness to protect against aircraft, drones and missiles attacks on cities and critical infrastructure. Other training events will include supporting ground troops and evacuation missions," NATO added.
CLICK HERE TO GET THE FOX NEWS APP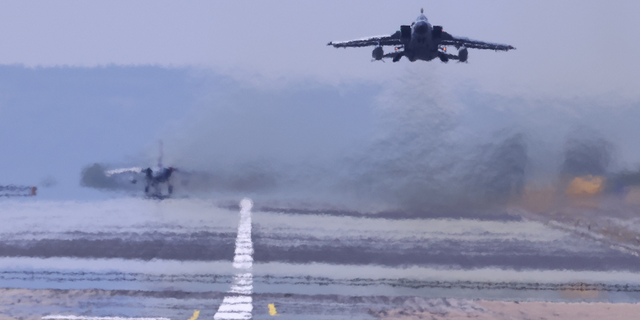 Tornado fighter jets of the German Air Force take off during the exercises, which are set to run until June 23. (David Young/dpa (Photo by David Young/picture alliance via Getty Images)
Meanwhile, Ukrainian troops reportedly have retaken seven villages from Russian forces over the last week, according to Deputy Defense Minister Hanna Maliar.
"The battles are tough, but our movement is there, and that is very important," Ukrainian President Volodymyr Zelenskyy said in a recent nightly video address, according to The Associated Press.
Greg Norman is a reporter at Fox News Digital.