close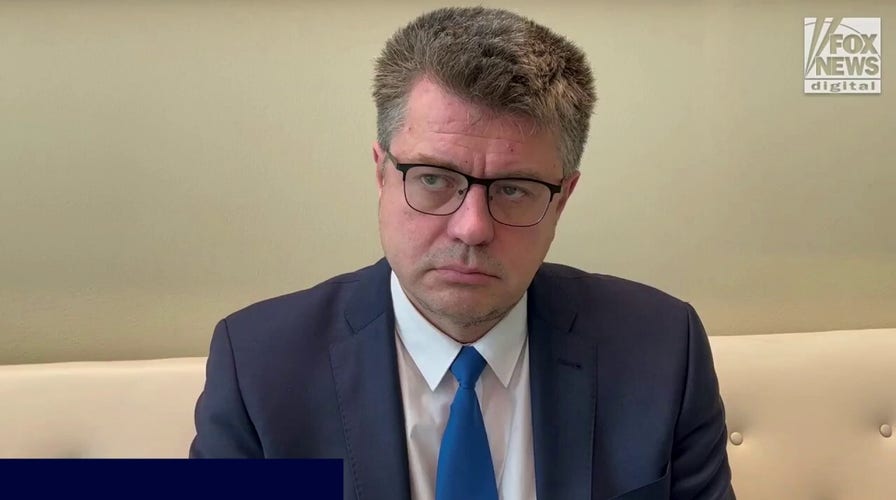 Video
Estonian foreign minister on NATO, UN 'crisis' over Ukraine issues
Estonian Foreign Minister Urmas Reinsalu spoke with Fox News Digital on a number of issues as the war in Ukraine passes the one-year mark.
UNITED NATIONS, New York — Estonia has criticized NATO allies for not doing enough to continue supporting Ukraine as Russia's invasion drags on past the one-year mark, and it also raised concerns that the U.N. may not be able to fulfill its duty in holding those in power responsible for alleged war crimes.
"Members have not done enough," Estonian Foreign Minister Urmas Reinsalu told Fox News Digital in an exclusive interview. "This is my comprehensive assessment."
"The Western camp has supported weapons aid, given around 50 billion euros approximately, and this is far from being satisfying," Reinsalu added. "If we want to invest to Ukrainian victory, not only to invest to Ukraine, that they can survive and not lose, we have to change the paradigm of our support."
Estonia has remained a vocal supporter of Ukraine since the start of Russia's invasion, and it was one of the first countries – along with Latvia and Slovakia – to accuse Russia of war crimes and insist on a tribunal to examine the issue and hold Putin accountable.
PUTIN ALLY WANTS TO INCREASE JAIL TIME FOR THOSE WHO INSULT RUSSIAN ARMY, WAGNER GROUP
Reinsalu cited Ukrainian authorities in reference to an alleged 60,000 crimes – with more "on the rise" – including "crimes against humanity, which are committed on the ground by officers, by soldiers and civilians, and so on."
"I fully believe that Putin and his near-accomplices should be taken into responsibility of that crime," Reinsalu said.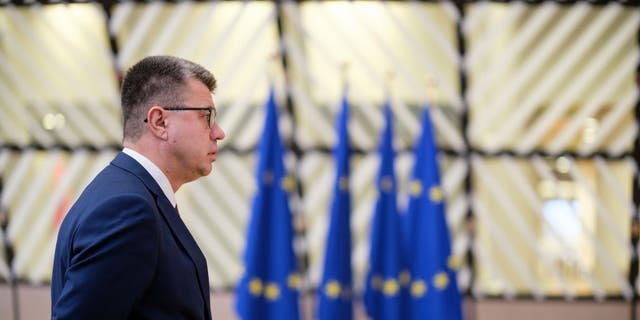 Estonian Minister of Foreign Affairs Urmas Reinsalu talks to the media on Jan. 23, 2023, in Brussels. (Thierry Monasse / Getty Images)
"This is not just the usual war … no, this is which is appropriate to qualify as a genocide because [of] Russian intent, and if you look at Putin's speeches and articles on Ukraine and Russia and so on, he is denying the existence of [the] Ukrainian nation as a cultural, political unit," Reinsalu continued.
"Therefore, we see also that there is a vast set of crimes which are not targeted towards military or human beings as Ukraine but as towards Ukraine as an entity."
BURNED: GERMANY WILL BLOCK EUROPE'S GAS AND DIESEL BAN UNLESS SYNTHETIC FUEL IS ALLOWED
U.S. Vice President Kamala Harris on Feb. 18 announced during a speech at the Munich Security Conference that the United States has determined that the Russian military is committing crimes against humanity in its invasion of Ukraine.
"From the starting days of this unprovoked war, we have witnessed Russian forces engage in horrendous atrocities and war crimes. Their actions are an assault on our common values, an attack on our common humanity," Harris said.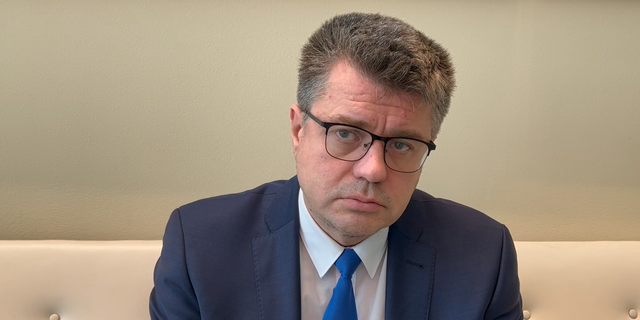 Estonian Foreign Minister Urmas Reinsalu spoke with Fox News Digital at the United Nations. (Peter Aitken / Fox News Digital)
Reinsalu reiterated the call for a tribunal to examine Russia's "crime of aggression," but he raised concerns that a "crisis in the U.N." has muddied its role and ability to properly help Ukraine since Russia holds a permanent seat on the Security Council.
"That aggressor itself has a veto power over these decisions, and so the way to overcome it is truly by the General Assembly," Reinsalu said, explaining that he believes the General Assembly, with a mandate and cooperation with the secretary-general, can create the tribunal and bypass Russia's veto power.
FINLAND'S PARLIAMENT GIVES FINAL APPROVAL FOR COUNTRY TO JOIN NATO WITH 184-7 VOTE
But Reinsalu remains concerned that NATO allies are not doing enough to help Ukraine achieve victory.
The U.S. on the one-year anniversary of the war announced an additional $2 billion in military aid to Ukraine in the form of laser-guided rocket systems, drones, ammo and more, along with new sanctions on Russia's economy.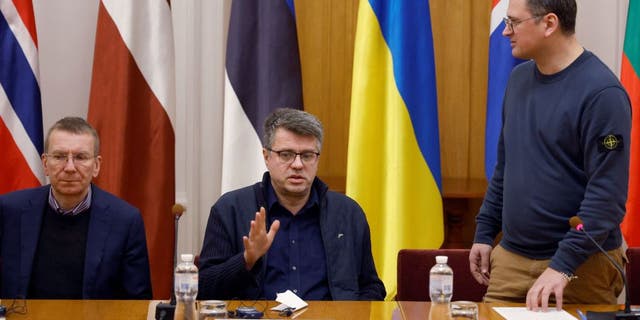 Foreign ministers of Ukraine Dmytro Kuleba, right, Estonia's Urmas Reinsalu, center, and Latvia's Edgars Rinkevics attend a joint news conference in Kyiv, Ukraine, on Nov. 28, 2022. (Valentyn Ogirenko / Pool / AFP via Getty Images)
Other countries, such as Poland, have looked to provide tanks – something the U.S. said it would also consider but has recently signaled might not happen, with the Army determining that shipments might not happen until the end of the year as there remain "a lot of details still that need to be worked out."
Reinsalu urged NATO allies to contribute more not just to the Ukraine defense but also to NATO itself as the alliance looks to expand. Finland and Sweden applied for membership due to concerns that Russia's invasion of Ukraine had irreparably shifted the international security landscape, but some existing members do not supply the necessary 2% of GDP to defense spending as stipulated.
SERBIA, KOSOVO BACK EU DIPLOMACY PLAN
Estonia, which joined NATO in March 2004, has hit that mark since 2014, investing as much as 2.4% in 2020, though the number dropped to 2.2% in 2021, according to data from The World Bank.
Reinsalu said that Estonia will look to increase spending to 3% starting next year, along with a call for all NATO allies to do the same as "2% is not enough."
"We are making, before the Vilnius Summit, the call to that all the NATO allies should contribute their very fair share to defense, and the 2% is not enough … to raise the minimum of defense expenditure from GDP to 2.5% level," Reinsalu said, reiterating a stance revealed in early February.
CLICK HERE TO GET THE FOX NEWS APP
"We are actively now looking also to renew all of our regional defense plans, and surely we would very much welcome to see a soon and smooth ratification of Finnish and Swedish accession treaty to join later," he added, stressing that it "will make a difference for our security."
Peter Aitken is a Fox News Digital reporter with a focus on national and global news.