close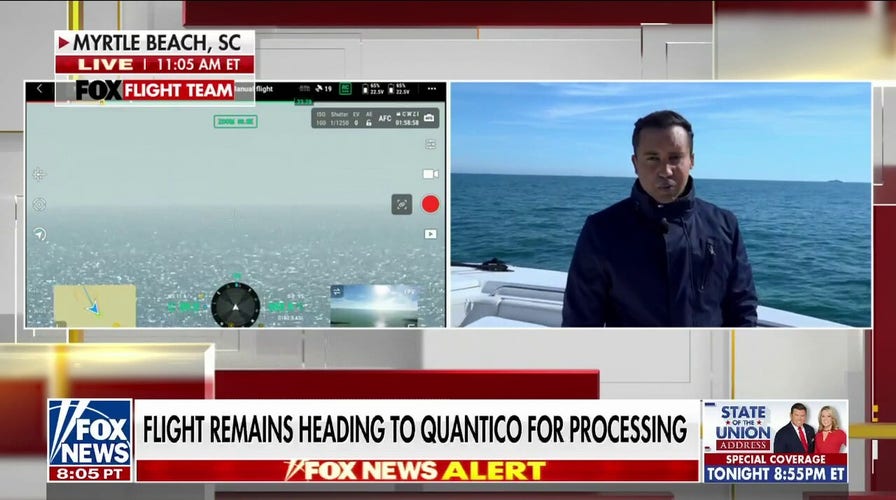 Video
US Navy recovery of Chinese spy balloon continues
Live from the scene at Myrtle Beach, SC, correspondent Bryan Llenas reports on efforts by the Navy to recover the remains of the Chinese spy balloon shot down on Saturday on 'The Faulkner Focus.'
NATO General Secretary Jens Stoltenberg warned that China's surveillance flight program represented threat to "global" security on Wednesday after U.S. intelligence found that spy balloons had traveled over five continents.
Stoltenberg made the statement in response to questions from reporters during a joint press conference with Secretary of State Antony Blinken. The Pentagon stated earlier Wednesday that the U.S. had confirmed Chinese surveillance craft over Europe, North America, South America and across Asia, violating the sovereignty of multiple countries.
Stoltenberg argued China's program emphasized the importance of international security organizations like NATO, saying China represented a threat to not just national security, but "global security."
"The Chinese balloon over the United States confirms a pattern of Chinese behavior, where we see China over the last years has invested heavily in new military capabilities, including different types of surveillance and intelligence platforms," Stoltenberg said.
US INTEL ASSESSES CHINESE SPY BALLOONS TRANSITED US SEVERAL TIMES, WENT 'UNDETECTED': SENIOR ADMIN OFFICIAL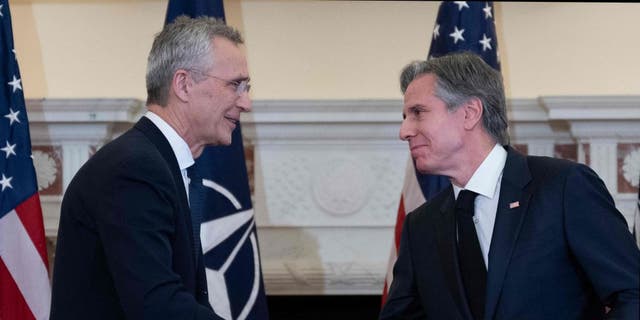 NATO Secretary General Jens Stoltenberg and US Secretary of State Antony Blinken shake hands after a press conference in the Benjamin Franklin Room of the State Department in Washington, D.C., on Feb. 8, 2023. (JIM WATSON/AFP via Getty Images)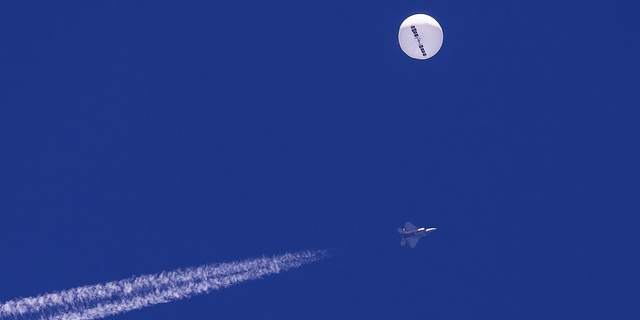 In this photo provided by Chad Fish, a large balloon drifts above the Atlantic Ocean, just off the coast of South Carolina, with a fighter jet and its contrail seen below it, on Saturday, Feb. 4. (Chad Fish via AP)
AIR FORCE WARNS CHINESE COMPANY'S NORTH DAKOTA MILL WOULD BE 'SIGNIFICANT' NATIONAL SECURITY THREAT
"And we've also seen increased Chinese intelligence activities in Europe — again, different platforms," he added. "They use satellites, they use cyber, and, as we've seen over the United States, also balloons."
The U.S.-China relationship has deteriorated in the days since the U.S. shot down the surveillance craft off the coast of South Carolina. Defense Secretary Lloyd Austin requested to speak with his Chinese counterpart, Defense Minister Wei Fenghe, immediately after the shoot-down, but China rejected the request.
Pentagon press secretary Air Force Brig. Gen. Pat Ryder said China has "a lot of explaining to do" about its balloon surveillance fleet.
CLICK HERE TO GET THE FOX NEWS APP
"When you look at the scope of this program and the fact that we know that these balloons have been spotted and what we now subsequently assess to be Chinese balloons operating over at least five continents in regions like Latin America, South America, Southeast Asia, East Asia and Europe," Ryder said. "Again, it demonstrates why for the Department of Defense that China remains the pacing challenge and something that will continue to stay focused on."
Anders Hagstrom is a reporter with Fox News Digital covering national politics and major breaking news events. Send tips to [email protected], or on Twitter: @Hagstrom_Anders.