close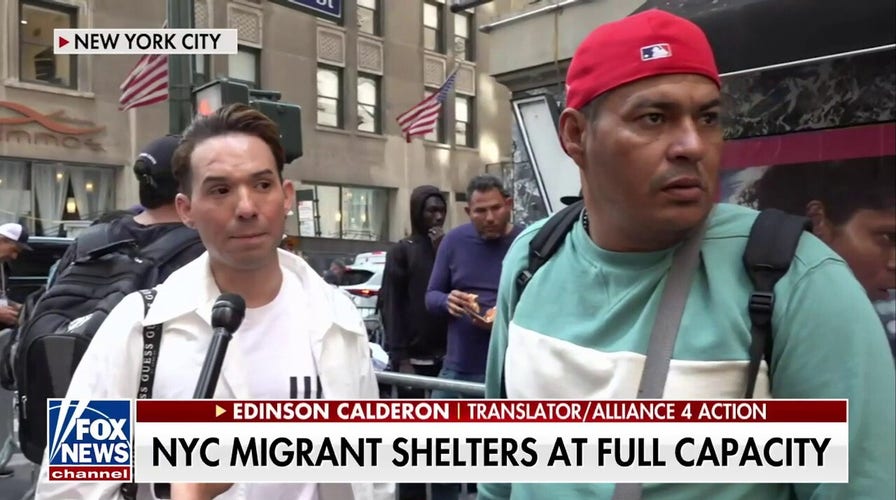 Video
New York City migrant shelters at maximum capacity
FOX Business correspondent Madison Alworth has the latest on New York City's response to the border crisis on 'America's Newsroom.'
The National Guard has been deployed to western New York after a second migrant brought there through New York City Mayor Eric Adams' controversial resettlement program was arrested on sexual abuse charges.
Erie County officials charged that a third party contracted by New York City to handle the migrant hotel operation might have obstructed local police's investigations into the assaults, and are demanding that the Biden administration and Congress act at the federal level to properly address the crisis.
At a press conference Saturday, Erie County Executive Mark Poloncarz, a Democrat, said no more asylum seekers would be sent from New York City until security measures involving the migrants could improve. He said New York Gov. Kathy Hochul, a fellow Democrat, agreed to place National Guard members at each of the hotels housing asylum seekers to act as a "stabilizing presence."
Poloncarz joined Cheektowaga Chief of Police Brian Gould in calling for the immediate discontinued use of the Best Western hotel on Dingens Street to house asylum seekers.
NYC MAYOR ADAMS SAYS MIGRANT CRISIS THREATENS TO 'DECIMATE' CITY AS HE APPEALS FOR FEDERAL HELP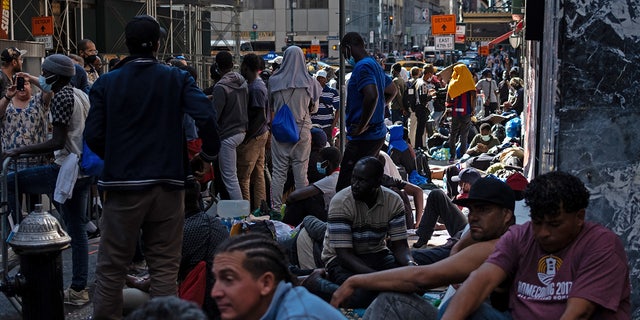 Large swathes of migrants were sleeping outside the Roosevelt Hotel on Aug. 2, 2023, as New York City officials demand federal action on the crisis. (Alexi Rosenfeld/Getty Images)
That's after a 27-year-old woman from Buffalo who was working at the hotel as employed by Platinum Community Care – one of the agencies providing services to the asylum seekers – walked into the Cheektowaga Police Department at approximately 4 p.m. Friday to report she had been sexually assaulted.
After an investigation, Kindu Jeancy, a 22-year-old male asylum seeker from the Democratic Republic of the Congo, was charged with felony first degree sexual abuse and misdemeanor unlawful imprisonment, Gould said. Jeancy was expected to be arraigned Saturday in Cheektowaga Court by Justice John Wanat.
The police chief and county executive both alleged that DocGo, a third-party contracted by New York City reportedly for $432 million to run migrant hotel operations, might have interfered in the Cheektowaga Police Department's investigations into the sexual assault cases.
Poloncarz said he had spoken to Hochul, Adams and New York State Department of Homeland Security Commissioner Jackie Brey regarding the matter.
"All agree that the alleged incident is reprehensible, and the safety of our community is paramount. I demanded Mayor Adams pause all further transportation of asylum seekers to our community until such time we can resolve all security issues," Poloncarz told reporters. "He agreed and informed me they will not send any additional persons to Erie County at this time. We also discussed the need for a new and improved security plan, especially considering DocGo, the third party hired by New York City to run the hotel operations, may have interfered in the Cheektowaga Police's investigation of this matter."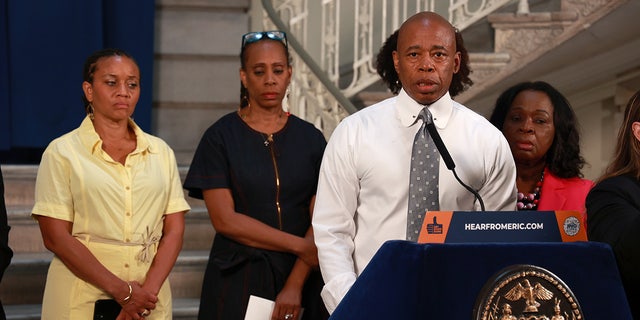 Mayor Eric Adams on Wednesday, Aug. 9, 2023, warned New York City is on track to spend as much as $12 billion on managing the migrant crisis. (Luiz C. Ribeiro for NY Daily News via Getty Images)
"I'm asking that those working for the companies that are providing services understand that all crimes need to be immediately reported to the police and that any suspects that are not questioned, interviewed or guided in any way prior to our police investigations," Gould added at the press conference. "I'm also asking that on-site security be reviewed to ensure that security guards hired have training to deal with this special population, and that they are highly experienced."
Poloncarz said local officials were not advised of the placement of asylum seekers at Dingens Street location until right before it occurred.
"The hotel is located in a residential neighborhood and is causing not only safety concerns to nearby residents but also quality of life issues," Gould added. "I'm asking for funding for overtime for my police officers. We are at a historic low in patrol officers right now. Although we have a good number of officers in training right now, they are not man-power. I cannot add police presence in that neighborhood without taking it away from another neighborhood and that should not happen."
NYC MIGRANT CRISIS COULD HIT $12 BILLION, MAYOR ADAMS URGES FEDERAL EMERGENCY DECLARATION
"As we have done for years, Erie County opened its arms to try to welcome these new Americans. Unfortunately, there is no way we believe to make the program as it's presently run sustainable without some significant changes. Two serious violent crimes are alleged to have occurred in the past two weeks, and they are two too many," Poloncarz said. "Our refugee agencies did their best to provide support and assistance, but our community's trust and good faith has been betrayed."
"The town, county and New York state cannot solve what is essentially a federal issue," Poloncarz added Saturday. "The Biden administration and Congress must act on this and truly implement comprehensive immigration reform. We cannot do it on the local level. It must be done at the federal level."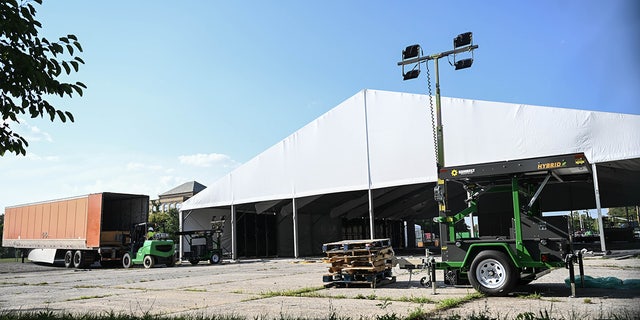 Creedmoor Psychiatric Center at Queens opens new shelters for asylum-seekers, on Aug. 9, 2023. The city is trying to resettle migrants elsewhere in the state. (Fatih Aktas/Anadolu Agency via Getty Images)
Erie County Legislator Frank Todaro, a Republican, issued a statement providing some insight into the first alleged migrant sex crime incident. He said a "self-purported asylum seeker that was shipped here from NYC was charged with raping a woman in front of a 3-year-old child" and claimed other migrants had been arrested on petit larceny charges.
"This problem is at our doorstep because the County Executive welcomed it," Todaro said.
Fox News Digital reached out to Adams and Hochul for comment Sunday.
CLICK TO GET THE FOX NEWS APP
Hochul issued a broad statement Saturday regarding "ongoing efforts to shelter and support asylum seekers" that, among other topics, references the governor "will deploy additional National Guard personnel to Erie County to provide logistical and operational support for shelter sites."
"Since asylum seekers first arrived in New York, we have been providing significant humanitarian aid as New York City works to meet their legal obligation to provide shelter. We will continue our efforts to provide financial support, personnel and equipment, and continued advocacy for federal assistance," Hochul said.
Danielle Wallace is a reporter for Fox News Digital covering politics, crime, police and more. Story tips can be sent to [email protected] and on Twitter: @danimwallace.