On Tuesday, specialists from NASA and Lockheed Martin removed the lid from a canister filled with "black dust and debris" collected from the major asteroid Bennu by the Osiris-Rex spacecraft.
The mission marks the first time NASA has returned some dust and other bits of an asteroid collected in space to Earth for study.
The pieces were jarred loose and collected nearly three years ago by the spacecraft, which launched over seven years ago from Cape Canaveral, Florida.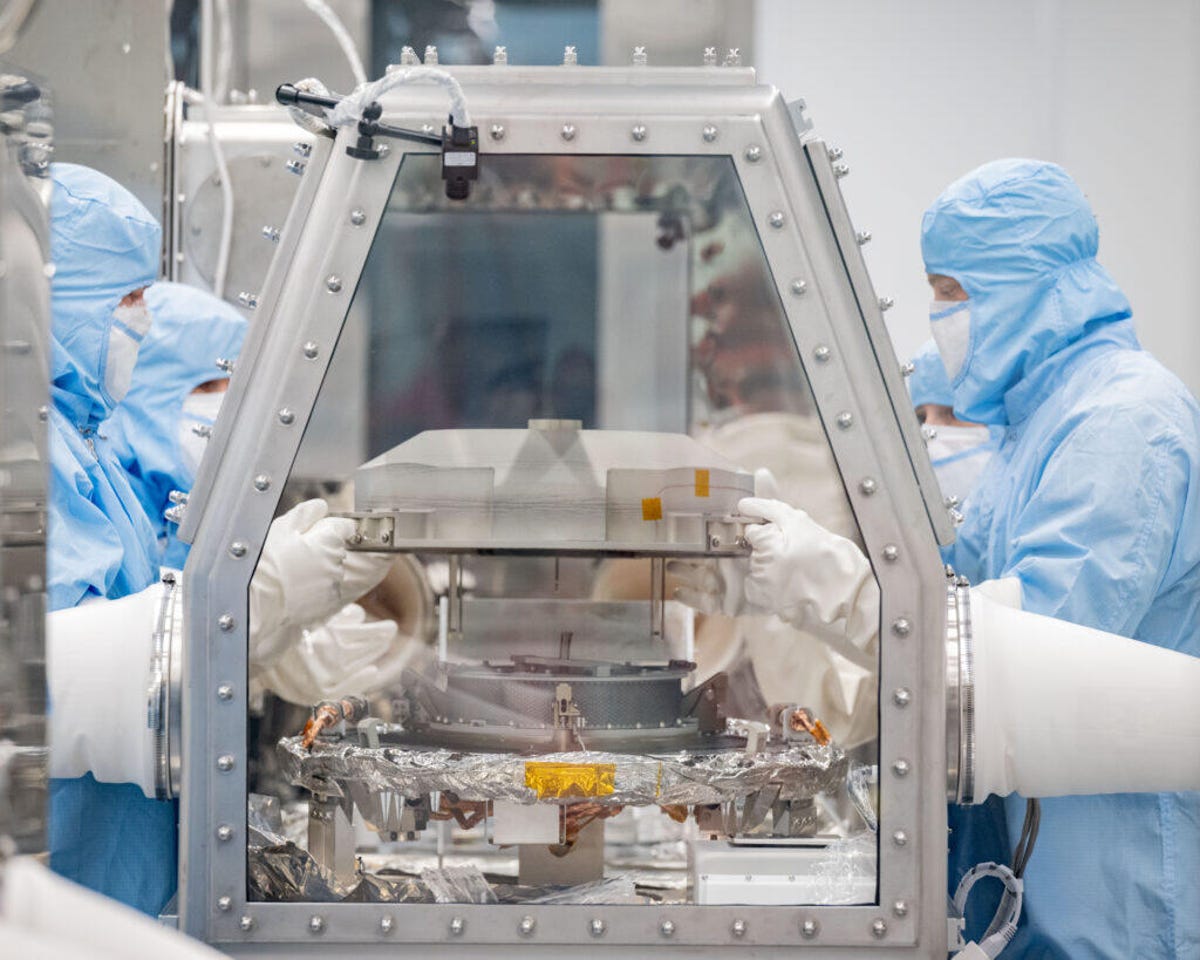 Lockheed Martin Recovery Specialists Levi Hanish and Michael Kaye remove the lid of the sample return canister.
Robert Markowiz/NASA
On Sunday morning, the spacecraft released a capsule that landed a little more than four hours later, at 9:52 a.m. PT, in the Department of Defense's Utah Test and Training Range. Within 20 minutes, scientists, engineers and military personnel arrived by helicopter to inspect and secure the capsule, which was transported to a nearby clean room. It arrived at Johnson Space Center in Houston on Monday.
"While this may feel like the end of an incredible chapter, it's truly just the beginning of another," Dante Lauretta, principal investigator for Osiris-Rex based at the University of Arizona, said in a statement. "We now have the unprecedented opportunity to analyze these samples and delve deeper into the secrets of our solar system."
In 2020, the van-size spacecraft performed a "touch and go" maneuver — sort of like a chest bump in space — and swiped a few ounces of material from the space rock, which is really a pile of rubble held together by its own gravity. Osiris-Rex lingered around Bennu until 2021, when it started its two-year journey back to Earth.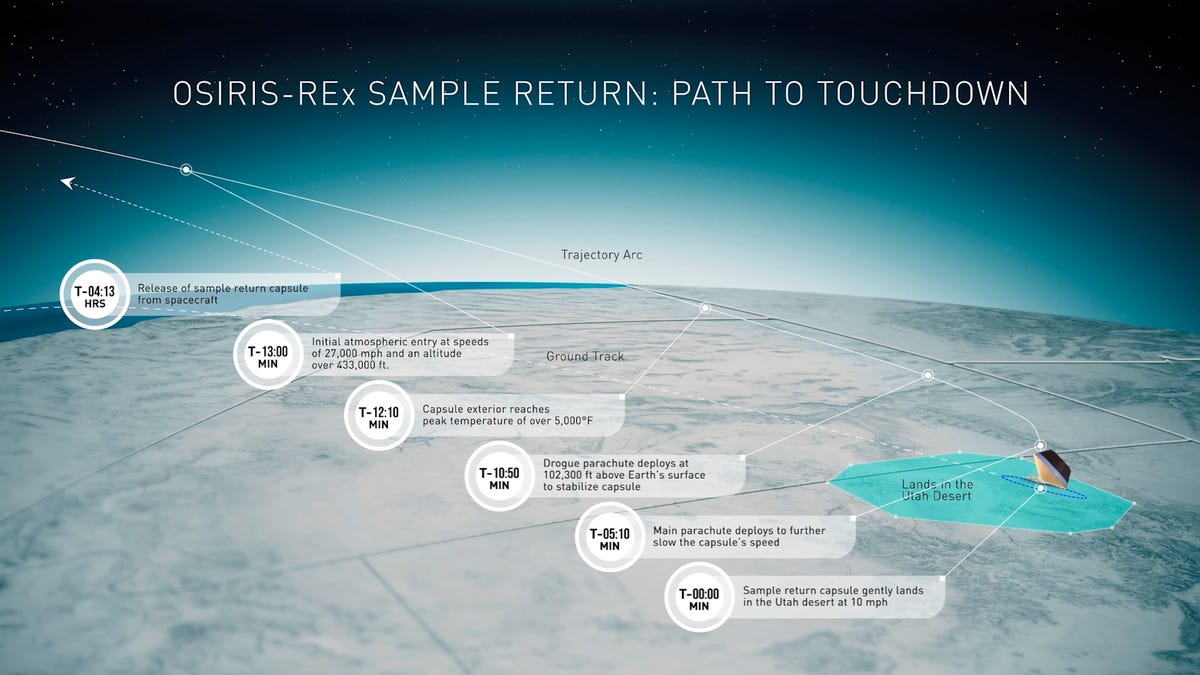 Enlarge Image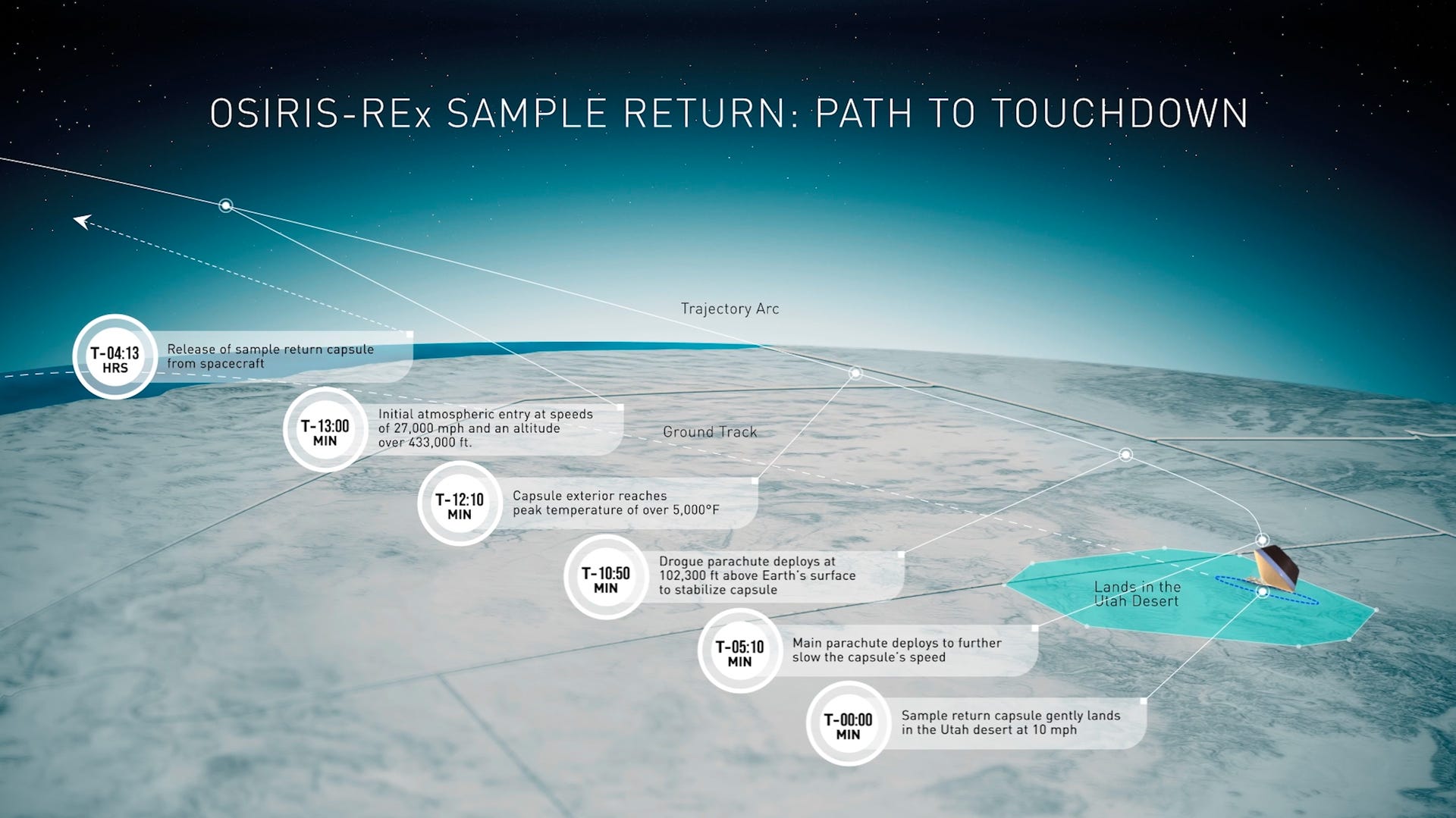 This graphic shows the events that happen between the time the Osiris-Rex spacecraft releases its sample capsule to the time the capsule lands in the Utah desert.
Lockheed Martin
Since launching on Sept. 8, 2016, Osiris-Rex has traveled billions of miles to Bennu and back. It is the first such mission led by NASA. Japan's space agency sent two spacecraft, named Hayabusa and Hayabusa 2, to collect and deliver samples from asteroids Itokawa and Ryugu, respectively.
In Houston, the sample will undergo preliminary analysis and be unveiled on Oct. 11 in a livestreamed news conference. It's hoped the sample will provide scientists with a window into the birth of the solar system, including the sun and planets, some 4.5 billion years ago.
As for the main spacecraft, it isn't done. After sending its treasure to the surface, Osiris-Rex fired its engines to avoid smashing into the atmosphere. It will now continue on to its next target, the asteroid Apophis, under the new moniker Osiris-Apex (Osiris-Apophis Explorer). The vehicle isn't equipped to collect and deliver another sample, but it may try to blast the asteroid with its gas thrusters in an attempt to dislodge dust and other small bits for study.
Apophis is an important target because it's considered a potentially hazardous asteroid. While any chance of it impacting Earth in the next century has been ruled out, it will be worth keeping a close eye on for centuries to come.