close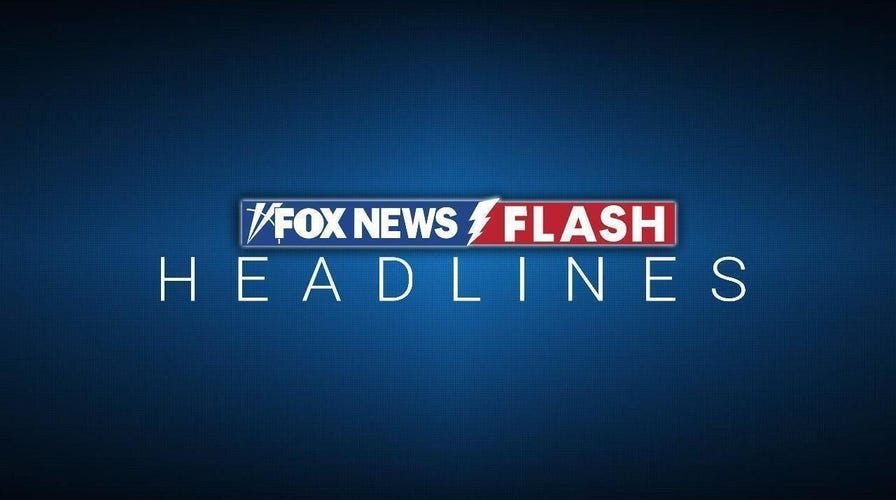 Video
Fox News Flash top headlines for August 24
Fox News Flash top headlines are here. Check out what's clicking on Foxnews.com.
The mother of American soldier Travis King, who has spent more than a month inside North Korea, says "he has so many reasons to come home" as he still "has a whole life ahead of him."
Claudine Gates made the comments to the Associated Press as U.S. officials are continuing to work to bring her 23-year-old son back to American soil after he ran into North Korea on July 18 during a tour of the DMZ.
"I just can't see him ever wanting to just stay in Korea when he has family in America. He has so many reasons to come home," Gates said.
"I'm not mad at you, Travis. I just want you to come home," she added. "He has a whole life ahead of him. He's still a young man. I just want my baby home."
PENTAGON DISPUTES PYONGYANG'S CLAIM THAT US SOLDIER TRAVIS KING WILLINGLY SOUGHT 'REFUGE' IN NORTH KOREA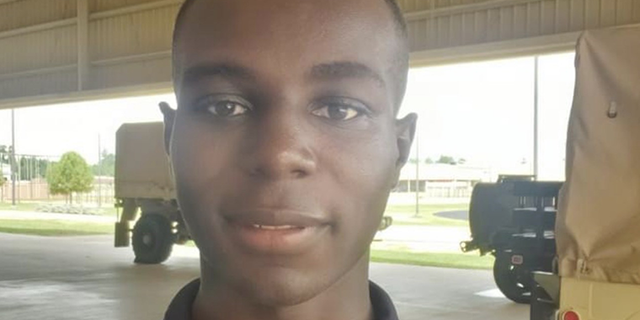 This undated photo shows Travis King, the American soldier who officials say is being detained in North Korea. (Facebook)
The Pentagon said last week that it could not verify claims by North Korea that King, a U.S. Army private, willingly sought refuge in the north to escape "racial discrimination" within the service branch's ranks.
A senior defense official told Fox News on Aug. 15 that the Pentagon has had no contact with King and does not know his current condition.
In the first public acknowledgment of the incident, North Korea's state media reported that King confessed to crossing into the North because of "inhuman maltreatment and racial discrimination within the U.S. Army."
NORTH KOREA FAILED SECOND SPY SATELLITE LAUNCH, VOWS TO KEEP PUSHING FOR KEY MILITARY ASSET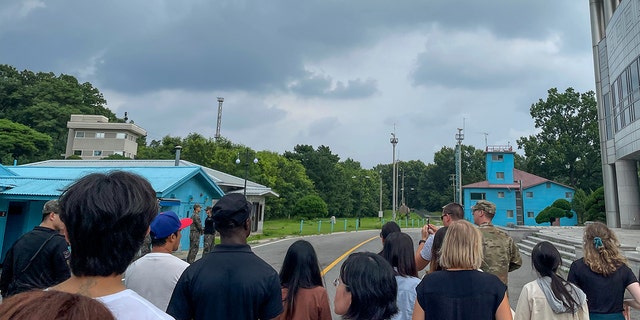 Tourists stand near a border station at Panmunjom in the Korean Demilitarized Zone in Paju, South Korea, July 18, 2023. Not long after this photo was taken, U.S. Army Pvt. Travis King bolted across the border and became the first known American detained in North Korea in nearly five years. (AP Photo/Sarah Jane Leslie)
"During the investigation, Travis King confessed that he had decided to come over to the DPRK as he harbored ill feeling against inhuman maltreatment and racial discrimination within the U.S. Army," the Korean Central News Agency said. "He also expressed his willingness to seek refuge in the DPRK or a third country, saying that he was disillusioned at the unequal American society."
Gates, in the interview with the AP, said she had never heard her son express the sentiments attributed to him.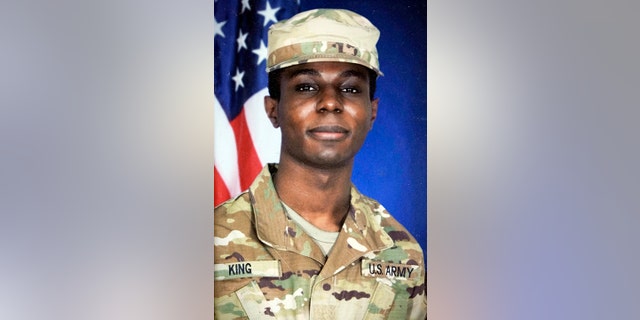 This family photo shows a portrait of American soldier Travis King displayed at the home of his grandfather, Carl Gates, July 19, 2023, in Kenosha, Wisconsin. (Family photo via AP)
CLICK HERE TO GET THE FOX NEWS APP
"My son, he was proud to be American. He's not even a racist type of person. That's why I can't see him saying that," she said. But she added, "I was kind of told that he said a little something like that to his uncles" and that "their approach with him was a little different than me. I'm Mom."
Fox News' Bradford Betz, Liz Friden and the Associated Press contributed to this report.
Greg Norman is a reporter at Fox News Digital.