close
Video
Protect Ourselves Like Men: Why this demographic is quickly arming up
Women are among the fastest-growing group of gun owners in the country. Fox News Digital visited an all-female firearm training to find out why they're arming up.
At least 13 women across the country used a firearm to fend off assailants between the waning days of July and August 12, local news reports show.
"Can we take a minute to appreciate how many women have protected themselves and others with firearms in the last two or so weeks? It's basically a highlight [reel] of just how important the right to keep and bear arms is for us, too," Heritage Foundation senior legal fellow Amy Swearer posted on X, previously known as Twitter, detailing the cases.
Local news reports stretching from Arizona to Pennsylvania show that between July 29 and Aug 12, there were at least 13 instances of fending off assailants, most notably their own exes.
A woman in Pottstown, Pennsylvania, for example, shot and wounded the father of her child on August 11 after he assaulted her. The man was shot in the shoulder and had an outstanding warrant for violating a protection-from-abuse order to stay away from the woman. He admitted to authorities that he had assaulted his child's mother before she shot him, The Pottstown Mercury reported.
FLORIDA WOMAN TURNS TABLES ON ARMED EX WHO SHOWED UP TO APARTMENT, KILLS HIM WITH ONE SHOT
On August 11 in Jackson, Mississippi, another woman grabbed her legal firearm when she spotted a group of masked suspects outside her home, allegedly trying to carjack her husband and son. She reportedly fired off shots and sent two of the suspects running for their lives. A 17-year-old suspect was shot during the incident and died, according to reports.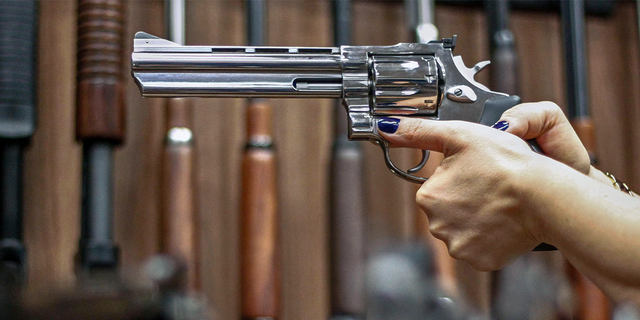 A woman aims a gun at a gun shop. ( MIGUEL SCHINCARIOL/AFP via Getty Images)
The 13 cases over a roughly two-week period are just a snapshot of how many women likely used a firearm to defend themselves. Self-defense gun cases often go unreported by major news outlets. Many cases involve people brandishing their firearm to deter a potential criminal, which can go unreported to police, experts have previously highlighted to Fox News Digital.
ARIZONA WOMAN SHOOTS, KILLS REGISTERED SEX OFFENDER ATTEMPTING TO BREAK INTO HER HOME
Of the 13 cases compiled by Swearer, more than half involved a woman defending herself from her romantic partner or ex.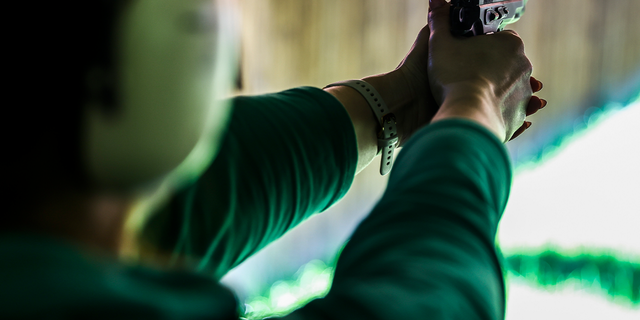 A woman shooting a handgun. (Beata Zawrzel/NurPhoto via Getty Images)
One such case in Texas involved a woman grabbing a pistol from her car's console and firing a shot at her ex-boyfriend, who allegedly tried to shave her head with a pair of electric clippers on August 8, according to police. Another woman in Texas on July 30 pulled a firearm from her purse and shot her romantic partner in the face after he allegedly threatened her with a gun.
ARMED WOMAN SHOOTS ROAD RAGE 'AGGRESSOR' TRYING TO FORCE HIS WAY INTO HER CAR: DA
"A man who'd served 8 years in prison for domestic violence threatened to kill his wife during an 'alcohol-fueled rage' and went to get a gun. She apparently got to her gun first. He's dead. She isn't," Swearer wrote of a case in Missouri that occurred on August 10.
Swearer also shared a Fox News Digital news article detailing how a woman in Indiana grabbed her firearm when she witnessed her daughter's ex-boyfriend pulling onto her front yard and holding her husband at gunpoint. The woman shot the suspect, and he was pronounced dead after he was transported by authorities to a local hospital, according to authorities.
ARMED WOMAN TURNS THE TABLES, FATALLY SHOOTS DAUGHTER'S EX-BOYFRIEND WHO HELD HUSBAND AT GUNPOINT: POLICE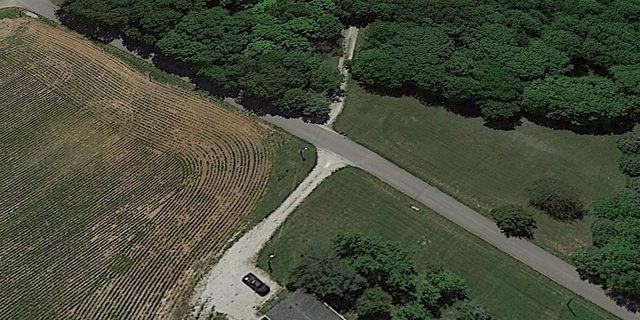 Organ Springs Road in Salem, Indiana, where a woman shot and killed a man holding her husband at gunpoint, police say.  (Google Maps )
Gun sales had a banner year in 2020, with an estimated 23 million firearms sold and more than 21 million background checks conducted. The numbers smashed records, and notably spiked at the onset of the pandemic in March, before jumping yet again in June of that year as protests and riots spread across the nation in response to the death of George Floyd at the hands of Minneapolis police.
GUN-TOTING DAD WHO THWARTED MASS SHOOTING DESPITE BEING SHOT IN HEAD NOW TRAINING OTHERS ON SELF-DEFENSE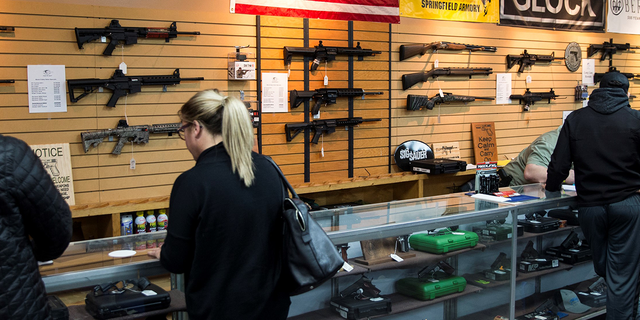 Customers at a gun store in Virginia. (Anadolu Agency/Getty Images)
CLICK HERE TO GET THE FOX NEWS APP
By gender, gun ownership is also booming among women. Between 2019 and 2021, as gun purchases exploded, about half of firearm customers were women, according to the Harvard T.H. Chan School of Public Health. Women were the most likely new gun-owner demographic during those years, researchers found.