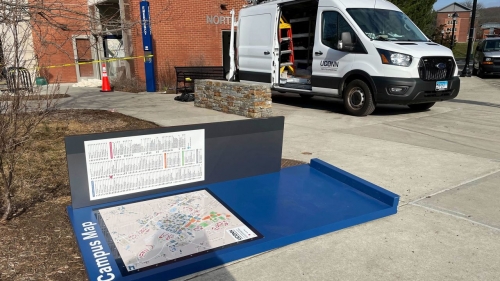 A toppled campus map and a repair vehicle on the University of Connecticut campus.
Pat Eaton-Robb/AP

CNN
—
More than a dozen people have been "arrested and charged with various crimes" after The University of Connecticut (UConn) won the NCAA men's basketball national championship on Monday.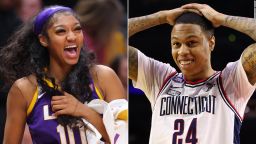 Angel Reese #10 of the Louisiana State Tigers, and her cousin, Jordan Hawkins, #24 of the Connecticut Huskies
NCAA Photos/Getty Images
'The cookout gone be lit': UConn's Jordan Hawkins looks forward to national championship celebrations with cousin and LSU star Angel Reese
"Fifteen people have been arrested and charged with various crimes; most of those arrested are UConn students," University Spokesperson and Manager of Media Relations Stephanie Reitz told CNN in an email Tuesday.
"Sixteen people were transported to area hospitals for evaluation of injuries, none of which were considered to be significant."
Damage estimates are still being determined as operations staff work to clean up the damage after Monday's win, Reitz said.
Despite the damage to the campus, including broken light poles and "fires set in trash dumpsters," Reitz said, "the vast majority of those celebrating the Husky victory last night did so safely and responsibly."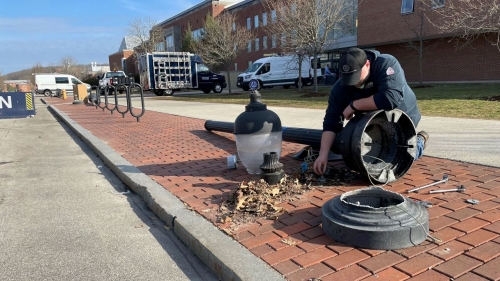 A street light is repaired at UConn after fans spilled onto campus to celebrate.
Pat Eaton-Robb/AP
Classes on the Storrs, CT, campus will be held as usual on Tuesday, according to Reitz.
Monday night's win was UConn's fifth men's basketball national title after a 76-59 victory over San Diego State University at NRG Stadium in Houston.
UConn now enters rarefied air as only the sixth team to win five NCAA men's basketball championships, joining UCLA (11), Kentucky (eight), the North Carolina Tar Heels (six), Duke (five) and Indiana (five).
All of UConn's titles have come since 1999 with the most recent before Monday occurring in 2014.