close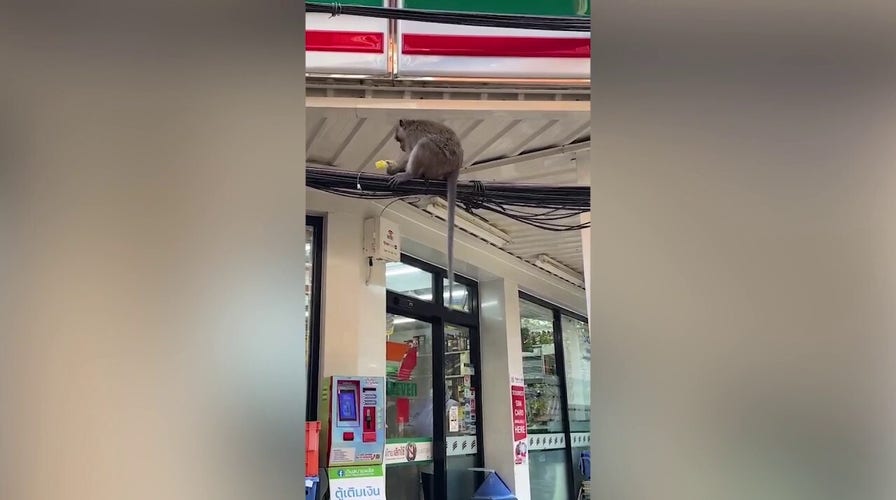 Video
Mayhem as wild monkeys raid supermarket to steal bananas
Rampaging wild monkeys caused chaos when they raided a supermarket to steal bananas on a Thai island. (SOURCE: ViralPress)
A group of wild monkeys raided a supermarket and made off with a haul of bananas in a bizarre hit-and-run theft in Thailand.
The monkeys diverted from their normal foraging grounds in a nearby forest to hit a 7-11 and take what bananas they could. The video of the incident shows the monkeys ransacking plastic crates after they pull back the covers, taking food then running away in rotation.
When the shop workers try to chase the monkeys away, the monkeys just sit on the nearby wires out of reach.
One onlooker told Viral Press that the monkeys have tried to "barge into the shop when staff cannot close the entrance quickly enough," and that the monkeys have even stolen food out of tourists' hands.
KENTUCKY MAN, 59, KILLED AFTER BEING STUNG BY A SWARM OF BEES, CORONER SAYS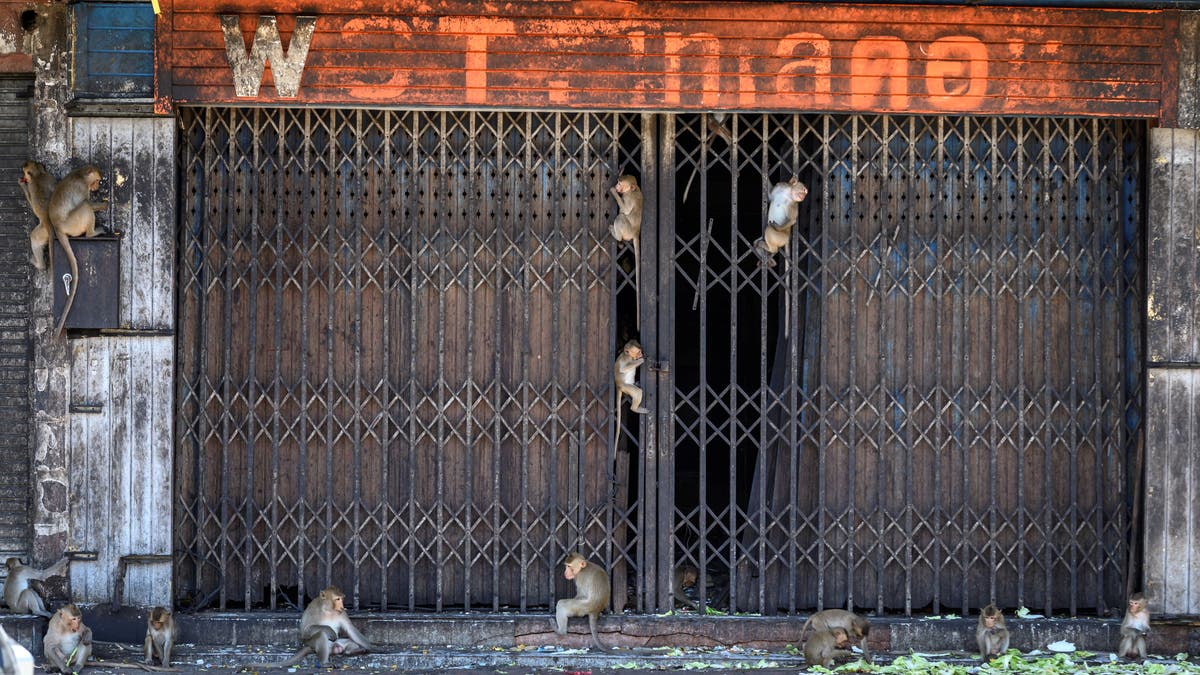 This photograph taken on June 21, 2020 shows longtail macaques gathering outside a closed shop in the town of Lopburi, some 155 km north of Bangkok. (Mladen Antonov/AFP via Getty Images)
"Luckily, they haven't overrun the island yet," he said, referring to Koh Phi Phi island, where the video was recorded and where many of the monkey incidents occur.
Thailand has struggled with a small epidemic of wild monkeys in cities, most commonly of the macaque variety. These monkeys stand about two feet tall and weigh only 15 pounds, but they are aggressive and travel in groups.
FLORIDA POLICE K-9 RECOVERING AFTER SNAKE BITE DURING TRAINING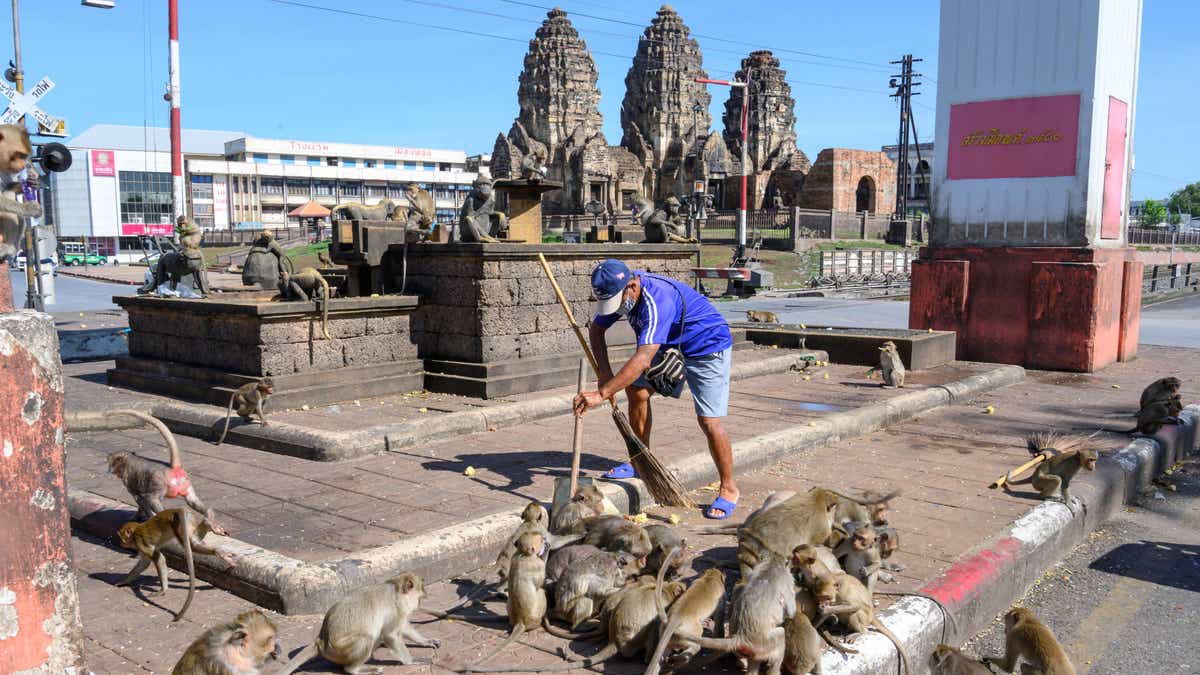 This photograph taken on June 20, 2020 shows a man cleaning a roundabout, one of the main gathering points of the longtail macaques. Rival gang fights and no-go zones for humans.  (Mladen Antonov/AFP via Getty Images)
The monkeys have grown bolder in recent years, going after people and taking whatever food they can get their hands on. They can also cause bodily injuries that can result in hospitalization, according to Trip Savvy.
On the mainland, residents of the city of Lopburi found themselves caught in the middle of a fight between hundreds of monkeys in two rival "gangs" that have started massive street brawls, sometimes over food, other times over territory: The monkeys in March 2020 fought over a single banana, while in 2021 monkeys fought over the right to squat at a Buddhist temple, Metro reported.
PRIVATE LOUISIANA ZOO CRITICIZES USDA AFTER REGULATORS SEIZE AILING GIRAFFE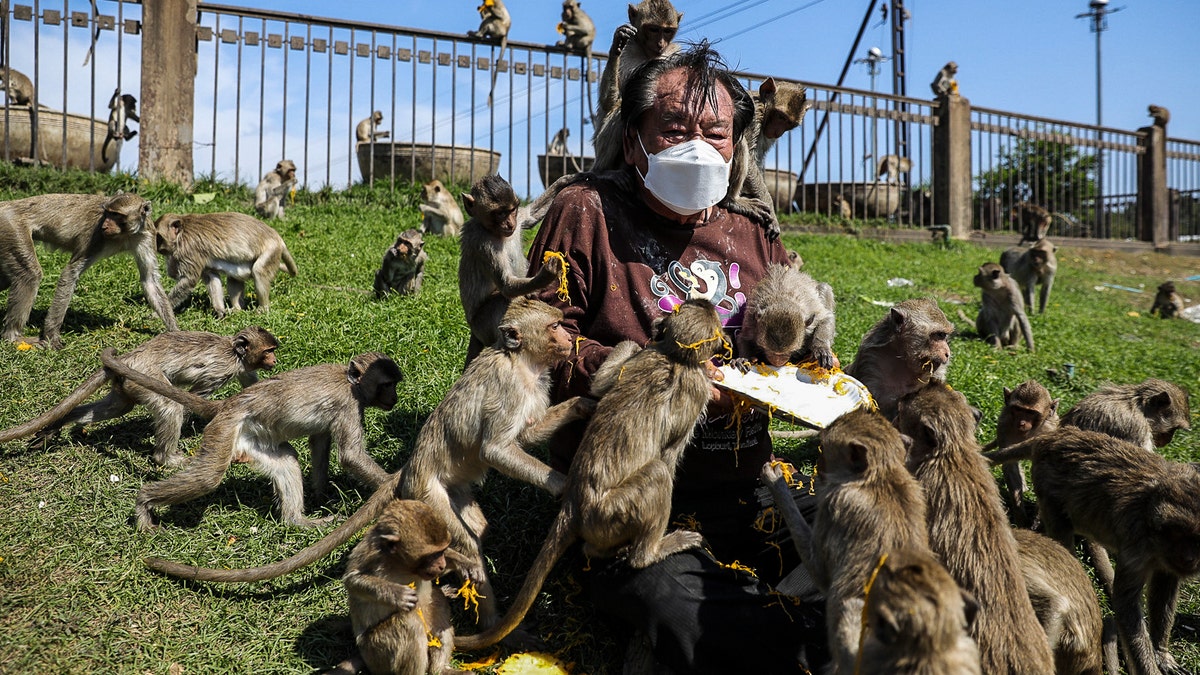 Monkeys jump on tourists during the Lopburi Monkey Festival at the Phra Prang Sam Yod Temple on November 28, 2021 in Lop Buri, Thailand. Lopburi holds its annual Monkey Festival where local citizens and tourists gather to provide a banquet to the thousands of of long-tailed macaques that live in central Lopburi. (Lauren DeCicca/Getty Images)
Prolonged and extensive lockdowns in the country may have allowed the monkeys to thrive, as well as giving them the confidence and comfort to move around freely in the cities, a government veterinarian said, explaining that the monkeys had grown used to tourists feeding them before the pandemic.
CLICK HERE TO GET THE FOX NEWS APP
"With the tourists gone, they've been more aggressive," Supakarn Kaewchot said in 2021. "They're invading buildings and forcing people to flee their homes."
More recently, the government has tried to manage the population by creating monkey sanctuaries, mass sterilization programs, habitat relocation and public education on how to handle the animals.
Peter Aitken is a Fox News Digital reporter with a focus on national and global news.