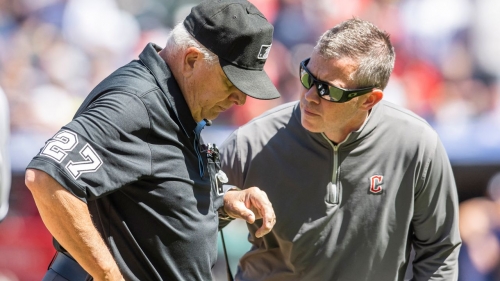 Cleveland Guardians trainer James Quinlan, right, looks after Umpire Larry Vanover after Vanover was hit with a baseball during a game between the Guardians and the New York Yankees at Progressive Field in Cleveland.
Ken Blaze/USA Today Sports/Reuters

CNN
—
MLB umpire Larry Vanover, who was hit in the head by a throw during Wednesday's New York Yankees and Cleveland Guardians game, remains hospitalized on Thursday, a source with knowledge of the situation told CNN.
In the top of the fifth inning, Guardians second baseman Andres Gimenez tried to make a relay throw to home plate but accidentally hit Vanover, a crew chief who has been in the majors for 29 seasons, in the head with the ball. Vanover was able to get up and walk off the field slowly. He did not return to the game.
Chris Guccione, another umpire working the game on Wednesday, said after the game that Vanover has a "pretty good-sized knot on his left side" above his ear.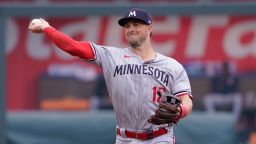 KANSAS CITY, MISSOURI – MARCH 30: Kyle Farmer #12 of the Minnesota Twins in action against the Kansas City Royals on Opening Day at Kauffman Stadium on March 30, 2023 in Kansas City, Missouri. (Photo by Ed Zurga/Getty Images)
Ed Zurga/Getty Images
Minnesota Twins' Kyle Farmer needs surgery after being hit in the face by pitch
"They're going to do a concussion test and it sounded like he was coherent and that he knew kind of what was going on," Guccione told a pool reporter. "But he did have that glazed look on him. He's going to be at the hospital for the rest of the night maybe. That was scary. Very hard to focus after that after you see a colleague get hit. But they gave me updates and I was like, 'Alright. He's good. He's in safe hands.' So, we moved on."
The source said Vanover was still in the hospital as of Thursday morning and had a chance of being released later in the day. No update was provided Thursday evening.
The Yankees won Wednesday's contest 4-3, with three umpires finishing the game.
On Thursday, Vanover's crew was in Cincinnati for the game between the Reds and the Philadelphia Phillies. Jeremy Riggs filled in for Vanover, according to the box score.
CNN has reached out to Major League Baseball for comment.