A pair of bills signed into law by Missouri Gov. Mike Parson in June went into effect on Monday, restricting transgender youth access to sex-reassignment health care and school sports.
In one law, the state prohibits minors from starting puberty blockers and hormones and makes gender surgeries for youths illegal.
In the other law, student athletes from kindergarten through college are required to play sports on teams that align with their birth-assigned sex.
MISSOURI GOV. MIKE PARSON SIGNS BILL BANNING TRANSGENDER HEALTH CARE FOR MINORS, COMPETITION IN SCHOOL SPORTS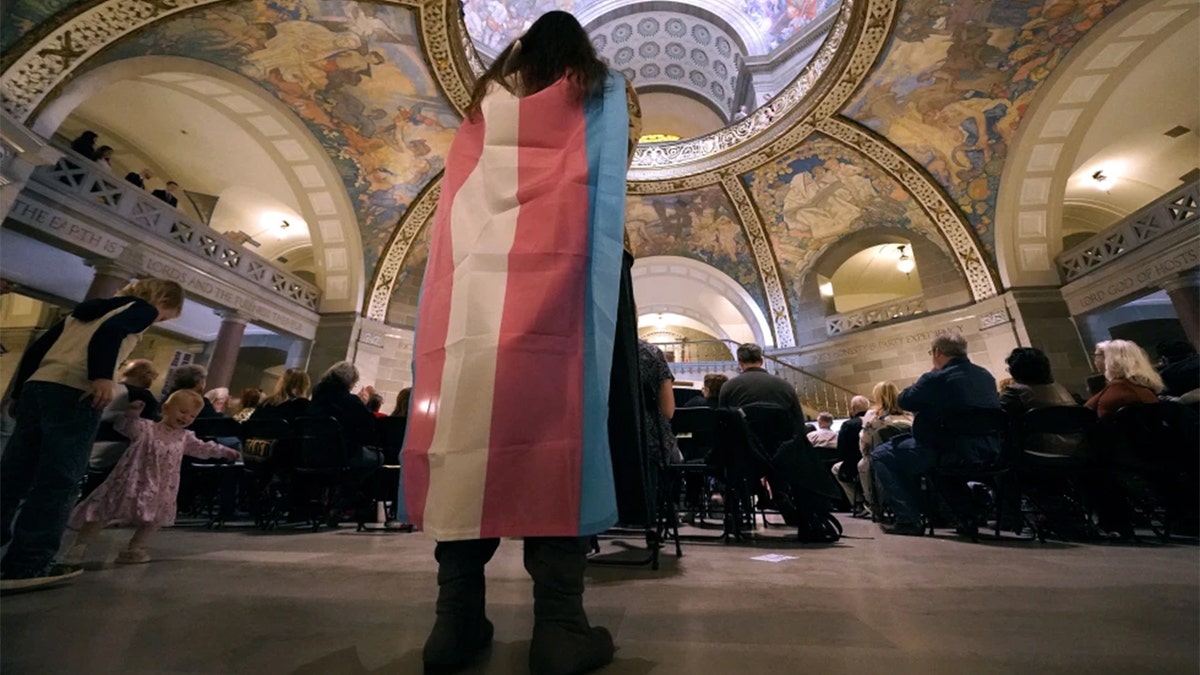 Glenda Starke wears a transgender flag as a counterprotest during a rally in favor of a ban on sex reassignment health care legislation, March 20, 2023, at the Missouri Statehouse in Jefferson City, Mo. A Missouri judge said Friday, Aug. 25, that a law banning sex reassignment treatments for minors can take effect. St. Louis Circuit Judge Steven Ohmer ruled that the law will kick in Monday, Aug. 28, as previously scheduled.  (AP Photo/Charlie Riedel, File)
Both laws are scheduled to expire in 2027.
Parson, a Republican, said when he signed the bill that the state was standing up "to the nonsense" and stands with women and girls who have "fought for an equal opportunity to succeed."
Parson also said the bill was meant to "protect children from making life-altering decisions that they could come to regret in adulthood once they have physically and emotionally matured."
ACLU, LGBT GROUPS SUE MISSOURI AG OVER GENDER TRANSITION EMERGENCY RULE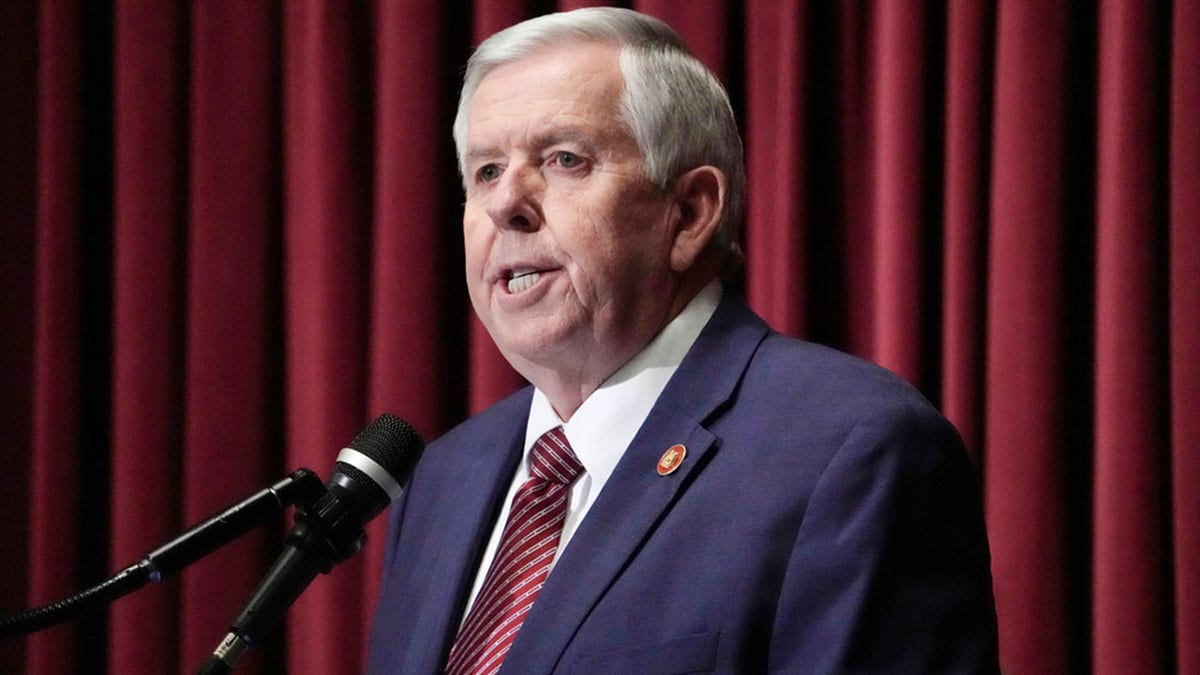 Missouri Gov. Mike Parson delivers the State of the State address on Jan. 18, 2023, in Jefferson City, Mo.  (AP Photo/Jeff Roberson)
LGBTQ+ advocates sued the state to overturn the healthcare law, but a judge delivered them a blow, allowing the new law to take effect while a challenge in court plays out.
Under the new health care law, physicians are not allowed to provide sex reassignment health care to minors, although youth who were prescribed hormones or puberty blockers before Monday were able to continue those treatments.
The care remains in place for adults, but Medicaid no longer covers the treatment.
FORMER OLYMPIAN SAYS SHE WAS 'GOBSMACKED' OVER FORMER TEAM'S SCATHING REMARKS ON HER VIEWS ON TRANS POLICY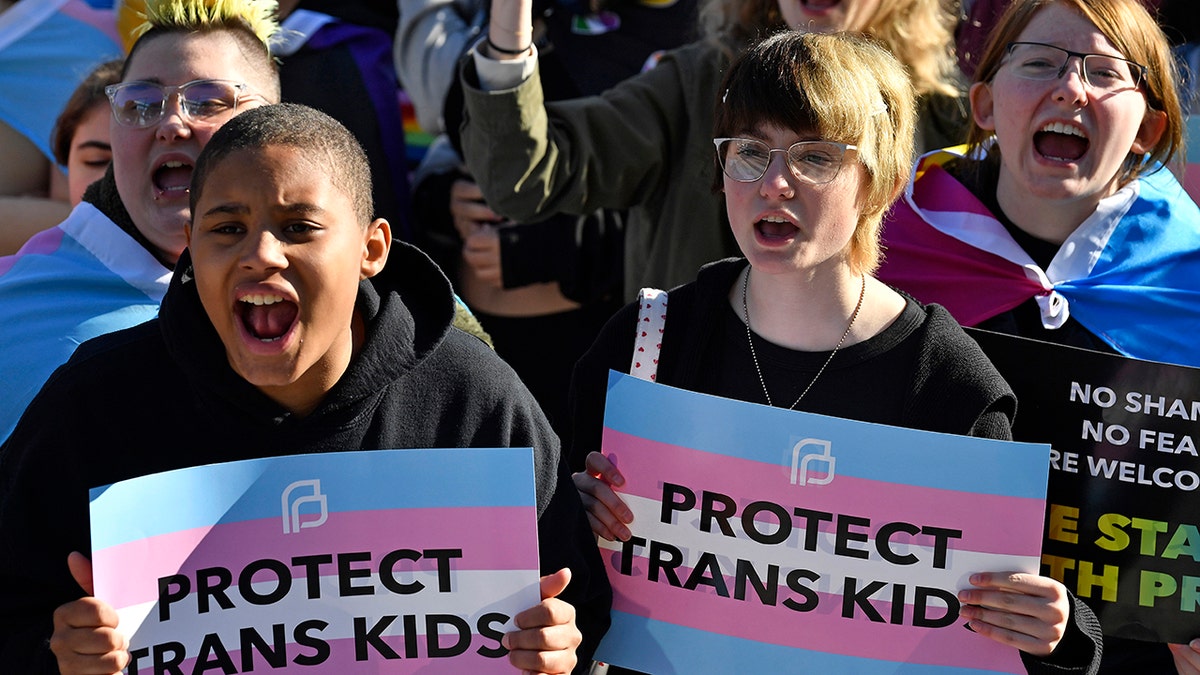 Protesters of Kentucky Senate Bill SB150, known as the Transgender Health Bill, cheer on speakers during a rally on the lawn of the Kentucky Capitol in Frankfort, Ky., March 29, 2023. A federal judge temporarily blocked Kentucky's ban on gender-surgery care for transgender youths on Wednesday, June 28, taking the action shortly before the measure was set to take effect.  (AP Photo/Timothy D. Easley)
In preparation for the new law, Planned Parenthood clinics across the state reportedly held pop-up clinics and offered more appointments to be able to start patients on treatments.
Now that it is in place, any physician who violates the law could have their license revoked and be sued by patients.
The health care law is being challenged in court by the ACLU of Missouri, Lambda Legal and Bryan Cave Leighton Paisner, which filed a suit in July, on behalf of physicians, LGBTQ+ organizations and three families of transgender minors.
MISSOURI ENDS RULE LIMITING GENDER TRANSITION TREATMENTS FOR MINORS, SOM ADULTS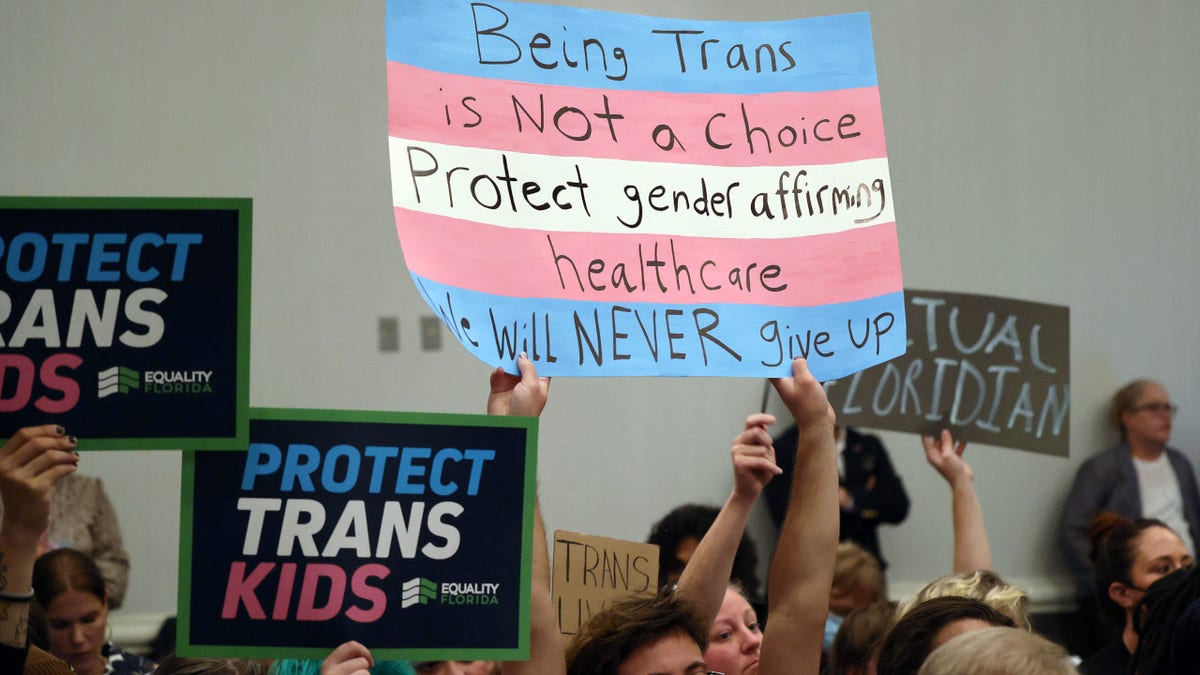 People hold signs during a joint board meeting of the Florida Board of Medicine and the Florida Board of Osteopathic Medicine gather to establish new guidelines limiting sex reassignment care in Florida, on Nov. 4, 2022.  (Ricardo Ramirez Buxeda/Orlando Sentinel/Tribune News Service via Getty Images)
The suit argues the law is discriminatory, and the filing parties requested the law be blocked temporarily as the case plays out.
But a St. Louis judge disagreed with the petitioners and ruled last week that the law could take effect while the case is challenged in court.
As for sports, Parson's signed law means anyone assigned as a girl at birth or a boy at birth, must play on sports teams that align with that assignment.
DYLAN MULVANEY CALLS ON BRANDS TO DEVELOP MORE TRANS PARTNERSHIPS AFTER BUD LIGHT FIGHT: 'REALIZE' MY 'POWER'
The law is in place for athletes who play on K-12 and college sports teams.
While boys and men are not allowed to play on female teams if there is no corresponding sports program for them, girls and women are permitted to play on teams of the opposite sex in the same situation.
The law stipulates that the state education department is responsible for creating rules to enforce the law.
CLICK HERE TO GET THE FOX NEWS APP
Private and public schools could lose all state funding for violating the new law.
The Associated Press contributed to this report.