close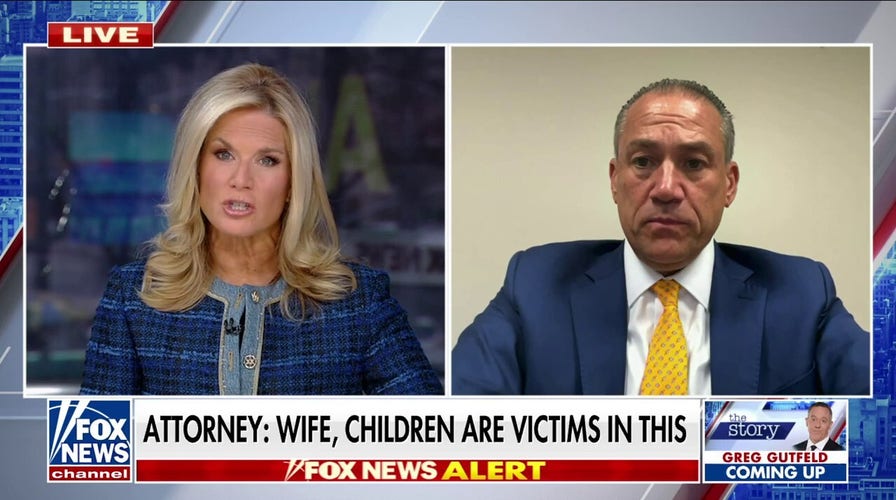 Video
Attorney for estranged wife of Rex Heuermann: She is putting her life back together
Bob Macedonio, attorney for the estranged wife of the Gilgo Beach murders suspect, explains the impact of the case on 'The Story.'
A South Carolina woman who vanished six years ago was last seen with Gilgo Beach murder suspect Rex Heuermann a day before she disappeared, her daughter said.
Julia Ann Bean was 37 when she was reported missing on Nov. 18, 2017.
She was last seen on May 31, 2017, with a man whom her family did not know at the time, according to the Sumter County Sheriff's Office.
When Bean's daughter saw Heuermann on the news, she "had chills," family friend Heidi Kovas told The U.S. Sun, which viewed a text exchange regarding the night Bean vanished.
GILGO BEACH MURDER VICTIMS FORGOTTEN DURING YEARS OF CORRUPTION AND SCANDAL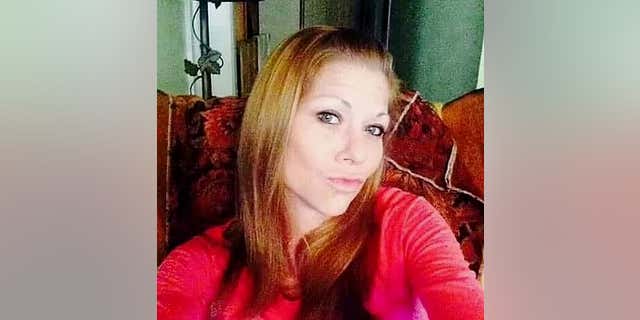 Julia Ann Bean disappeared in South Carolina in 2017, and her daughter reportedly believes she was last seen with Gilgo Beach murder suspect Rex Heuermann. (Julia Ann Bean/Facebook)
"That was the last man I saw her with personally," Bean's daughter said in the text message.
"She knew him right away," Kovas told PIX 11.
Heuermann reportedly introduced himself with a different name at Bean's daughter's high school graduation, which was the last time their family saw Bean, Kovas told The Sun.
Bean arrived in a dark truck driven by a man her daughter now believes to be Heuermann, according to Kovas.
GILGO BEACH SUSPECT SCOWLS IN COURT AS PROSECUTORS DETAIL 'VOLUMINOUS' EVIDENCE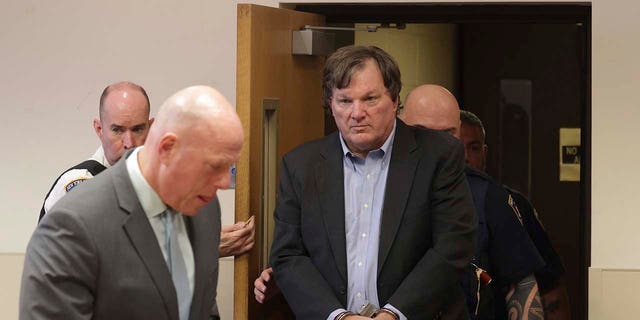 Rex Heuermann, the architect accused of murdering at least three women near Long Island's Gilgo Beach, appears before Judge Timothy P. Mazzei in Suffolk County Court in Riverhead, N.Y., on Aug. 1, 2023. (James Carbone/Newsday via AP, Pool)
Heuermann's dark Chevrolet Avalanche was a key piece of evidence that shrunk the suspect pool in the Gilgo Beach case, and put the midtown Manhattan architect on Suffolk County investigators' radar.
Scott Bonner, an investigator with the Sumter County Sheriff's Office in South Carolina, which has handled Bean's case, said they're investigating the potential connection to Heuermann, like several police departments across the country are doing with other cold cases.
Bean's daughter was reportedly not aware of Heuermann until Kovas pointed out the similarities between her mom and the women Heuermann allegedly killed.
"They look like Julia," Kovas told PIX 11 of Maureen Brainard-Barnes, Melissa Barthelemy, Megan Waterman and Amber Lynn Costello, whose bodies were found wrapped in burlap along Ocean Parkway in December 2010.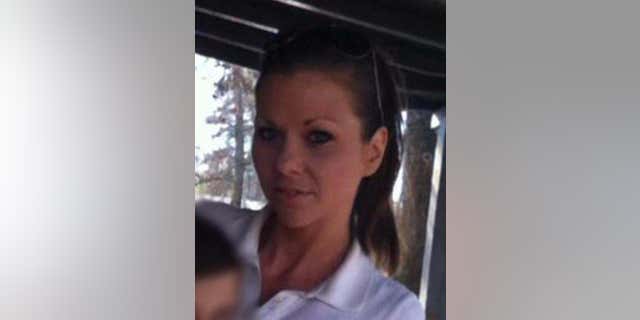 Julia Ann Bean disappeared in 2017, and her daughter reportedly believes she was last seen with Gilgo Beach murders suspect Rex Heuermann. (Julia Ann Bean/Facebook)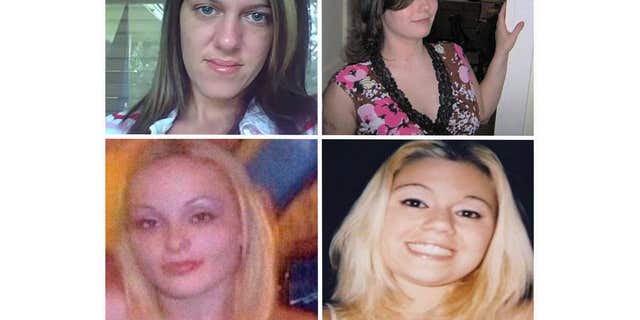 Clockwise, from top left: Gilgo Beach murders victims Amber Costello, Maureen Brainard-Barnes, Megan Waterman and Melissa Barthelemy. (Suffolk County Police Department)
"They look just like Julia. The blonde hair, the green eyes, petite," Kovas said, according to PIX 11, and Bean "was more than likely escorting."
All the descriptions are distinctive characteristics of Heuermann's alleged victims, particularly the hazel/green eyes, which is the rarest eye color that only about 9% of the U.S. population have, according to the Cleveland Clinic.
REX HEUERMANN'S PECULIAR CONNECTION TO 'MANORVILLE BUTCHER' AND VICTIMS' SCATTERED BODY PARTS
Law enforcement in South Carolina, where Heuermann reportedly planned to retire and settle into a house that he owns near his brother, Atlantic City and Las Vegas are among the police departments combing through their missing persons databases to see if any of those people crossed paths with Heuermann.
"Shame on us if we don't look into Las Vegas, South Carolina, even Atlantic City, we've got to make sure if anyone has any information," Suffolk County Police Commissioner Rodney Harrison told ABC 7 in late July about investigations outside of New York.
The Sumter County Sheriff's Office in South Carolina, which released this missing persons poster in 2017, said it is investigating a potential connection between Julia Ann Bean and suspected Gilgo Beach killer Rex Heuermann. (Sumter County Sheriff's Office in South Carolina)
Suspected Long Island serial killer finally captured
Heuermann has lived in Massapequa Park on Long Island for years, about 15 miles from the Gilgo Beach dumping ground.
He hid in plain sight, among a community of current and former cops, and traveled back and forth from his home to his business in New York City.
NY POLICE COMMISSIONER SEEKS TO SOLVE GILGO BEACH SERIAL KILLINGS WITH NEW TASK FORCE
Ray Tierney won his bid for Suffolk County district attorney in 2021 and set up a task force that included members of law enforcement from the local level to the FBI, as well as investigators from his office.
Within months, the task force he put together identified Heuermann as the suspect using evidence collected in the early days of the investigation, trailed him for about a year and finally slapped the cuffs on him July 13.
WATCH: SURVEILLANCE OF HEUERMANN'S ARREST IN MIDTOWN MANHATTAN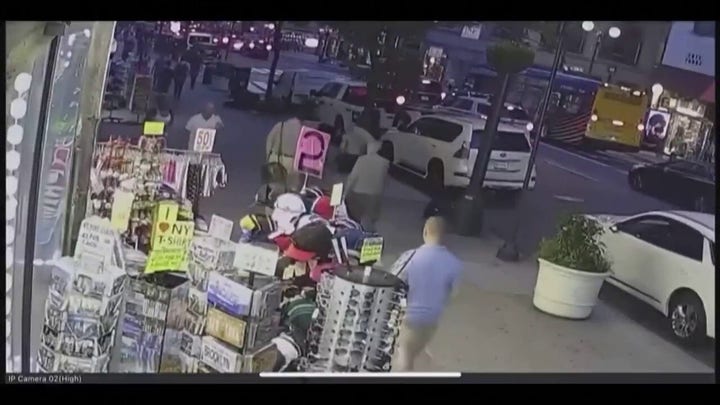 Video
He was charged in the murders of Costello, Barthelemy and Waterman and is the prime suspect in Brainard-Barnes' slaying.
Heuermann pleaded not guilty to all charges.
REX HEUERMANN'S LAWYER CLAIMS PIZZA BOX DNA DOESN'T SHOW PROBABLE CAUSE IN GILGO BEACH MURDERS
The "Gilgo Beach 4" — Costello, Barthelemy, Waterman and Brainard-Barnes — were four of at least 10 bodies found in the same area between December 2010 and April 2011.
To date, Heuermann has only been connected to the Gilgo 4 and charged with three of their murders.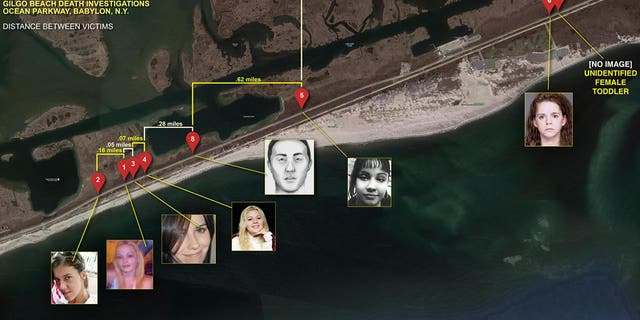 A map created by Suffolk County police shows the locations of the bodies found on Gilgo Beach between 2010 and 2011. (Suffolk County Police)
Double life of an alleged serial killer
Heuermann allegedly lived a double life. By day, he was a successful businessman, devoted husband and father to two children.
By night, he was allegedly a predator who terrorized sex workers and their families for his gratification.
REX HEUERMANN'S FAMILY REVEALS CHAOTIC MESS INSIDE RAMSHACKLE HOME
Heuermann's wife, Asa Ellerup, filed for divorce after his arrest.
She showed photos of the chaotic aftermath police left behind after executing search warrants at her home for two weeks.
Officers found a "vault" in the basement, nearly 300 guns and boxes upon boxes of other evidence, most of which prosecutors have not publicly described.
CLICK HERE TO GET THE FOX NEWS APP
Heuermann was taken off suicide watch in a Long Island jail, according to the Suffolk County Sheriff's Office.
He faces life in prison without parole if convicted, and is still under investigation in Suffolk County and elsewhere in unsolved murder cases that may fit a pattern.
A judge ordered him to submit a DNA sample that prosecutors had requested, overruling opposition from his defense attorneys.
Chris Eberhart is a crime and US news reporter for Fox News Digital. Email tips to [email protected] or on Twitter @ChrisEberhart48.