close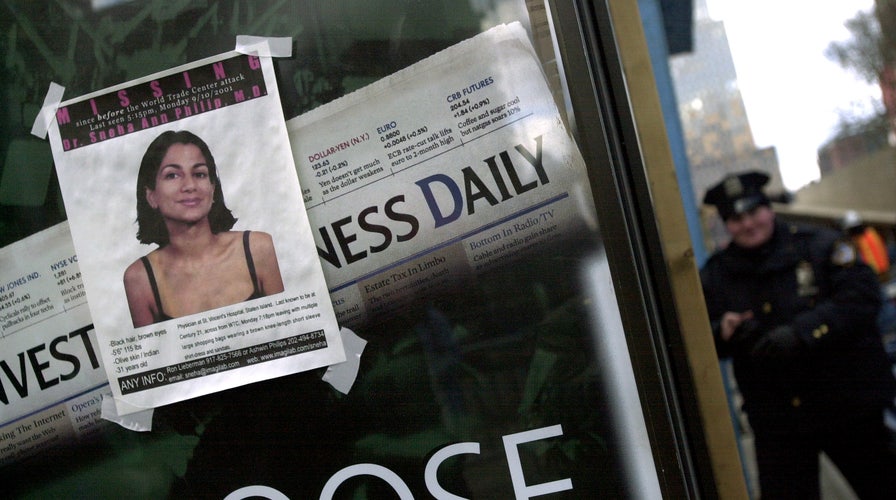 Video
Families of 9/11 victims enraged over possible plea deal for suspects: 'Betrayal'
The chair of 9/11 Families United Terry Strada joined 'Fox & Friends First' to discuss her take on the suspects potentially avoiding the death penalty and how she believes the Biden administration needs to take action. 
More than a decade after an appeals court decided the mysterious death of a New York City doctor happened Sept. 11, 2001, the true-crime community is paying new attention to the peculiar circumstances of Dr. Sneha Anne Philip, who was last seen the day before the terror attacks.
The 31-year-old's disappearance received some attention after history's worst foreign attack on U.S. soil with news coverage and a 2002 episode on "Unsolved Mysteries," but social media barely existed at the time.
Did she die in the attacks? Did she run away under a new identity? Did someone get away with murder?
A search on ListenNotes.com Friday revealed 139 podcast episodes are asking those questions. They include popular productions like Crime Junkie and Killer Queens and others recorded overseas. ABC's "Missing" docuseries dedicated an episode to the doctor's case last year.
CHICAGO-AREA MAN WHO DROWNED TRYING TO SAVE KIDS IN LAKE MICHIGAN WAS 9/11 SURVIVOR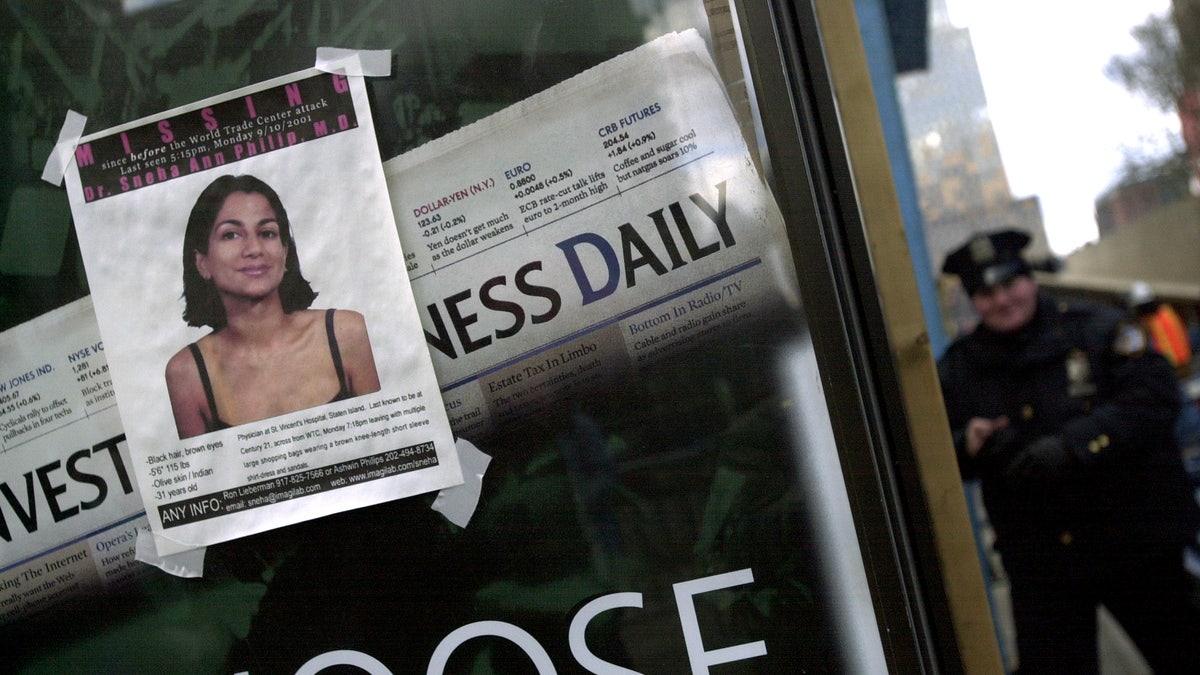 A poster of Dr. Sneha Anne Philip, who has been missing since the day before the Sept. 11, 2001, terrorist attacks, is displayed on a phone booth near the World Trade Center work site. (Todd Maisel/NY Daily News Archive via Getty Images)
Sneha and her husband, Dr. Ron Lieberman, lived in Battery Park City, less than half a mile from the Twin Towers, which they passed on a daily basis. Neither of them worked at the World Trade Center, but in some of her final text messages, she told her mother she wanted to try Windows on the World, a restaurant atop Tower One.
She was last seen at a nearby Century 21 store the evening of Sept. 10, where she bought an outfit, shoes and bedsheets, New York Magazine reported in 2006.
HOW TO SOLVE A COLD CASE: WHAT VICTIM'S FAMILIES NEED TO KNOW
Philip, an emergency room doctor, was a night owl known at times to come home between 7 a.m. and 9 a.m., the New York Post reported more than a decade ago.
She didn't return home Sept. 10 or by the time her husband left for work the next morning. But that wasn't unusual, and he figured she was with her cousin or brother who lived in the West Village, a neighborhood full of her favorite late-night bars.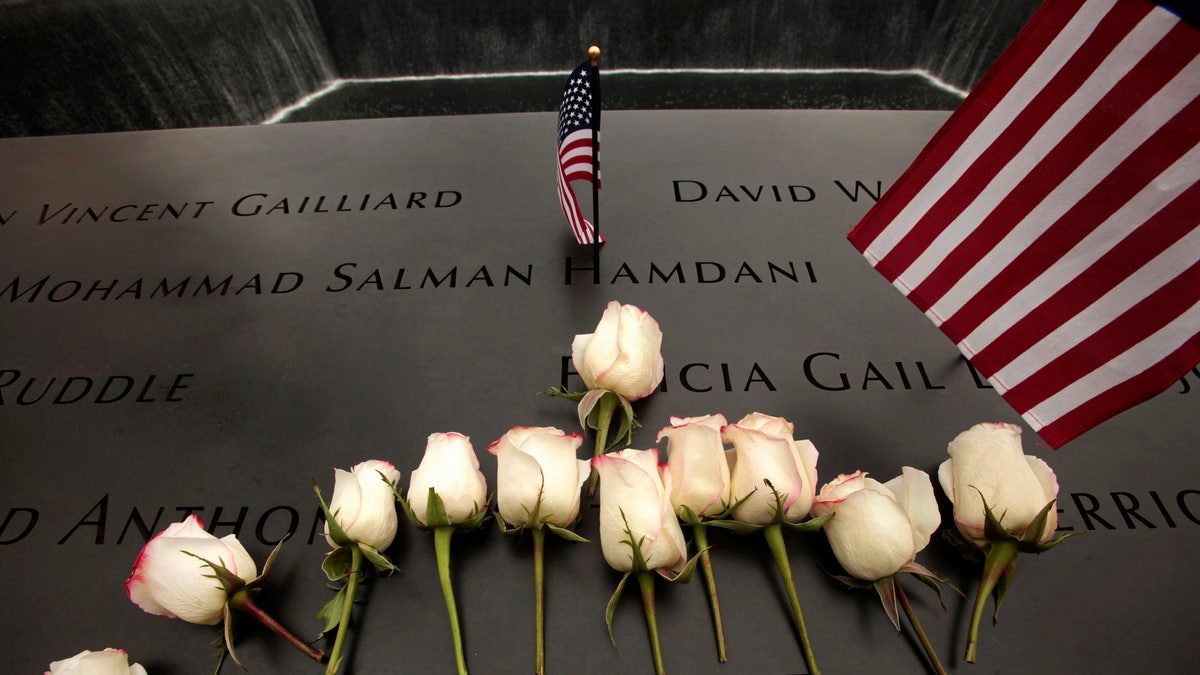 Flowers are placed near Sneha Anne Philip's name at the memorial during ceremonies marking the 10th anniversary of the 9/11 attacks on the World Trade Center in New York Sept. 11, 2011.    (REUTERS/Carolyn Cole/Pool )
The family hired a private investigator. The NYPD looked into the case. Yet Philip's remains were never found.
Her family fought in court to have her death officially linked to the 9/11 attacks, and her name appears at the memorial in downtown Manhattan.
"Even without direct proof irrefutably establishing that her route that morning took her past the World Trade Center at the time of the attack, the evidence shows it to be highly probable that she died that morning, and at that site, whereas only the rankest speculation leads to any other conclusion," Justice David Saxe wrote in his decision on the final appeal, according to the New York Post.
PRESIDENT SIGNS BIPARTISAN MISSING PERSONS BILL BACKED BY GABBY PETITO'S FAMILY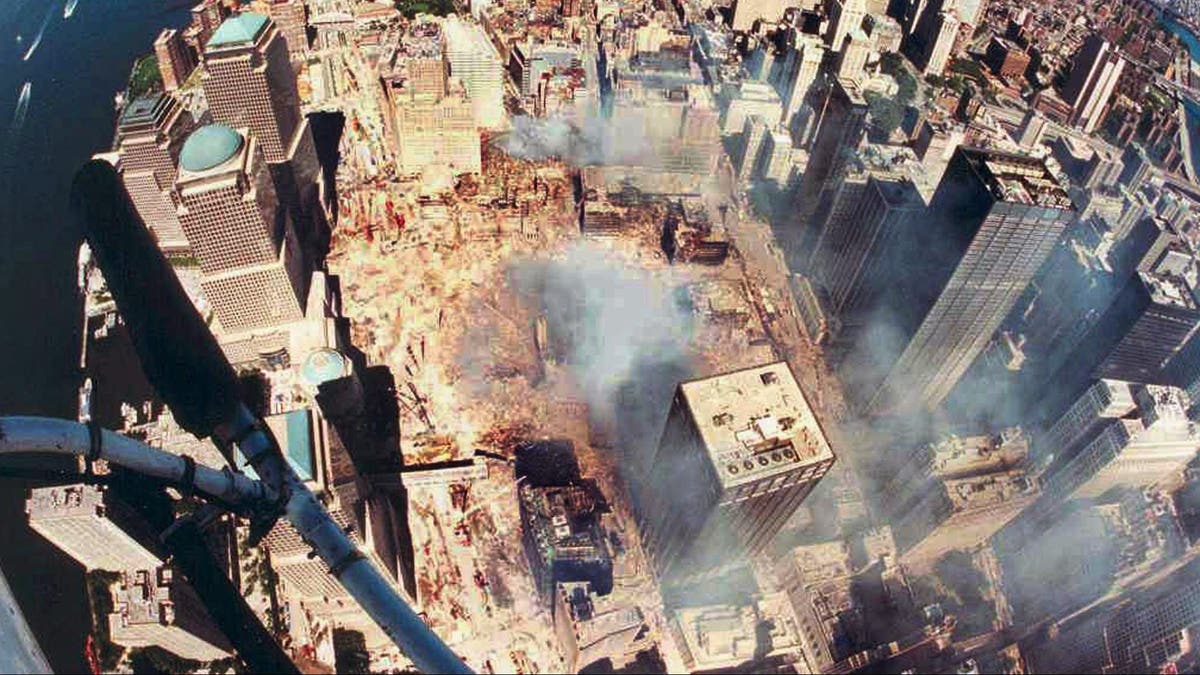 The wreckage of the World Trade Center smolders in this aerial view of Manhattan taken Sept. 15, 2001.  (REUTERS/POOL/NYC Office of Emergency Management)
That speculation included allegations she met strangers late at night, used drugs and was in danger of losing her job at the Cabrini Medical Center in Gramercy Park, according to the paper. Officially, she is now believed to have died attempting to treat 9/11 victims at the scene.
When it comes to shedding new light on mysterious stories, however, one veteran cold case investigator is urging the true-crime community to dive into lesser-known investigations.
LISTEN: THE FOX TRUE CRIME PODCAST WITH EMILY COMPAGNO
"This is one of the cases where I don't see any solvability factors other than likes and clicks on social media," said Joseph Giacalone, a former NYPD sergeant and cold case investigator who now teaches at the John Jay College of Criminal Justice. "There are so many missing persons and homicide cases that have factors that can help solve cases. Those are the ones that need to be addressed."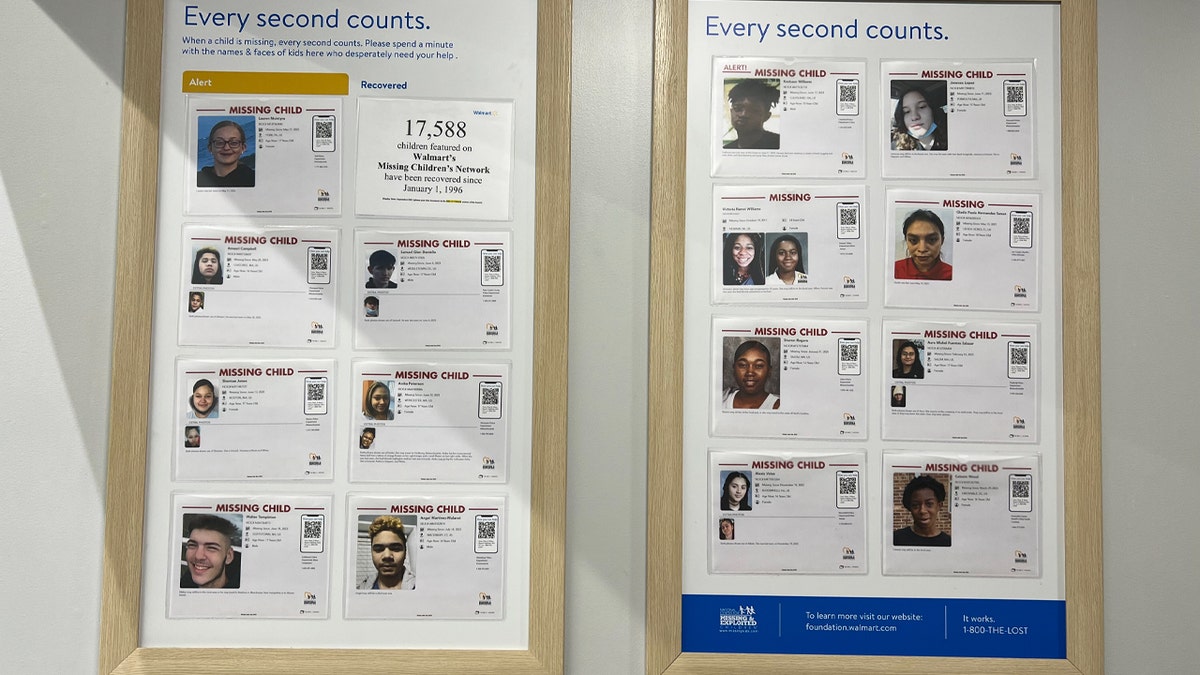 There are many missing persons cases that could use an attention boost from the true-crime community, says Joseph Giacalone, a professor at John Jay College of Criminal Justice. He took a picture of this missing persons bulletin board at his local Walmart Friday. (Joseph Giacalone)
Content creators, he noted, can make a huge difference looking into local stories that haven't gotten a lot of media attention. They may even find content on bulletin boards around town, he said.
CLICK HERE TO GET THE FOX NEWS APP
"Focus on those cases, not these historic, celebrated cases — so to speak — but ones that people are unaware of that can actually help and do something," he said.
They just might be solved.
Michael Ruiz is a reporter for Fox News Digital. Story tips can be sent to [email protected] and on Twitter: @mikerreports