close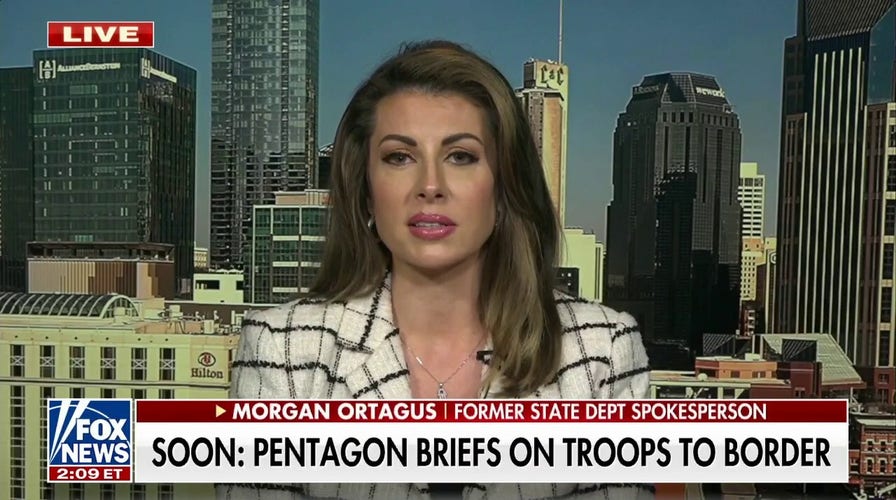 Video
Biden has no immigration solutions for Democrats in border towns: Morgan Ortagus
Former State Department spokesperson Morgan Ortagus joins 'America Reports' to discuss Biden's plan to deploy 1,500 troops to the southern border as the end of Title 42 looms.
Mexican President Andrés Manuel López Obrador on Monday reportedly ripped Florida's new sweeping immigration bill headed to Republican Gov. Ron DeSantis's desk.
López Obrador, while hurling criticism toward DeSantis, also spoke at a press conference Monday ahead of his scheduled call Tuesday with President Biden. The Mexican president and Biden are to discuss immigration and the fentanyl crisis just two days before Title 42 expires.
"Why does [DeSantis] have to take advantage of people's pain, of migrants' pain, of people's need for political gain," López Obrador asked at the press conference Monday, referring to the immigration bill passed by the Florida legislature last week that would, in part, allocate $12 million for DeSantis's migrant relocation program. "This is immoral. This is politicking."
"Now I found out that the Florida governor — imagine, Florida, which is full of migrants — is taking repressive, inhumane measures against migrants in Florida because he wants to be a candidate," López Obrador added, according to Politico. "Can't he not make another proposal to convince people?"
ABBOTT ACTIVATES 'TEXAS TACTICAL BORDER FORCE,' 545 MORE NATIONAL GUARDSMEN DEPLOYED BEFORE TITLE 42 EXPIRES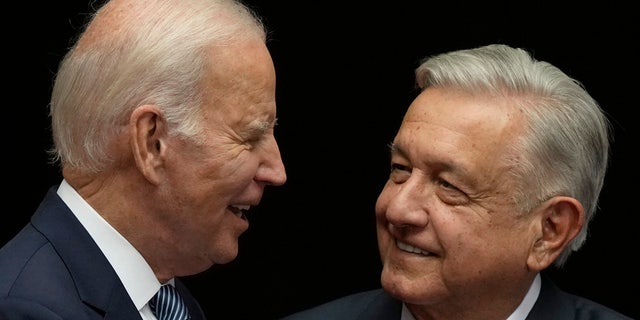 Mexican President Andres Manuel Lopez Obrador, right, and President Biden are expected to have a call Tuesday on immigration and fentanyl. (AP Photo/Fernando Llano, File)
Senate Bill 1718 passed in the Republican-controlled Florida state legislature last week and is headed to the governor's desk. For the 2023-2024 fiscal year, the legislation would provide $12 million to the "Division of Emergency Management for the Unauthorized Alien Transport Program."
The initiative drew national attention last year when DeSantis flew a group of South American migrants from Texas to the liberal enclave of Martha's Vineyard, Massachusetts, which had touted broad support for sanctuary policies. Local leadership quickly claimed the wealthy islanders did not have enough resources to support the migrants, who were bussed to a military base in Cape Cod. The move was intended to challenge what Republicans said was Democrats' hypocrisy toward asylum seekers and to protest federal immigration policy under the Biden administration.
The bill would also require hospitals to ask patients about their legal status, mandate medium- and large-sized employers to use the federal E-Verify system to check the legal status of new employees, and allow anyone caught knowingly transporting undocumented migrants to be charged with human trafficking.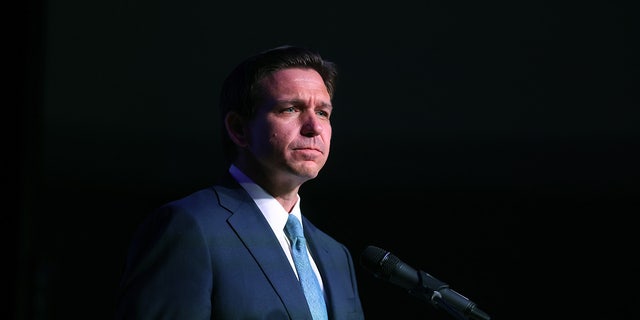 Florida Gov. Ron DeSantis is expected to announce a 2024 presidential bid. (Scott Olson/Getty Images)
"Mandatory E-Verify, we've been working on that for many, many years. That is going to make it so that the incentives to come illegally in Florida have been dealt with. I think that's really, really important," DeSantis said at a press conference of his own on Friday, according to KATV.
FLORIDA BILL CLEARS $12M FOR DESANTIS' MIGRANT RELOCATION INITIATIVE MONTHS AFTER MARTHA'S VINEYARD FLIGHTS
Taking a different tune Monday, López Obrador said he and Biden on Tuesday will discuss development programs to help stem the flow of migrants to the U.S. border.
"We will talk about our cooperation, which is very good, very, very good, and we will keep it that way," López Obrador said.
The Mexican president appealed to migrants not to use smugglers to travel to the U.S. border. "Don't allow yourselves to be fooled," López Obrador said during his morning news briefing. "Don't allow yourselves to be blackmailed by coyotes, smugglers, who put you at risk."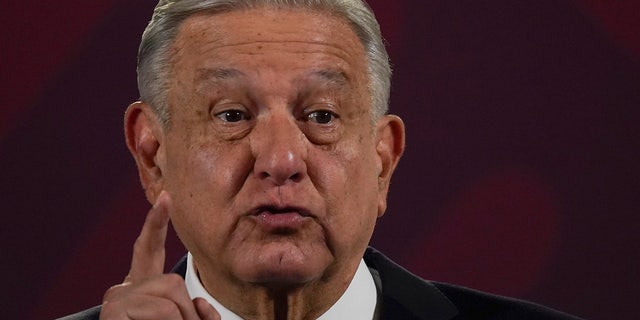 Mexican President Andres Manuel Lopez Obrador criticized Florida Gov. Ron DeSantis on Monday for "politicking" on deterring illegal immigration. (AP Photo/Marco Ugarte, File)
Mexico agreed last week to continue to accept migrants from Venezuela, Haiti, Cuba and Nicaragua who are turned away at the border, as well as some other migrants from Central America. López Obrador has previously asked the U.S. government to contribute more development aid to Central America so that people would not have to migrate.
López Obrador has also slammed proposals by U.S. Republican legislators to make it more difficult to apply for asylum and easier for authorities to block migrants at the border.
"This really degrades them, morally," he said.
The two presidents will also discuss the fentanyl crisis. The synthetic opioid, mainly smuggled in from Mexico, has caused about 70,000 overdose deaths per year in the United States.
CLICK HERE TO GET THE FOX NEWS APP
López Obrador has denied that drug cartels make fentanyl in Mexico, although he has acknowledged that precursor chemicals — and, he claims, finished fentanyl — are smuggled into Mexico from China, a claim China has denied.
The Associated Press contributed to this report.
Danielle Wallace is a reporter for Fox News Digital covering politics, crime, police and more. Story tips can be sent to [email protected] and on Twitter: @danimwallace.