close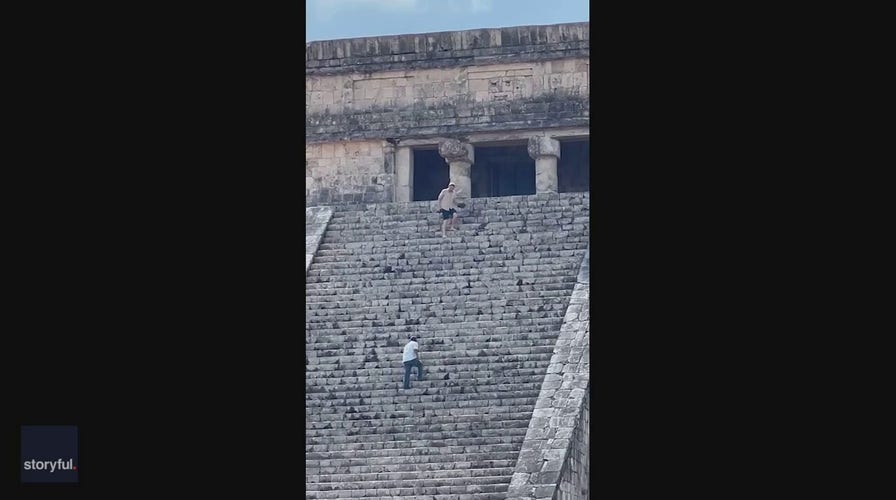 Video
Mexico tourist whacked with stick and heckled after climbing sacred pyramid
A tourist from Poland was reportedly detained and fined after climbing the steps of a sacred temple at Mexico's Chichén Itzá archaeological site. (Credit: Daniel Fretwell via Storyful)
Mexican authorities in at least one major city have taken steps to improve security ahead of a busy tourist season and spring break as high crime remains a chief concern.
"We strengthen security with the construction of three filters at points marked by the heat map, such as the accesses to Cancun-Playa del Carmen, Tulum-Playa del Carmen and Valladolid-Playa del Carmen, as well as in Villas del Sol, to guarantee a safe stay for visitors and locals," Municipal President Lili Campos said during a press conference earlier this month.
The coastal resort town of Playa del Carmen, which sits roughly 40 miles south of Cancun, has announced plans to increase the number of patrols from just 20 a day to 314, which will reflect "better security in the municipality," according to Campos.
Tourists walk on a beach in Playa del Carmen, Mexico, on Tuesday, July 11, 2017. (Brett Gundlock/Bloomberg via Getty Images)
The announcement followed the discovery of four murdered people inside a van in the Ejidal neighborhood of Playa del Carmen, according to Reportur, a news outlet dedicated to Latin American tourism news.
MEXICAN CANDIDATES TURN TO MIGRANTS IN US FOR VOTES: REPORT
Law enforcement in the area has proposed and rolled out a number of increased security measures as greater attention shifts to the crime problem in Mexico, which remains a top tourist destination for many Americans.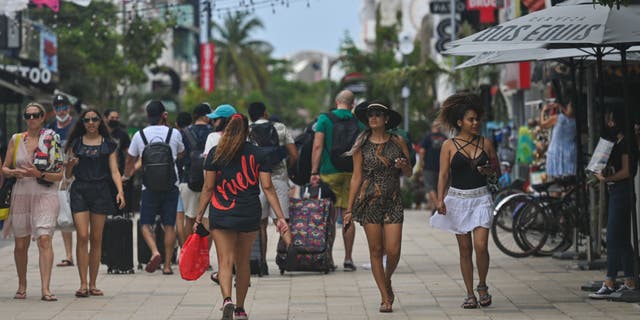 A busy 5th Avenue in Playa del Carmen, Quintana Roo, Mexico, Friday, April 29, 2022. (Artur Widak/NurPhoto via Getty Images)
News Nation Now reported that more than 30 million Americans traveled to Mexico over the first 11 months of 2022 alone. Playa del Carmen set a record with over 820,000 tourists in the summer of 2022, beating its previous record of 625,000 in 2019 for the same period, according to Travel Off Path.
MEXICO TO FAST-TRACK VISAS FOR CUBANS WITH FAMILY ALREADY IN COUNTRY
The police in January announced plans to invest $1.9 million in new security cameras across the town with a new surveillance and monitoring center almost completed and expected to be fully operational by the end of February.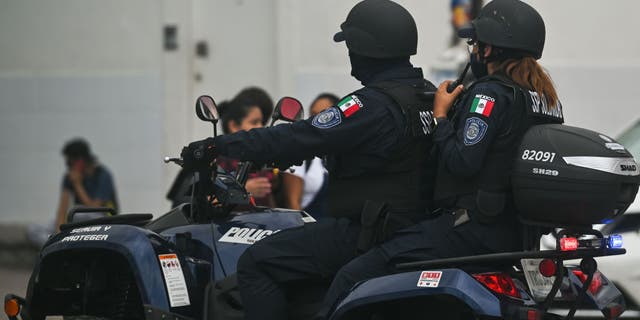 Members of the police on an ATV in Playa del Carmen, Quintana Roo, Mexico, Friday, April 29, 2022. (Artur Widak/NurPhoto via Getty Images)
The U.S. State Department issued Level 4 travel advisory warnings for six Mexican states – Colima, Guerrero, Michoacan, Tamaulipas and Zacatecas – indicating "greater likelihood of life-threatening risks."
FUGITIVE MURDER SUSPECT EXTRADITED FROM MEXICO AFTER ALLEGEDLY KILLING, BURNING BODY OF TEXAS 15-YEAR-OLD GIRL
When asked earlier this month about any changes to the advisories ahead of spring break, the State Department reiterated the current warnings and said it had "no changes to the Mexico Travel Advisory to announce or preview."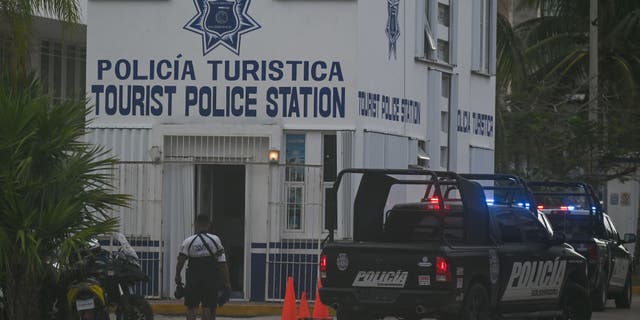 A tourist police station in Playa del Carmen, Quintana Roo, Mexico, Wednesday, April 27, 2022. (Artur Widak/NurPhoto via Getty Images)
"Violent crime and gang activity are widespread," the department warning said of one area. "Most homicides are targeted assassinations against members of criminal organizations."
CLICK HERE TO GET THE FOX NEWS APP
The Cancun Sun stressed that the "vast majority" of crimes in Playa del Carmen are "petty in nature" and most violent crimes aren't normally directed at tourists, but "the resort areas of Playa del Carmen are where petty crime is most common." The increased police presence is often cited as a major factor in deterring petty crime.
The state of Quintana Roo where Playa Del Carmen is located is not included in the State Department's "do not travel" list.
Peter Aitken is a Fox News Digital reporter with a focus on national and global news.