When Oprah Winfrey was among the many stars who united over the weekend to celebrate Anastasia Beverly Hills' 25th anniversary, many believed Meghan Markle would tag along.
During the glitzy event in Los Angeles, which celebrated Anastasia Soare's famed beauty brand, the media mogul was presented with a cake to commemorate her 69th birthday, which occurred a day later. Some of the many A-listers in attendance included Kim Kardashian, Jennifer Lopez, Sharon Stone, Rita Wilson, Sofia Vergara and Heidi Klum, among others.
The Duchess of Sussex has noticeably kept a low profile this month. Her husband Prince Harry recently completed a media tour for his memoir "Spare," which was published on Jan. 10. It sold 1.43 million copies during its first day on sale in the U.K., U.S. and Canada, making it the fastest-selling nonfiction book of all time.
Christopher Andersen, author of "The King," told Fox News Digital there's a good reason why the mother of two has stayed out of the spotlight.
MEGHAN MARKLE AND PRINCE HARRY ACTED LIKE 'A COUPLE OF TEENAGERS,' PALACE SOURCES ALLEGE IN EXPLOSIVE NEW BOOK
 

 
 

 
 
View this post on Instagram
 

 
 
 

 
 

 
 
 

 
 
"I have to be honest., I've interviewed Oprah several times over the years, starting when she first burst onto the national scene in the 1980s," said Andersen. "If there is one thing Oprah is, it's loyal. I think people are reading a lot more into this supposed snub than they should. My reading of the situation is that both Oprah and the Sussexes realize this is a very delicate moment for Harry and Meghan as we approach the coronation of King Charles."
"Appearing at such a glitzy, high-profile event with Hollywood A-listers to honor Oprah is not what the Sussexes need right now," he explained. "That would certainly rub King Charles the wrong way, not to mention an already hostile British public. I'm certain Harry and Meghan remain on friendly terms and are keeping the whole Oprah/H&M thing on the down-low."
"Spare" is the latest in a string of public pronouncements by the Duke and Duchess of Sussex since they quit royal life in 2020. At the time, they cited what they saw as the media's racist treatment of the duchess and a lack of support from the palace.
Following their exit, the couple sat down with Winfrey for an interview that was viewed by 50 million people globally. The Duke and Duchess of Sussex spoke out again in a six-part Netflix documentary released last month.
CLICK HERE TO SIGN UP FOR THE ENTERTAINMENT NEWSLETTER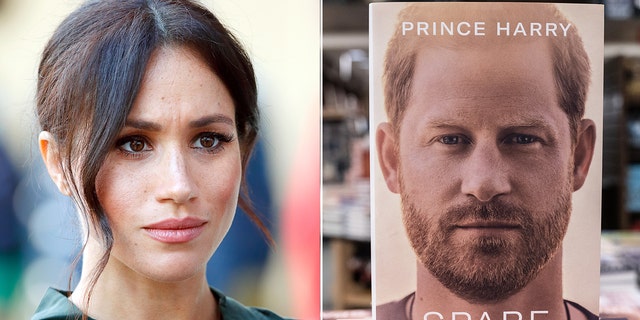 Meghan Markle has kept a low profile following the publication of Prince Harry's memoir 'Spare'.
(Getty Images)
"'Spare' and their Netflix documentary have triggered such a backlash that I'm certain they've decided to keep a low profile and focus on their family in the coming months," Andersen added.
Kinsey Schofield, a royal expert and host of the "To Di For Daily" podcast told Fox News Digital that she too wasn't surprised that the mother of two wasn't in attendance for the high-profile event. Unlike Andersen, Schofield suspects that wary publicists in Hollywood aren't sending many invites to the Sussexes.
"I live in Los Angeles and have spent years in PR," she explained. "Word on the street is that Harry and Meghan aren't invited anywhere because all eyes would be on them, and it would distract from the cause or event."
"… The reality is that they are seen as drama," she alleged. "They are also considered untrustworthy and a private conversation you have with them could end up repeated on a podcast, a reality show, or within a book."
PRINCE HARRY AND MEGHAN MARKLE PART WAYS WITH 2 TOP EXECS OF ARCHEWELL, LESS THAN 2 YEARS AFTER JOINING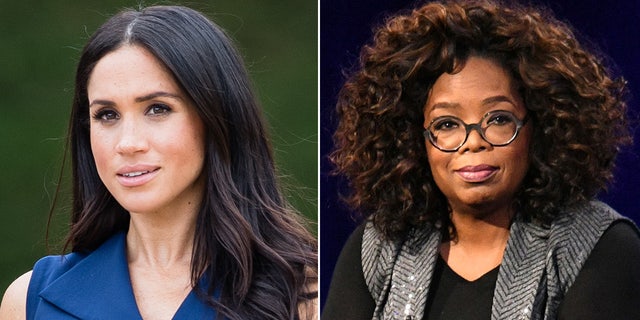 Several royal experts weighed in on why Meghan Markle (left) wasn't in attendance to commemorate Oprah Winfrey's 69th birthday in Los Angeles.
(Getty Images)
Royal commentator Hilary Fordwich said it would be wise for the Sussexes to lie low as Charles, 74, gears up for his coronation. Harry, 38, recently told Britain's ITV that he wants to have his father and brother back, noting he wants "a family, not an institution." The prince has previously spoken about his estrangement from his father and elder brother Prince William since he departed from the U.K.
"They both know, as we all do, that the huge issue is the upcoming coronation," she said. "… Neither Harry nor Meghan can really risk further damage. Their long-term prospects and entire relevance are at play."
Fordwich suspected that Markle may be quietly working on "future projects" while focusing on the couple's two young children at home. And after enduring backlash from their several tell-alls, keeping out of the public eye may be the best move for them.
"Given what Harry has said regarding his children that he's hopeful for reconciliation and 'would love nothing more than for our children to have relationships with members of my family'… perhaps [they] are realizing all the fall-out is putting longer-term concerns in jeopardy," she added.
PRINCE HARRY'S 'SPARE': MEGHAN MARKLE'S ATTEMPT TO 'DISTANCE' HERSELF AMID HOLLYWOOD FALLOUT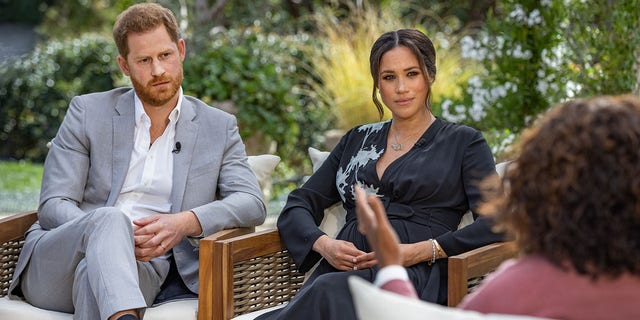 Oprah Winfrey interviewed Prince Harry and Meghan Markle for a special in 2021 where they revealed their struggles with royal life.
(Harpo Productions/Joe Pugliese via Getty Images)
Charles will be crowned on May 6 at Westminster Abbey. The coronation is expected to be shorter and less extravagant than the three-hour ceremony that was held for his late mother, Queen Elizabeth II.
Harry's father will be crowned in a solemn religious ceremony conducted by Justin Welby, the archbishop of Canterbury, the palace said in a statement. Camilla, the queen consort, will be crowned alongside her husband.
"The coronation will reflect the monarch's role today and look towards the future while being rooted in longstanding traditions and pageantry," the palace said.
It's unclear whether the Sussexes will attend.
PRINCE HARRY, MEGHAN MARKLE 'SPARE' FALLOUT THREATENS HOLLYWOOD FUTURE: EXPERTS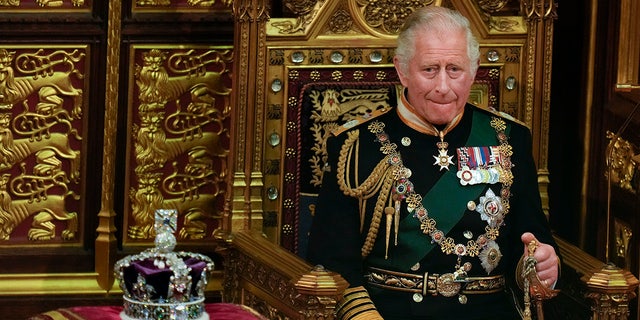 King Charles III's coronation is on May 6th.
(Alastair Grant – WPA Pool)
Markle, a former American actress who starred in the legal drama "Suits," became the Duchess of Sussex when she married Harry in 2018. The couple now resides in the wealthy, coastal city of Montecito, California with their two children.
The Associated Press contributed to this report.