Senate GOP Leader Mitch McConnell, R-Ky., gave a policy-heavy speech in Louisville Thursday morning, hours before another top Republican, former President Donald Trump, is due to turn himself in at the Fulton County, Georgia jailhouse.
Unsurprisingly, Trump's name and impending arrest did not come up in McConnell's remarks.
Speaking at the Kentucky Farm Bureau Country Ham Breakfast, McConnell blamed high inflation rates on the federal government's spending during the COVID-19 pandemic, discussed Congress' effort to reauthorize the Farm Bill, and championed the $1.2 trillion bipartisan infrastructure deal struck under President Biden in 2021.
It's a stark contrast to the media circus surrounding the former president's impending appearance in Georgia. Reporters and protesters from both sides are already gathered after Trump declared on Truth Social that he would "proudly get arrested" Thursday.
MEADOWS, GIULIANI, OTHERS INDICTED ALONG WITH TRUMP IN GEORGIA 2020 ELECTION INTERFERENCE PROBE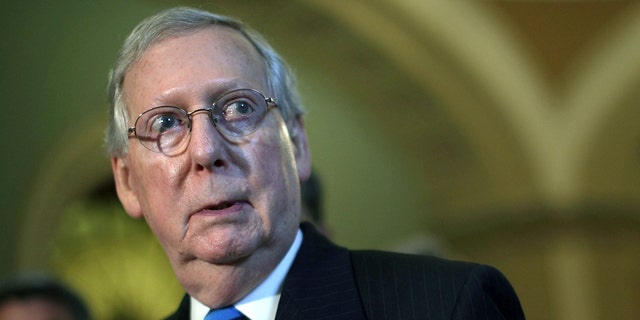 U.S. Senate Minority Leader Sen. Mitch McConnell spoke at an event in his home state on Thursday morning ((Photo by Alex Wong/Getty Images))
The Georgia charges, relating to Trump and his co-defendants' alleged efforts to overturn the 2020 election, make up the ex-president's fourth criminal indictment in less than six months.
McConnell has so far avoided weighing in on Trump's criminal cases.
SPECIAL PROSECUTOR TO BE NAMED TO PROBE GEORGIA LT. GOV. BURT JONES IN TRUMP CASE
The relationship between the two top GOP figures ruptured in the wake of the Jan. 6 Capitol attack. Since then Trump has waged open war on McConnell, criticizing him in public and recruiting GOP senators to challenge his leadership role.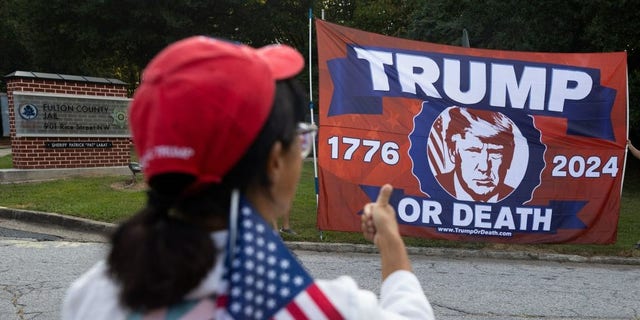 Supporters of former president Donald Trump wave flags outside the Fulton County Jail ahead of his expected arrival on August 24, 2023, in Atlanta, Georgia.
But none of those topics made it into McConnell's speech on Thursday. Instead, the Kentucky Republican projected confidence that Congress could reauthorize the farm bill, a sweeping must-pass package that outlines priorities from food stamp programs to rural broadband, despite some issues setting agricultural spending limits by the end of the fiscal year on Sept. 30. The farm bill must be reauthorized every five years and is set to expire by the end of 2023.
GEORGIA INDICTMENT: 2 TRUMP CO-DEFENDANTS BOOKED IN FULTON COUNTY JAIL
"The Democrats are really not interested in rural America anymore," McConnell said. "But somehow we'll put that together. Oh, not before Sept. 30, but we'll all put that together and look out as best we can for our rural and small-town America."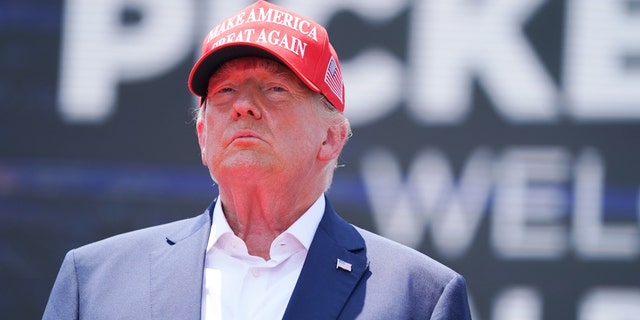 Trump was indicted on charges related to alleged efforts to overturn the 2020 election (Sean Rayford/Getty Images)
McConnell also said he was "proud of" the bipartisan infrastructure bill he helped shepherd through Congress, though the majority of Republicans on Capitol Hill voted against it.
CLICK HERE TO GET THE FOX NEWS APP
"It is a much-needed gift, not just to Kentucky, but to our whole country," McConnell said.
He also touted a recent Supreme Court case that limited the Environmental Protection Agency's regulatory power over carbon emissions.
Fox News' Kelly Phares contributed to this report