House Speaker Kevin McCarthy on Wednesday called for an investigation into the Biden administration's handling of the devastating fires in Maui.
"We saw the devastation that happened in Maui…I'm very concerned about the response," McCarthy said at a press conference in the district of Rep. Brandon Williams, R-N.Y.
"We still have hundreds of individuals that are missing. I think there's going to have to be a congressional investigation into the response on Maui. How could you lose that many Americans?"
BIDEN USES MINOR FIRE AT HIS HOUSE TO CLAIM HE KNOWS WHAT IT'S LIKE TO LOSE A HOME WHILE VISITING MAUI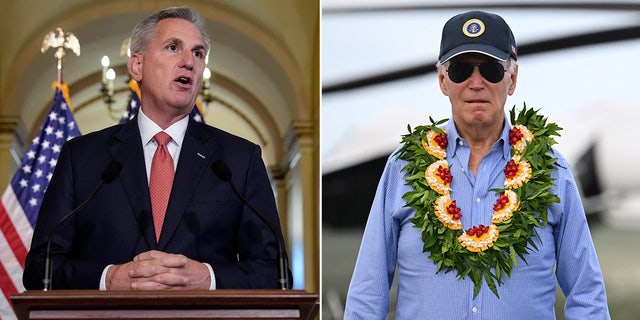 Speaker Kevin McCarthy has threatened to investigate the Biden administrations response to the Maui fires
He also criticized President Biden for refusing to comment on the wildfires earlier this month while leaving a Delaware beach.
"The president's response – had no comment. That's unacceptable," McCarthy said. "So I am going to work with committees to look at investigating what went on so that never happens again."
The White House did not immediately respond to a request for comment.
PRESIDENT BIDEN, JILL BIDEN VISIT HAWAII FOR FIRST TIME SINCE WILDFIRES DEVASTATED MAUI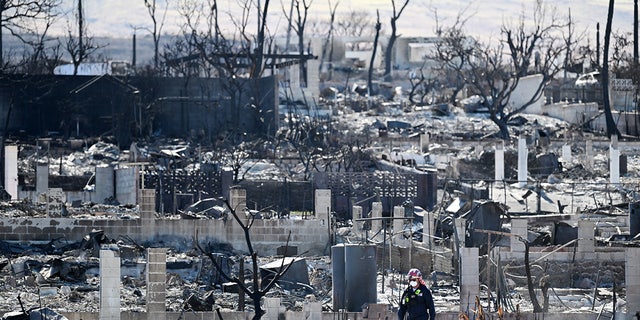 Search and Rescue members conduct operations in fire damaged areas on Friday August 18, 2023 in Lahania, HI. The death toll continues to rise for the fires on Maui.  (Matt McClain/The Washington Post via Getty Images)
Biden visited Maui on Monday along with First Lady Dr. Jill Biden, where he toured the devastation that's seen more than 110 people dead and hundreds still missing. It's the deadliest wildfire in modern U.S. history.
His visit came after his government was initially criticized for a lagging response to the disaster. There are now more than 1,000 federal personnel on the ground in Maui, FEMA said on Monday, after the fires first burned on Aug. 8.
MAUI RESIDENTS SHRED BIDEN FOR 'TONE-DEAF' COMMENTS DURING 'MULTIMILLION-DOLLAR PHOTO-OP' VISIT: 'OUTRAGEOUS'
During his trip, however, the president was also chided by critics for appearing to compare the wildfires to what a 2004 Associated Press report called a "small fire that was contained to the kitchen" at his home in Delaware 15 years ago.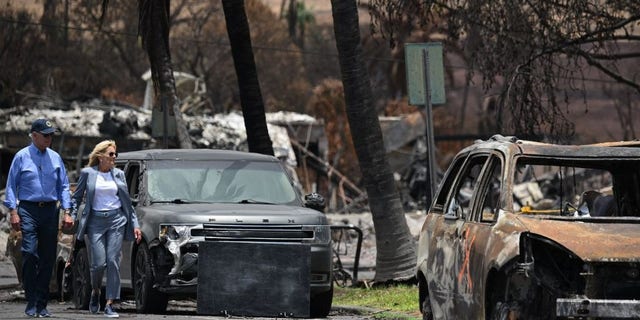 US President Joe Biden and US First Lady Jill Biden visit an area devastated by wildfires in Lahaina, Hawaii on August 21, 2023.
CLICK HERE TO GET THE FOX NEWS APP
"I don't want to compare difficulties, but we have a little sense, Jill and I, of what it was like to lose a home," Biden said in Maui. "Years ago now, 15 years, I was in Washington doing 'Meet the Press'…lightning struck at home on a little lake outside the home, not a lake, a big pond. It hit the wire and came up underneath our home."
He added, "To make a long story short, I almost lost my wife, my '67 Corvette and my cat."
Fox News' Kelly Phares contributed to this report