House Speaker Kevin McCarthy got heated with a reporter Tuesday evening as he faced questions over his decision to kick two Democrats off the House Intelligence committee while allowing embattled Rep. George Santos, R-N.Y., to take committee assignments.
During a press gaggle, McCarthy defended his decision to remove Reps. Adam Schiff, D-Calif., and Eric Swalwell, D-Calif., from the intelligence panel, telling reporters that Swalwell had been compromised by a Chinese spy and should not receive intelligence briefings, while Schiff, according to McCarthy, had abused his authority by repeatedly lying to the American people.
However, a reporter pressed McCarthy on his decision to let Santos have committee assignments after the New York Republican was caught in several lies about his background, including fabricating his work and education. The reporter asked why Santos' many lies were "not a factor."
"He got elected by his district," McCarthy began, but he was cut off.
MCCARTHY SAYS SANTOS WILL BE REMOVED FROM CONGRESS IF ETHICS COMMITETE DETERMINES HE BROKE THE LAW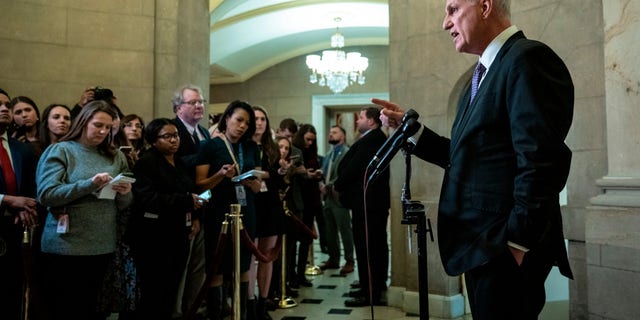 Speaker of the House Kevin McCarthy (R-CA) speaks during a news conference outside his office at the U.S. Capitol on Jan. 24, 2023 in Washington, D.C. McCarthy spoke on a range of issues, including committee assignments and Rep. George Santos, R-N.Y.
(Drew Angerer/Getty Images)
"That's not an answer to my question," the reporter complained, which provoked a scolding from McCarthy.
"Let me be very clear and respectful to you. You asked me a question. When I answer it, it's the answer to your question. You don't get to determine whether I answer your question or not, okay? In all respect," McCarthy chided.
DEMOCRATIC HOUSE LEADER JEFFRIES DEMANDS MCCARTHY REAPPOINT SCHIFF, SWALWELL TO INTELLIGENCE COMMITTEEE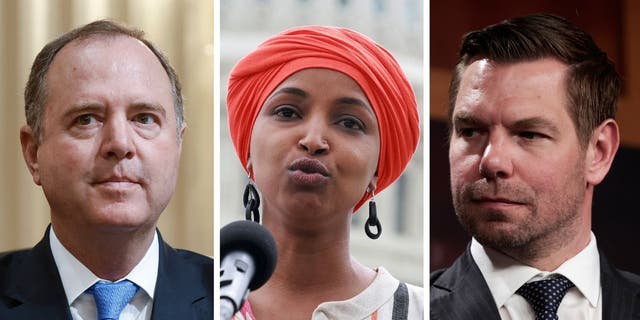 From left to right, Rep. Adam Schiff, D-Calif., Rep. Ilhan Omar, D-Minn., and Rep. Eric Swalwell, D-Calif., have been stripped of their committee assignments. 
(Getty Images)
Continuing, McCarthy told the press the intelligence committee is "different" from other House committees because it deals with classified material not available to the public.
Repeating arguments he has made before, McCarthy said Schiff does not deserve to sit on the intelligence panel because he lied by calling Hunter Biden's laptop Russian disinformation when he had intelligence briefings that said otherwise. As for Swalwell, McCarthy told reporters, "you have not had the briefing that I had, the briefing that Nancy Pelosi had in the briefing room from the FBI."
HOUSE SPEAKER MCCARTHY REJECTS JEFFRIES' DEMAND TO REAPPOINT SCHIFF, SWALWELL TO INTELLIGENCE COMMITTEE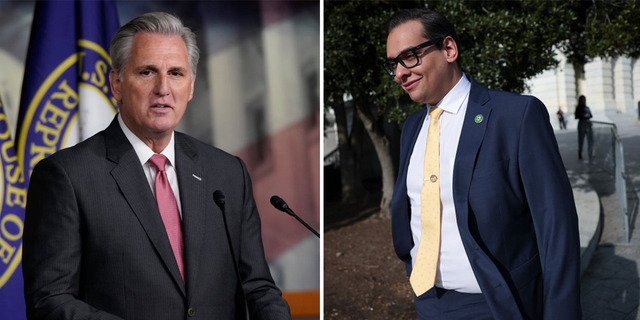 House Speaker Kevin McCarthy, left, and Rep. George Santos.
"The FBI never came before this Congress to tell the leadership that Eric Swalwell had a problem with a Chinese spy until he served on intel. So, it wasn't just us who were concerned … the FBI was concerned about putting a member of Congress on the Intel committee – that has the rights to see things others don't – because of his knowledge and relationship with the Chinese spy," McCarthy said.
The speaker emphasized that Schiff and Swalwell can sit on other House committees, but said "there's 200 other Democrats that can serve" on the Intelligence committee.
CLICK HERE TO GET THE FOX NEWS APP
"This has nothing to do with Santos," he continued. "Santos is not on the Intel committee. But you know what? Those voters elected Schiff, even though he lied. Those voters elected Swalwell, even though he lied to the American public too. So, you know what? I respect his voters, too, and they'll serve on committees, but they will not serve on a place that has national security [relevance], because integrity matters to me."