close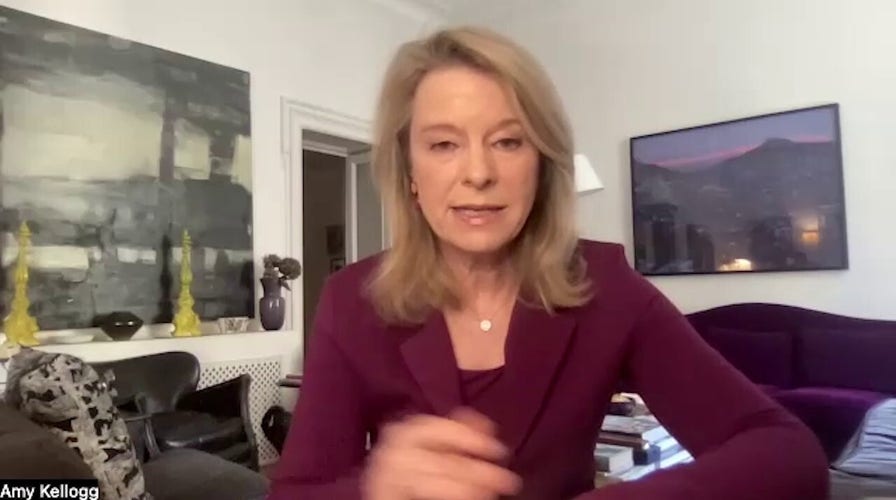 Video
The Mayor of Florence, Italy discusses the return of tourists and recent controversies
Fox News correspondent Amy Kellogg interviewed Mayor Dario Nardella on his recent skirmish with climate protesters, the controversy over the statue of David and the return of tourists to Florence.
Just back from a whirlwind trip to the United States, where he addressed 2,000 students at the United Nations on the subject of climate change, a smiling Florence mayor, Dario Nardella, connects with me via Zoom. The frescoed ceilings of his office that light up my computer screen make the normally banal exercise in teleconferencing feel ceremonial.
Speaking of climate change, I ask him about the activists he now famously chased away, cursing, from the Palazzo Vecchio, Florence's medieval town hall, that they were spraying with orange paint. He says the act was purely vandalism, not activism.
"I don't consider this act a simple demonstration," he said. "I immediately had a reaction. An emotional reaction. That's why I decided to run toward the building, to defend Palazzo Vecchio, which I consider the Florentine house and also a symbol of international cultural heritage. You can't attack art to defend nature."
MAYOR OF FLORENCE, ITALY, SHOVES, CURSES AT CLIMATE ACTIVISTS FOR VANDALIZING HISTORIC BUILDING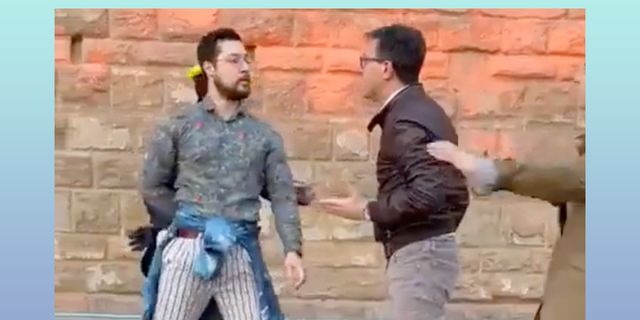 The mayor of Florence, Italy, Dario Nardella, interrupts climate activists as they vandalize a historic building in the city. (Screenshot/Twitter )
Nardella tells me there is a police inquiry into the incident. But he thinks it wouldn't be bad for those who defaced the Palazzo Vecchio to have to spend two or three weeks doing a bit of community cleaning – scrubbing "all the historical buildings we have in the city." The mayor adds, "Florence is like an open-air museum, full of paintings and sculptures." For that reason, climate change has been harmful to the heritage of the Renaissance city.
Nardella is very aware of the threat and says the city is strongly committed to climate policy. Florence, he says, is one of a hundred "smart and climate neutral cities – striving to achieve climate neutrality by 2030, 20 years before European goals."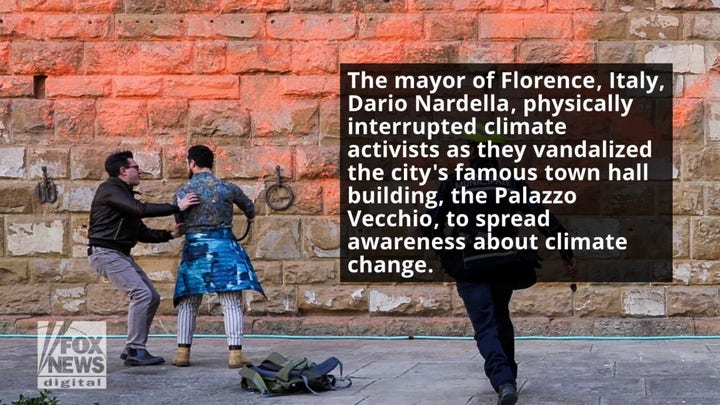 Video
Another story that grabbed headlines this month was the forced resignation of a Tallahassee, Florida, principal, Hope Carrasquilla, after a Renaissance art ruckus. Some parents of sixth-graders complained that they hadn't been warned in advance their kids were going to see some art that involved nudity in a class. At least one even equated Michelangelo's famous David statue to "pornography." The David is one of the Florence's best-known works of art.
"I was shocked about this," Nardella says. "We absolutely can't confuse pornography with art. And obviously, David is a symbol of universal art. I cannot tell you how many people every day to share the emotion, to see the David. I think this confusion between art and pornography is a direct consequence of ignorance in the world."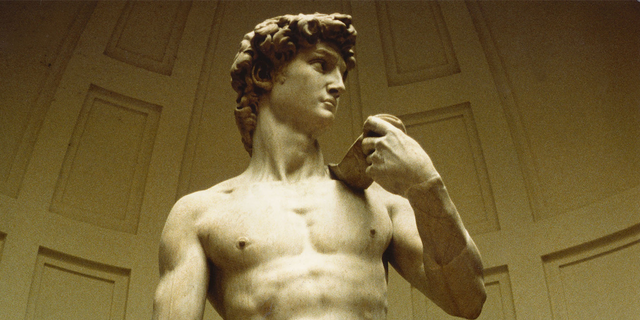 Michelangelo's statue of David was the focus of a recent controversy in Florida. (Baur/ullstein bild via Getty Images)
FLORIDA PRINCIPAL FORCED TO RESIGN AFTER SHOWING STUDENTS MICHELANGELO'S 'DAVID' STATUE
Nardella says he has invited Carrasquilla to Florence and she told him she'd be happy to come. Even if Carrasquilla was not the person teaching the art, and even if her school claims her firing was over a whole host of issues and not just the art history fracas, she has become something of an icon now in Florence, a city Nardella calls "one of the symbols of humanity in the world."
Meanwhile, as the mayor waits for Carrasquilla, he says he has been happy to welcome American tourists in big numbers back to Florence after they stayed away during the two years of COVID lockdowns.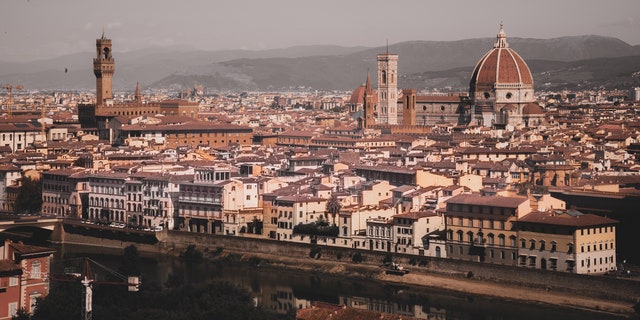 Florence, Italy, one of Europe's most renowned cities. (Fox News Photo/Joshua Comins)
"I would like to thank all the visitors, especially American visitors, because after COVID, we were very depressed. But now we are enthusiastic because this last year 2022 has been a record in terms of the number of tourists coming back to the city."
And Nardellla says that actually one of the lessons of COVID was shifting value away from "egoism and materialism" and focusing on the basics, like culture. He is glad Florence is back in the game of showcasing its stuff.
CLICK HERE TO GET THE FOX NEWS APP
Amy Kellogg currently serves as a correspondent based in Milan. She joined FOX News Channel (FNC) in 1999 as a Moscow-based correspondent. Follow her on Twitter: @amykelloggfox