Camila Alves-McConaughey revealed her husband Matthew McConaughey is actually the opposite of his laid back, "getting high" persona in a new interview.
Camila and McConaughey first began dating in 2006 — while the actor was working on films such as "Failure to Launch" and "We are Marshall" following the success of "How to Lose a Guy in 10 Days."
"A lotta people have this, well, I don't think people actually had this image of Matthew anymore because, just the kind of work and things he's been doing, but when we first start dating, it was this image of Matthew of getting high, laid back, no shirt, whatever," Camila recalled during an episode of Southern Living's "Biscuits & Jam" podcast. "Which I'm like, 'The guy doesn't even smoke. What is this vision coming from?'"
"He's actually the opposite, and he's like his mom," she explained. "She's very organized, very minimalistic, very on time, very prepared, and he gets a lot of those traits from her."
MATTHEW MCCONAUGHEY ADMIRES KEVIN COSTNER'S 'YELLOWSTONE' ROLE: 'WHAT MEN WILL DO TO PROTECT LAND AND FAMILY'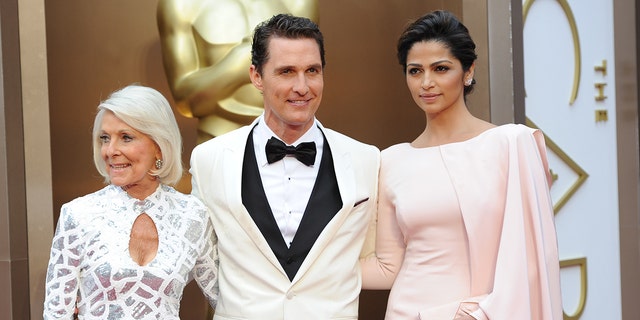 Matthew McConaughey's mom tested Camila when the two began dating, according to the Brazilian model. (Getty Images)
Camila also revealed that when she first met McConaughey, his mom would call her by the actor's ex-girlfriends' names, "really testing" her. The Brazilian model once took "Ma Mac" on a job trip to Istanbul where she claimed the two got into a tiff.
"So I just flip it on her and brought my spicy Brazilian, Latin side, and I let her have it. So I went back at her, and we had it back and forth, back and forth," Camila recalled. "And then at the end, she just looked at me and she was like, 'Okay. Now you're in.'
"All she wanted was for me to fight back. And then from that day on, that night on, we have the most amazing relationship, and I have so much respect for her," Camila revealed. "She has so much respect for me. I mean, it can get tricky sometimes, you know? But we always end with a good laugh and a joke."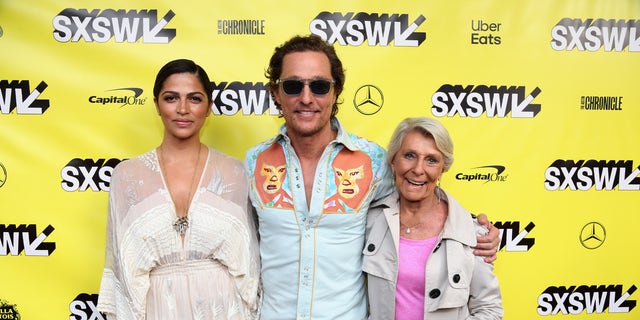 Camila says she and Matthew's mom nw have the "most amazing relationship." (Getty Images)
When McConaughey and Camila married in 2012, the family moved from Malibu to Texas.
"And when I moved to Texas, the first thing that I noticed was how the sense of community was so present, and how their sense of, 'We got you, and we gonna take care of each other,' was really present," she recalled. "People really stood by what they said they were gonna do. So if they said they were gonna show up, they were gonna show up. They didn't over promise and under deliver. The values there, you know — family, religion, sports, food, culture — was really, really present. So we moved to Texas. It wasn't really planned, and I got there, and I immediately felt at home. It took me right back to my roots in a way."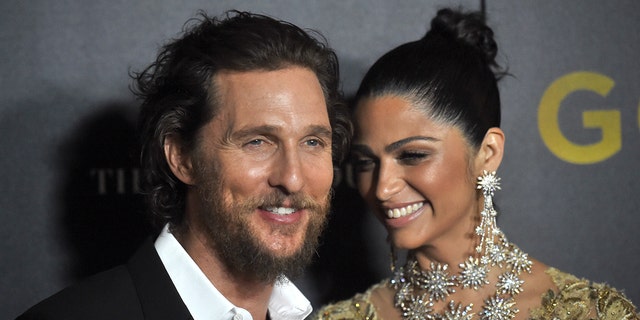 Camila revealed Matthew McConaughey has traits like his mom. (Photo by Jamie McCarthy/WireImage via Getty Images)
MATTHEW MCCONAUGHEY POSES WITH LOOKALIKE SONS IN RARE FAMILY PHOTO SHARED BY CAMILA ALVES
McConaughey grew up in Uvalde, Texas. The "Fool's Gold" actor attended the University of Texas at Austin, where he graduated with a bachelor's degree in Radio-Television-Film. Since returning, McConaughey established himself as a visiting professor at the university.
Despite being born in Brazil, Camila noted that McConaughey has made her a Texan.
"I joke with Matthew that we move a lot with our work, right? Sometimes we're away from home for a whole year, sometimes for two years, and just get little breaks. And we just go back home and kinda do our thing for a little bit and we gotta get on the road again. And I tell him, I was like, 'You made me a Texan.' I'm like, 'That's it. That's never going away,' you know?
"…And it's funny because even now, we're here in Alabama, shooting, and we have a little break in between, and we could go anywhere we want to, and I'm like, 'But I just wanna go home to Texas for a bit.'"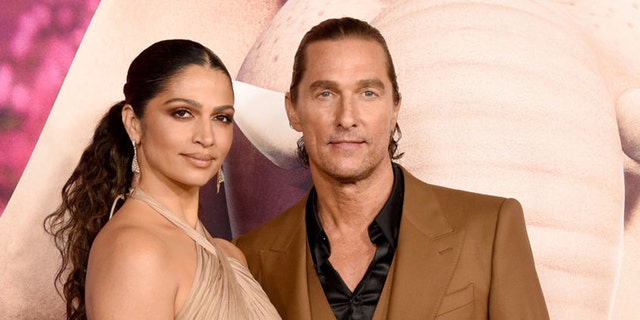 Camila and Matthew McConaughey moved to Texas from California in 2012. (Gregg DeGuire/FilmMagic via Getty Images)
CLICK HERE TO SIGN UP FOR THE ENTERTAINMENT NEWSLETTER
Camila previously spoke to Fox News Digital about how living in Texas aligns more with the values she shares with McConaughey.
"It really embodies our belief system, especially the ones I grew up with, like going to church every Sunday, saying 'yes ma'am' or 'no, sir.' I grew up saying those things coming from a family of farmers," she said at the time. "For me, being from Brazil and then coming to Texas, I discovered a lot of similarities in terms of what families practice here, especially going to church on Sundays, and being very into the outdoors. It's been a great transition."
"We lived in Malibu for many year,s and having the paparazzi outside our door every day — every single day — when that becomes your normal, you don't realize how much that's actually affecting the things you do until you actually leave and get out of it," she continued. "The kids get to have a private way of growing up. So from that perspective, it was very important."
The couple shares three children: Levi, 15, Vida, 13, and Livingston, 10.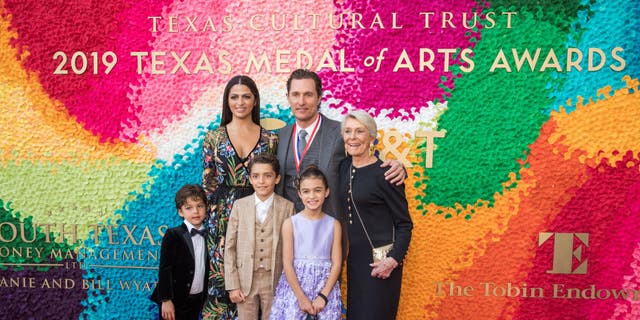 Matthew McConaughey has three children with wife Camila Alves. They married in 2012. (Rick Kern/WireImage)
CLICK HERE TO GET THE FOX NEWS APP