close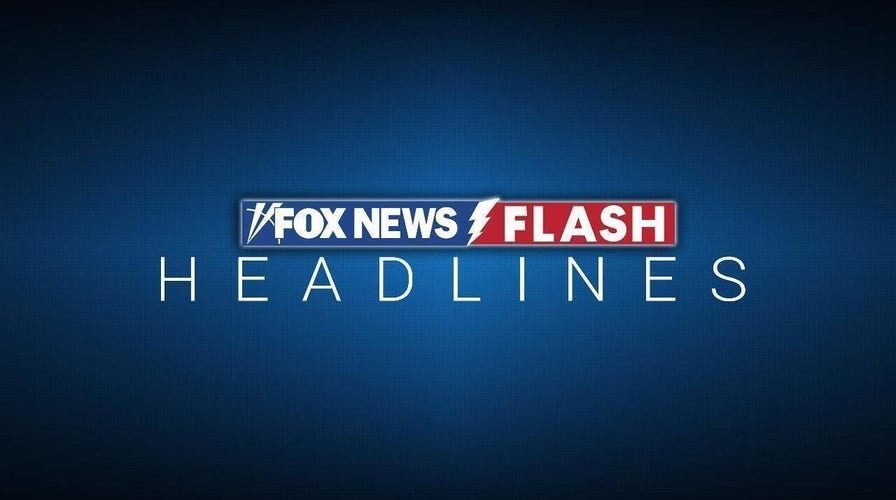 Video
Fox News Flash top headlines for September 14
Fox News Flash top headlines are here. Check out what's clicking on Foxnews.com.
As authorities still pursue who's responsible for smashing windows on dozens of subway trains in a single night, which effectively temporarily shut down service, Guardian Angels founder Curtis Sliwa told Fox News Digital the incident should serve as a warning about New York City's vulnerability to potential threats just days after the 22nd anniversary of 9/11.
Overnight Tuesday into Wednesday, vandals smashed 97 windows across 45 trains along the N, W, Q, B, D and F lines, resulting in shutdowns and service disruptions for hundreds of thousands of morning commuters. The Metropolitan Transportation Authority estimated the subway system suffered $500,000 in damages, vowing at a press conference that authorities have photos of these "criminals," who would be found and prosecuted "to the fullest extent of the law."
Officials did not say there was a terror connection, but Sliwa told Fox News Digital it should be considered a warning to New York City Mayor Eric Adams regarding potential threats to infrastructure, noting the city is simultaneously grappling with the influx of some 113,000 disputably unvetted migrants from the border.
"These are warning signs. We had them in the aftermath of the attack of '93 when they tried to topple the World Trade Center," Sliwa said Wednesday, two days after the anniversary of 9/11 terror attacks. "But then Osama bin Laden from that cave in Afghanistan was warning us, we're coming for you. We ignored that. Well, these are warning signs. And now we have a porous border in which they can readily come over without detection. And we have elected officials who refuse to work with ICE."
GOP REP AT 9/11 TERROR HEARING BLOWS HOLE THROUGH CLAIM NYC MIGRANTS FULLY VETTED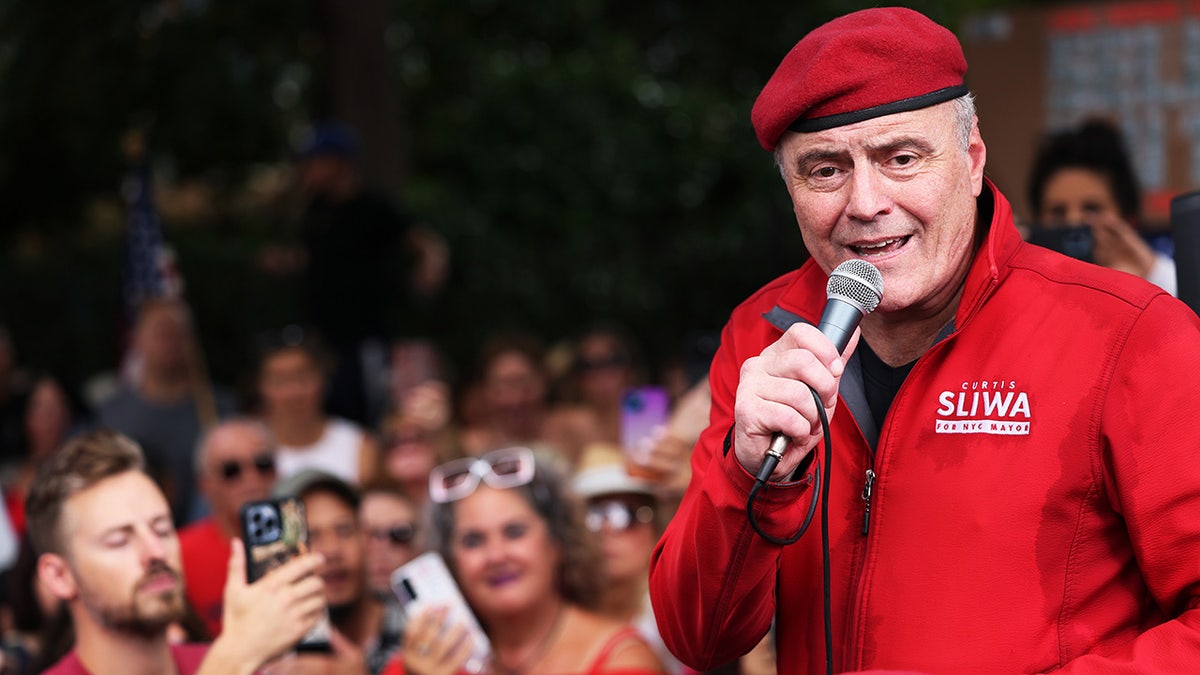 Guardian Angels founder Curtis Sliwa speaks during an anti-migrant rally and protest outside of Gracie Mansion on Aug. 27, 2023 in New York City.  (Michael M. Santiago/Getty Images)
Sliwa referenced the April 2022 incident involving since-convicted subway shooter Frank James, who prosecutors say disguised himself as an MTA employee before setting off a smoke bomb in a New York City subway car in Sunset Park, Brooklyn, and then fired a handgun more than 30 times, striking 10 passengers.
James, who evaded capture for about 30 hours before his eventual arrest in Manhattan, pleaded guilty to federal terrorism charges in January.
"He basically escaped and walked around the city for 24 hours before citizens turned him in," Sliwa said. "The subway system is extraordinarily vulnerable to all kinds of attacks."
"If you were a person intent on doing harm to America, you had a political agenda. The place to do it is in the subways because you could get away virtually scot-free," Sliwa said, noting how there are no cameras in the subway cars, the subway tunnels lack security and claiming officers largely aren't patrolling on the trains themselves while moving or idle.
"Bad people who vandalize know that. So it's they've taken advantage of a tremendous void of police officers not being there. And they're going to do it more and more because they don't have cameras in the subway cars," Sliwa said. "Pretty much the only way you would be held over for any kind of street crime or subway crime is you pretty much have to almost kill somebody. So this is considered property damage. The way the DAs now apply the law property is of no consequence. You see that with shoplifting, boosting, graffiti, vandalizing, elevators get vandalized all the time, which the handicapped people need desperately to go in and out of the subways. So nothing ever happens when people are caught."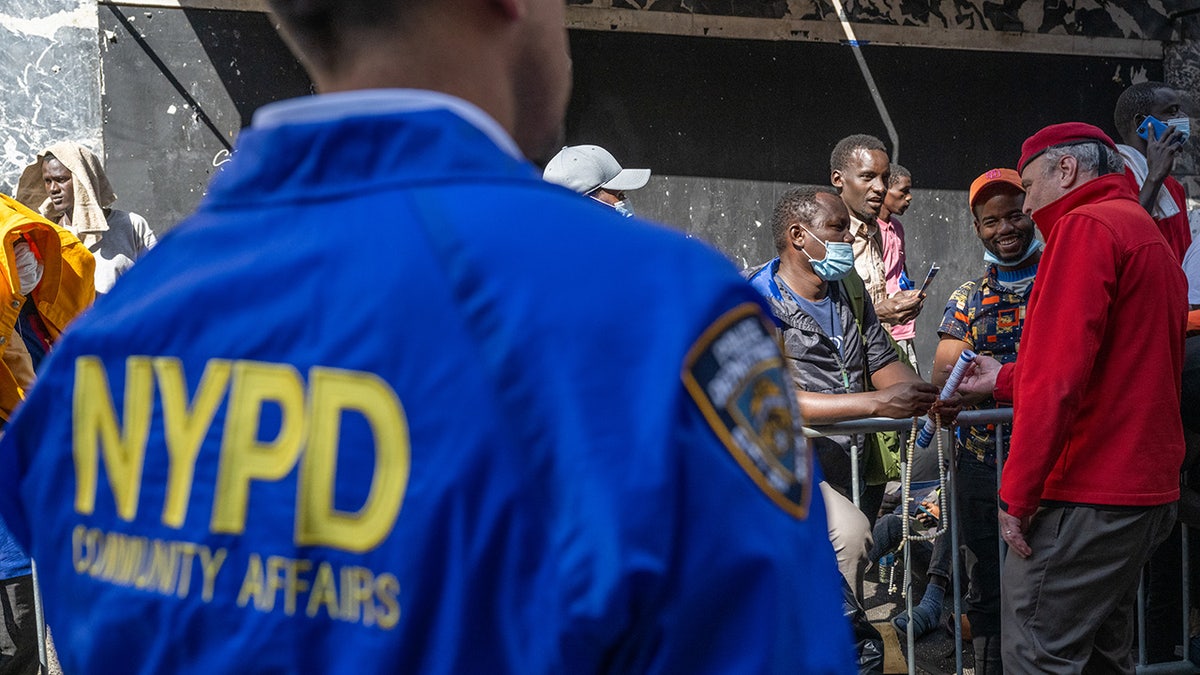 Curtis Sliwa, former 2022 mayoral candidate and founder of the Guardian Angels, greets migrants camping out outside the Roosevelt Hotel on Aug. 2, 2023. (Alexi Rosenfeld/Getty Images)
MAN, 74, PUSHED ONTO NEW YORK CITY SUBWAY TRACKS IN APPARENT UNPROVOKED ATTACK
Sliwa, a former Republican mayoral candidate defeated by Adams, also questioned whether the FBI's New York Joint Terrorism Task Force, which principally consists of agents from the FBI and detectives from the NYPD, remains fully staffed with 1,000 personnel focusing on deterring threats.
NYPD as a whole suffered staffing shortages as part of the defund the police movement fallout.
"He likes to attack TikTok, he likes to play with toys like drones," Sliwa said of Adams. "None of that will impact, especially subway crime, subway vandalism or, God forbid, subway terrorism. Trained professional uniformed police officers is what does that. And we don't have enough of that. And we're losing men and women rapidly to normal retirement, early retirement."
Sliwa and even Adams have noted greater numbers of migrants arriving in New York City are from sub-Saharan countries, compared to last year when the majority were from Venezuela.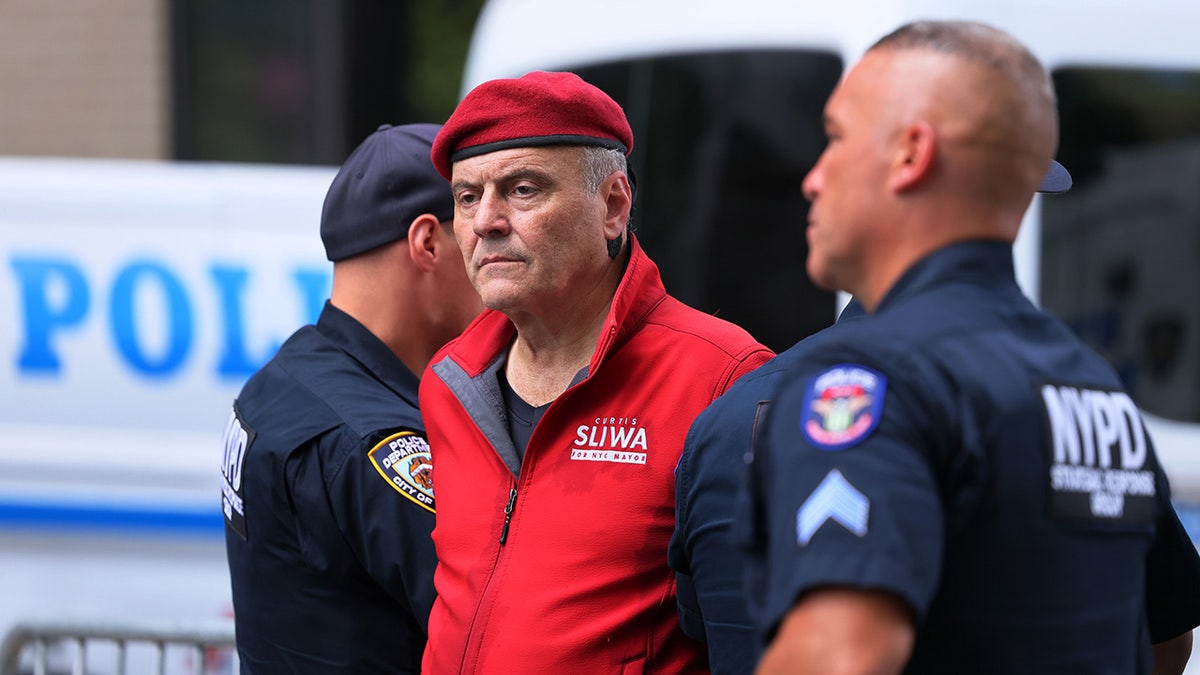 Guardian Angels founder Curtis Sliwa is arrested for civil disobedience during an anti-migrant rally and protest outside of Gracie Mansion on Aug. 27, 2023. (Michael M. Santiago/Getty Images)
"And the mayor is threatening to eliminate all police overtime because of the migrant situation," Sliwa said. "This will open up enormous opportunities for those who wish to do harm to citizens, to property, and most importantly, if they have a terrorist agenda. I mean, I've seen massive numbers of people from Mauritania in here as part of the illegals coming in."
"How is it that people coming in from Mauritania where they have active ISIS and al-Qaeda cells, and they're walking all over the city?" Sliwa said.
CLICK HERE TO GET THE FOX NEWS APP
Because of New York City's sanctuary status, the NYPD is barred from cooperating with ICE on civil detainer requests, but the leader of the NYPD's intelligence and counter-terrorism division testified at a House subcommittee field hearing at the 9/11 Museum earlier this week that the department cooperates "extensively" with ICE and CBP in regard to criminal enforcement.
"ICE was created in the aftermath of the attack of 9/11. I'll never forget the day that was rolled out by Homeland Security," Sliwa said, speaking to the agency's responsibility to help vet illegal immigrants. "How is that at all possible when sanctuary cities and sanctuary states won't allow law enforcement or the courts to deal with ICE?"
Fox News Digital reached out to Adams' office and NYC Transit for comment Wednesday but did not hear back before publication.
Danielle Wallace is a reporter for Fox News Digital covering politics, crime, police and more. Story tips can be sent to [email protected] and on Twitter: @danimwallace.