close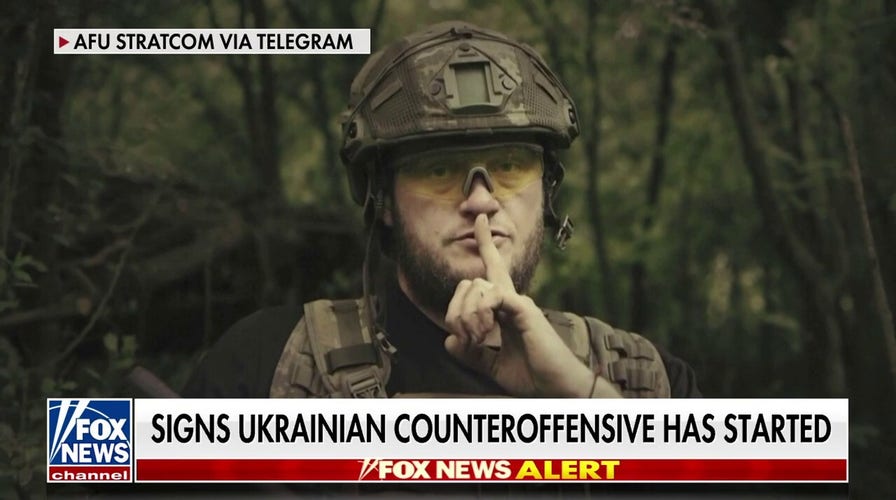 Video
Signs that Ukrainian counteroffensive against Russia has quietly started
Fox News chief national security correspondent Jennifer Griffin has the details from the Pentagon on "America Reports."
NATO is set to launch its largest-ever air force deployment in its history in a training scheme intended to stimulate an attack on an allied nation, officials said Wednesday.
The drill – dubbed Air Defender 23 – will take place Monday over Germany and involve 10,000 participants and 250 aircraft from 25 countries, including 100 aircraft and 2,000 personnel from the U.S., as first reported German news outlet DW.
The exercises are meant to ensure a coordinated response from NATO allies under Article 5 of the alliance's charter, which states that an attack on a NATO member nation is considered an attack on all the members.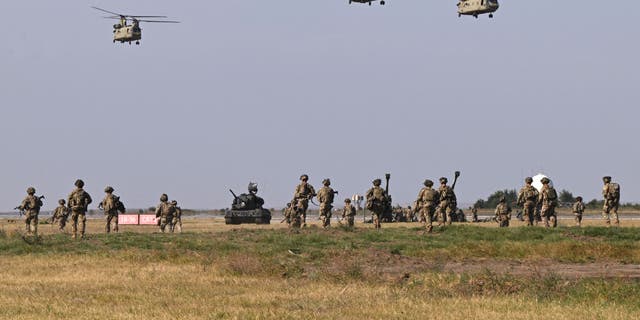 CH-47 Chinook helicopters and military personnel from the Army's 101st Airborne Division take part in a demonstration drill at the Mihail Kogalniceanu air base near Constanta, Romania, on July 30, 2022. (Daniel Mihailescu/AFP via Getty Images)
EUROPEAN LEADERS SAY NATO ALLIES NEED TO BOOST SUPPORT FOR UKRAINE, ADD COUNTRY TO ALLIANCE
"We are showing that NATO territory is our red line, that we are prepared to defend every centimeter of this territory," German Air Force Lt. Gen. Ingo Gerhartz reportedly said.
The German commander also insisted that these drills are meant to be purely defensive in nature and will not fly near Russian airspace.
"We won't, for example, conduct any flights toward Kaliningrad. This is intended to be defensive," he said.
Still, U.S. Ambassador to Germany Amy Gutmann said the drills will be substantial and "absolutely impressive to anybody who's watching."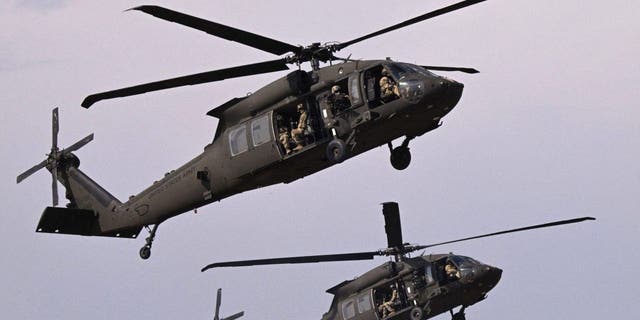 Members of the 101st Airborne Division headquarters and its 2nd Brigade Combat Team in a ceremony marked their official arrival in Europe at the Mihail Kogalniceanu air base near Constanta, Romania, on July 30, 2022. (Daniel Mihailescu/AFP via Getty Images)
NATO RAMPS UP PRESSURE ON TURKEY TO DROP OBJECTIONS, ALLOW SWEDEN TO JOIN MILITARY ORGANIZATION
"It will demonstrate beyond a shadow of a doubt the agility and the swiftness of our allied force in NATO as a first responder," she told reporters. "I would be pretty surprised if any world leader was not taking note of what this shows in terms of the spirit of this alliance, which means the strength of this alliance."
"And that includes [Russian President Vladimir] Putin," she added.
Questions immediately arose over how the massive air drills will affect civilian air traffic, and NATO officials looked to ease concerns by noting that the disruptions would be "minimal."
"We anticipate minimal interruptions in the flow of civilian airlines," Michael Loh, director of the U.S. Air National Guard, said from Berlin.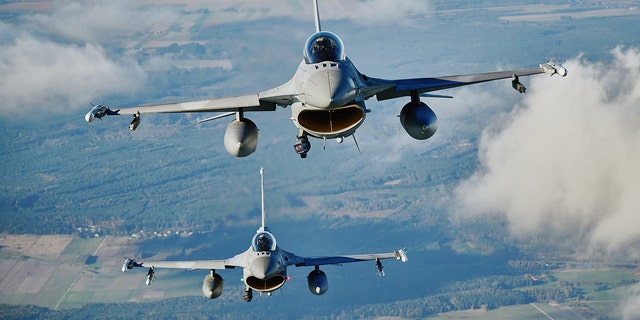 F-16 fighters take part in the NATO Air Shielding exercise near the air base in Lask, Poland, on Oct. 12, 2022. (Radoslaw Jozwiak/AFP via Getty Images)
CLICK HERE TO DOWNLOAD THE FOX NEWS APP
Gerhartz said that while steps have been taken to make sure air traffic is not disrupted, he also noted that "you don't get security for free."
"If we want to demonstrate that we are ready to defend this country and this alliance, we have to accept this," he said.
Reuters contributed to this report.
Caitlin McFall is a Reporter at Fox News Digital covering Politics, U.S. and World news.